PRESS RELEASE
HURUN GLOBAL U40 SELF-MADE BILLIONAIRES 2022
HURUN REPORT FINDS 87 SELF-MADE BILLIONAIRES IN THE WORLD AGED 40 & UNDER, UP 8 IN YEAR AND ALMOST DOUBLE IN 5 YEARS
USA LEADS WITH 37, UP 6, CHINA SECOND WITH 25, DOWN 5. USA AND CHINA HAVE 71%, DOWN FROM 77% LAST YEAR, OF TOTAL. UK OVERTOOK INDIA FOR THIRD PLACE WITH 8, UP 5.
DESPITE LOSING US$25BN, MARK ZUCKERBERG, 37, WORLD'S NO.1 UNDER 40YRS WITH US$76BN. TIKTOK FOUNDER ZHANG YIMING, 39, SECOND WITH US$54BN.
BAHAMAS-BASED SAM BANKMAN-FRIED, 30, OF CRYPTOEXCHANGE FTX DOUBLES WEALTH TO US$21BN AND THIRD PLACE. 7 CRYPTO BILLIONAIRES MAKE LIST, INCLUDING CO-FOUNDERS OF COINBASE, GEMINI, HUOBI AND OK.
31 NEW FACES, 4 WITH US$5BN+, LED BY DAVID VELEZ (40) OF BRAZIL DIGITAL BANK NUBANK WITH US$8.1BN; SHENZHEN-BASED ZHANG GUOTAO, 37, AND WIFE LU YIWEN, 35, OF NEW DIAMOND BRAND DR WITH US$6.7BN; GUANGZHOU-BASED CHRIS XU YANGTIAN, 39, OF FAST FASHION RETAILER SHEIN WITH US$6.3BN; AND BEIJING-BASED TANG BINSEN, 40, OF SPARKLING WATER BRAND GENKI FOREST WITH US$5.6BN.
ROBERT SCARINGE, 38, OF JEFF BEZOS-BACKED EV MAKER RIVIAN DEBUTED WITH US$1.5BN. ON ITS IPO, RIVIAN WAS BRIEFLY WORTH US$100BN. 3 EV MAKERS, INCLUDING CO-FOUNDERS OF GUANGZHOU-BASED XPENG MOTORS AND PHOENIX-BASED NIKOLA.
FASTEST RISER IS NIKOLAY STORONSKY (37) OF UK DIGITAL BANK REVOLUT, WEALTH QUADRUPLED TO US$6.6BN.
BAIJU BHATT, 38, AND VLADIMIR TENEV, 34, OF HIGHPROFILE BROKERAGE PLATFORM ROBINHOOD BOTH MADE THE LIST.
WITH 13 BILLIONAIRES, MEDIA MAIN SOURCE OF WEALTH, FOLLOWED BY PAYMENT SOLUTIONS, CRYPTO EXCHA NGES AND CLOUD SOLUTIONS.
BIGGEST LOSSES IN YEAR. MARK ZUCKERBERG DOWN US$25BN, FOLLOWED BY 3 FROM CHINA, INCLUDING SU HUA (DOWN US$18BN) AND CHENG YIXIAO (US$15BN) BOTH OF VIDEO-SHARING APP KUAISHOU AND KATE WANG (DOWN US$10BN) OF VAPING BRAND RELX.
12 INDIVIDUALS, UP 2, BORN IN NINETIES, WITH YOUNGEST AUSTIN RUSSEL, 26, OF LOS ALTOS HILLS-BASED LUMINAR TECHNOLOGIES WITH US$2.1BN.
7 WOMEN ON HURUN GLOBAL U40, LED BY LU YIWEN OF DIAMOND BRAND DR WITH US$6.7BN
20 OR 23% ARE IMMIGRANTS. RUSSIA (4), CHINA (3) AND INDIA (3) LED FOR COUNTRY OF ORIGIN, WHILST USA (8), UK (7) AND UAE (2) LED FOR COUNTRY OF RESIDENCE.
HURUN U40S CO-FOUNDED 10+ OF HURUN GLOBAL 500 MOST VALUABLE COMPANIES, INCLUDING META, BYTEDANCE, AIRBNB, STRIPE, RIVIAN, SPOTIFY, DOORDASH, PINTEREST, UBER AND DIDI.
77%, DOWN FROM 83% LAST YEAR, MADE THEIR MONEY FROM SELLING TO CONSUMERS, WHILST ONLY 23% SELL TO BUSINESSES.
ONLY 23% MADE THEIR MONEY FROM SELLING PHYSICAL PRODUCTS, WHILST 77% SELL SOFTWARE & SERVICES.
WITH 18 LISTINGS, NYSE IS THE PREFERRED EXCHANGE
34 INDIVIDUALS UNDER THE AGE OF 40, FROM HURUN GLOBAL RICH LIST, BILLIONAIRES THROUGH INHERITENCE, LED BY CHINA-BASED ROADBUILDER YAN HAO, 36, WITH US$20BN; LUKAS WALTON, 35, OF WALMART; LONDON-BASED PROPERTY OWNER HUGH GROSVENOR, 31, LEGO HEIR AGNETE KIRK THINGGAARD, 38; AND ADAM KWOK OF HK-BASED PROPERTY OWNER SUN HUNG KAI.
HURUN REPORT, WORLD'S LARGEST RICH LIST PROVIDER, RELEASES HURUN GLOBAL U40 SELF-MADE BILLIONAIRES 2022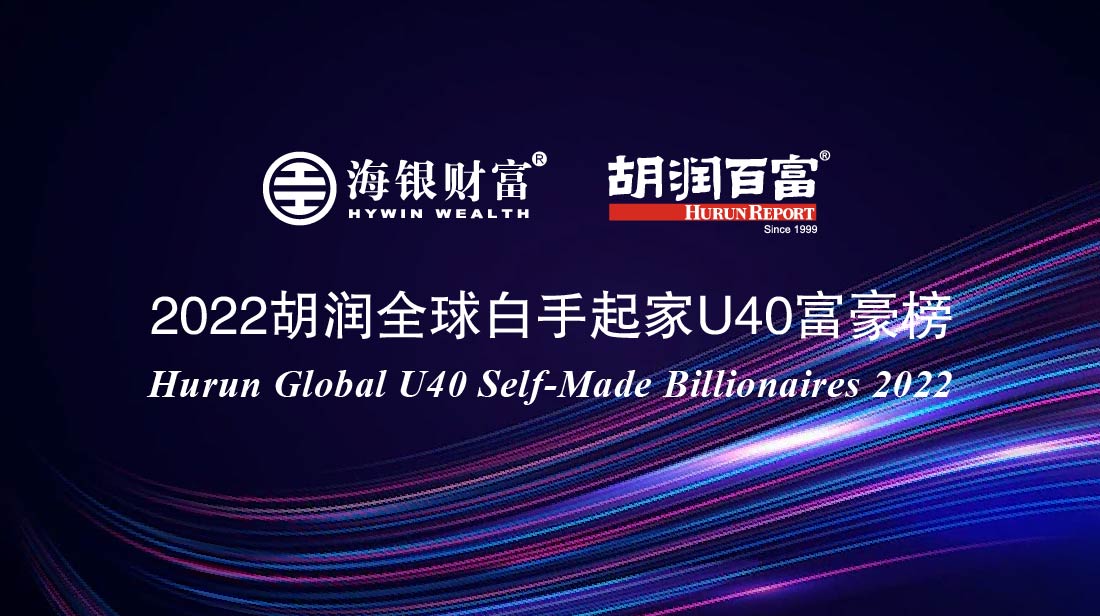 (24 March 2022, Shanghai, China, and Mumbai, India) Hurun Report today, in association with Shanghai-based Hywin Wealth, released the Hurun Global Forty and Under Self-Made Billionaires 2022, a ranking of the self-made US dollar billionaires forty years and under currently found in the world. Wealth calculations are a snapshot of 14 January 2022. This is a sub-list of the Hurun Global Rich List, released on 17 March.
Hurun Research found 87 self-made billionaires in the world aged 40 or under, up 8 on last year. They came from 11 countries, up 1 on last year. Their total wealth was US$456bn, down 14%. 12 individuals, down 5, are worth US$10bn or more. The average age was 37yrs. It took them 6 years to make their first billion on average.
47 saw their wealth go down, of which 13 dropped out. A further 10 from last year turned 41 years old, so no longer made the age cut-off. 44 saw their wealth go up, of which 31 were new faces. 7 saw their wealth not change.
Rupert Hoogewerf, Chairman and Chief Researcher of Hurun Report, said, "The Hurun Global U40 Self-Made Billionaires tells the story of the new economy through the stories of the world's most successful young entrepreneurs. What are they doing? How are they doing it differently? The answers to these questions give an indication of the future economy of the world."
"Media, Payment Solutions, Digital Banks and Crypto Exchanges were the main sources of wealth for the Hurun Global U40. Media consumption is going through a revolution, led by the likes of the founders of Facebook, TikTok, Snapchat, Kuaishou, Instagram and Bilibili. Payment Solutions are being changed by the founders of Stripe, Checkout.com and Klarna. Crypto exchanges are leading the charge for crypto currency transactions, with the founders of FTX, Coinbase and Gemini leading players. This year's U40 saw the value of digital banks grow super fast, led by Nubank in Brazil and Revolut in the UK."
"This year we have found 87 Global U40 self-made billionaires, a new world record, and almost double the number from five years ago."
"One in four of the Hurun Global U40 are born and brought up in countries different to where they live today. The most attractive start-up ecosystems for young immigrant billionaires were the USA and UK, whilst the main country of origin was Russia."
"Serial entrepreneurs are a new trend. One in four previously set up a business, before founding the business that helped them build their current billion-dollar fortune. Zhang Yiming, for example, aged 26, started a property search business before setting up what is today ByteDance. Swiss-born Guillaume Pousaz started his first business aged 27, but then split from his business partner before setting up checkout.com. Tang Binsen sold his gaming business, which gave him the capital to set up Genki Forest."
"What is it that stands the Global U40s out, other than the fact they have a billion dollars before the age of 40? They are more than twice as likely as older billionaires to do software & services, and more than 20% more likely to sell directly to consumers. The mind boggles as to how big they could be when they are the age of Bill Gates or Warren Buffett."
"The China U40s are doing consumer goods more than any other country, perhaps taking advantage of the supply chain availability in China. The likes of Xu Yangtian of fast fashion retailer Shein started out using the Pearl River Delta textile supply chain coupled with online marketing."
"Hurun promotes entrepreneurship through its lists and research. The Hurun Global U40 is designed to encourage more young people to learn about entrepreneurship through the stories of the world's most successful U40 entrepreneurs.
Wang Dian, President of Hywin, commented, "Hywin is delighted to release the Global U40 self-made billionaires in association with world-leading rich list producer Hurun. Hywin is well positioned in a fast growing industry. On the back of our core wealth management business, we are developing asset management and healthcare management services, empowered by digital technologies to achieve healthy growth and meet the needs of our clients. Going forward, we will stick to the core value of 'adhering to long-term growth and creating sustainable value', and being strictly compliant to regulations and follow industry trends in order to create value for the society, facilitate industry development and usher in a new era together with our employees."
The Top 10 Hurun Global U40s
7 are based in the US, and 1 in each of Bahamas, China and Singapore. They come from five companies: Meta, Airbnb, Stripe, ByteDance and FTX. Cut-off to the Top 10 was US$12bn, down 8% on last year.
There were three new faces at the expense of Su Hua and Cheng Yixiao of Kuaishou, whose wealth dropped almost 80%, and Tom Zhang Bangxin of TAL Education, who – despite no longer being eligible to be on the list since he is now 41yrs old – saw his wealth down over 90% after far-reaching China government policies on home tutoring.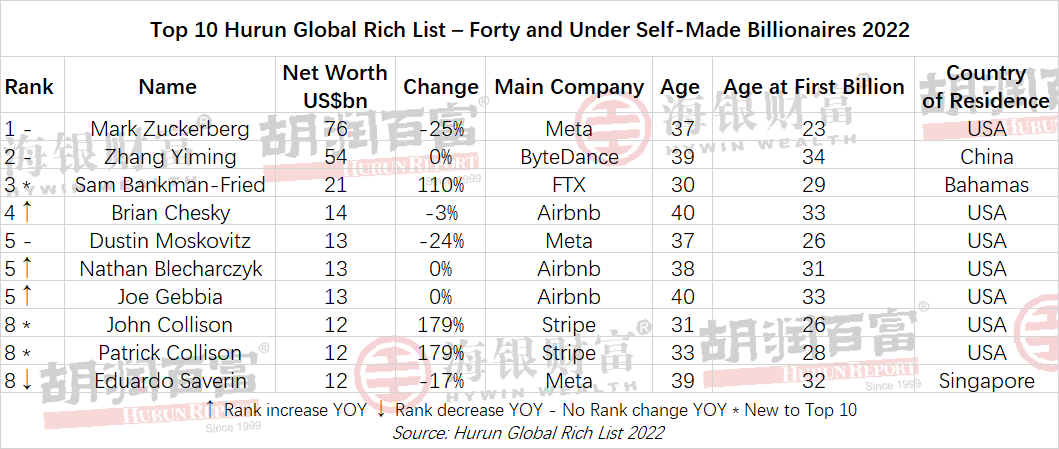 Mark Zuckerberg, 37, saw his wealth down US$25bn, taking him back to 2018 levels, but still remaining the richest self-made entrepreneur in the world under the age of 40 for the 7th year. The main reason for his drop in wealth? Apple started allowing users to choose on how their data is used. The result? Facebook's revenues from targeted ads are expected to be down US$10bn. But it was Zuckerberg's shift to the metaverse that has really drawn the world's attention, coupled with the change of its name from Facebook to Meta Platforms.
With US$54bn Zhang Yiming, 39, of ByteDance, has retained the second spot in the Hurun Global U40 list. ByteDance is the most valuable start-up in the world, with a valuation of $280bn according to the 2021 Hurun Global Unicorn Index. In November, Zhang stepped down as chairman of the company.
MIT graduate Sam Bankman-Fried, 30, of Bahamas-based cryptocurrency exchange FTX broke into the Top 3 of the Hurun Global U40 for the first time, making him the richest blockchain entrepreneur in the world under the age of 40. Since its founding three years ago, FTX has grown to a valuation of US$32bn, which puts it close to cryptocurrency exchange giants Coinbase and Binance.
With US$14bn, Brian Chesky is 4th on the Hurun Global U40 list. Chesky was working as an industrial designer before he co-founded Airbnb with Nathan Blecharczyk and Joe Gebbia who shares the fifth spot with a wealth of US$13bn each. After a severe drop in demand during 2020, Airbnb rebounded strongly this year with an increase in bookings for nights and experiences, with revenues up 67% in the third quarter.
With US$13bn, Dustin Moskovitz, 37, who co-founded Facebook with then-roommate and Harvard student Mark Zuckerberg, shares the fifth spot. Most of Moskovitz' wealth comes from his 2% stake in Facebook. Moskovitz and his wife started Good Ventures, a philanthropic foundation, with the aim to donate most of their wealth.
With US$12bn each, Irish-born brothers John and Patrick Collison of payment platform Stripe, shares 8th place. Stripe has grown to a valuation of US$95bn, making it the world's Top 5 most valuable unicorn, according to the 2021 Hurun Global Unicorn Index.
Most of Eduardo Saverin's wealth is from his stake in Facebook, bringing him US$12bn and eighth place in the Hurun Global U40 list. Today, Singapore-based Saverin is a venture capitalist.
Where do they live?
By country, the USA topped the U40s list with 37 self-made billionaires, followed by China (25). The UK overtook India for third place, whilst Sweden broke into the Top 5 for the first time. The Hurun Global U40 came from 11 countries, with two from Brazil and UAE, and one from each of Australia, Bahamas, Denmark and Singapore.
By city, the Bay Area in the US led with San Francisco top and Palo Alto in the Top 3. Beijing dropped down to second. London was the fastest-growing city for young self-made billionaires in the world.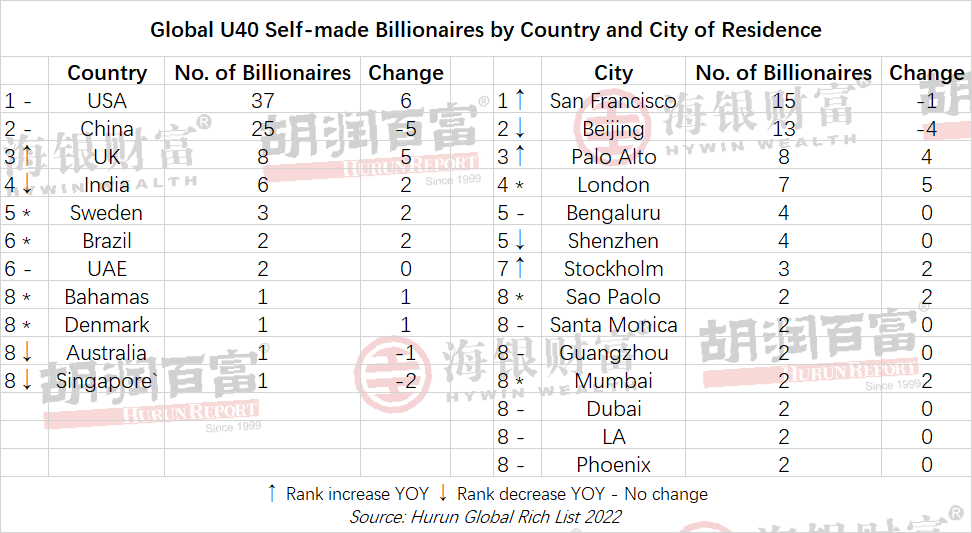 The USA was the preferred country of residence, making up 42% of the total and adding 10 new faces to this year's list. Software & Services (10) and Media (6) were the preferred wealth-creating sectors.
China remained in second place, albeit down 5 billionaires compared with last year. Top was TikTok founder Zhang Yiming. Top three industries were consumer goods, media and F&B. There were 8 new faces, led by Shenzhen-based Zhang Guotao, 37, and wife Lu Yiwen, 35, of diamond brand DR, who made the list with US$6.7bn. Others included Liu Fuping, 40, of spicy snack food brand Weilong, as well as two bubble tea tycoons Shenzhen-based Nio Nie Yunchen, 31, of Heytea and Zhang Hongfu, 37, of MXBC.
The UK overtook India to third place by adding 5 to take the total to 8. Curiously, only Benjamin Francis, 29, of Gymshark was of British origin, with the others all from abroad, led by 3 from Russia, and 1 from each of Ukraine, Estonia, Switzerland and Australia.
Who's Up?
The biggest gainers of the year were Sam Bankman-Fried of FTX, a Bahamian cryptocurrency exchange, whose wealth shot up US$11bn, followed by Stripe co-founders John Collison and Patrick Collison, and Nikolay Storonsky of Revolut.
There were 30 new entrants to the list, led by Brazil-based David Velez of Nu Holdings followed by Xu Yangtian of Chinese online fast fashion retailer and Tang Binsen of Genki Forest.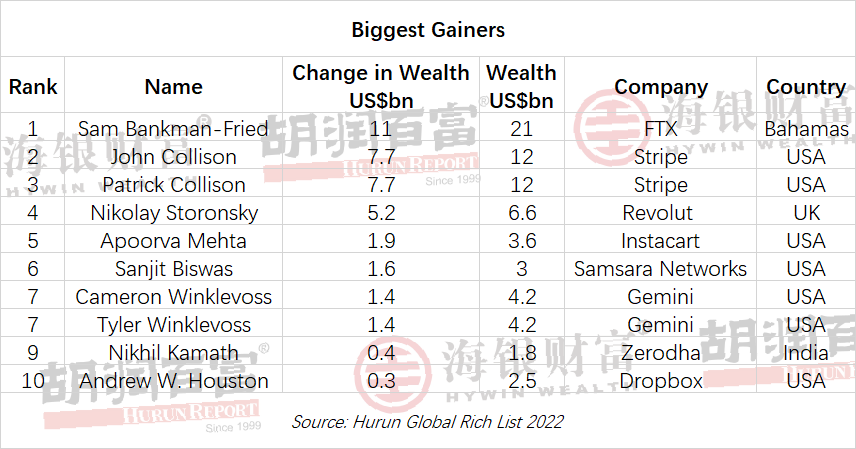 And, Who's Down?
Mark Zuckerberg was down US$25bn following a spat with Apple and challenges to its core advertising business. The next four biggest drops came from China, led by Su Hua and Cheng Yixiao of video-sharing app Kuaishou, which dropped off significantly after going public. Kate Wang Ying managed to cling on to billionaire status, after a 90% collapse in the share price of vaping brand Relx. Grant Wang Ning of toymaker Popmart saw his wealth down US$4.1bn.
Dropoffs
13 dropped off because their wealth no longer made the cut, whilst a further 10 from last year are now 41 years old and no longer qualify for the Hurun Global U40. Guangzhou-based David Huang Jinfeng, 39, of cosmetics brand Perfect Diary (held under Yatsen) was the biggest casualty, dropping from US$3.7bn last year.
Breakdown by Industry
The main source of wealth for the world's top young entrepreneurs was in Media, followed by Payment Solutions.
Youngest
The average age was 37 years with 12 born in the nineties. Austin Russel of Luminar Technologies is the youngest self-made billionaire in the world after his company went public in December 2020.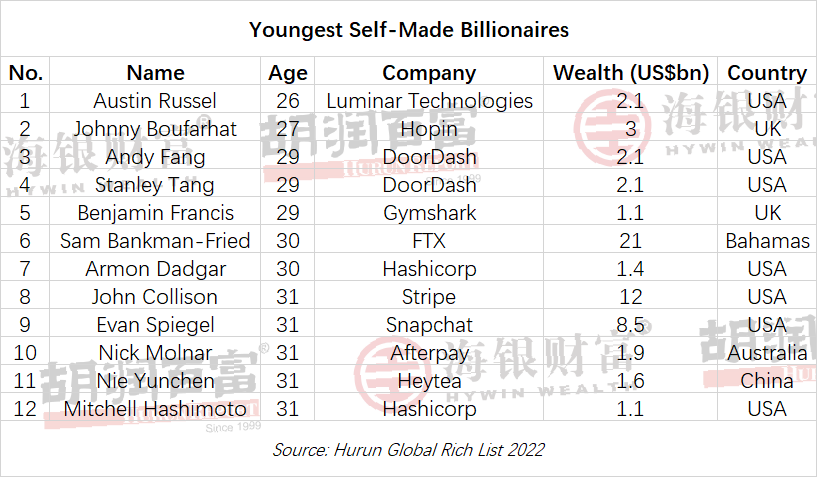 Women U40 billionaires
7 women made the Hurun Global U40, led by Lu Yiwen, 35, of Chinese diamond brand DR. Lu has US$6.2bn of the US$6.7bn fortune shared with her husband Zhang Guotao. Bumble founder Whitney Wolf Herd, 32, is the youngest self-made women billionaire in the world.

Immigrant Billionaires
20 of the Hurun Global U40 are born and brought up in countries different to where they live today. These immigrant billionaires chose the USA (8), UK (7) and UAE (2) to live in today, and came originally from Russia mostly, followed by China, India and Ireland.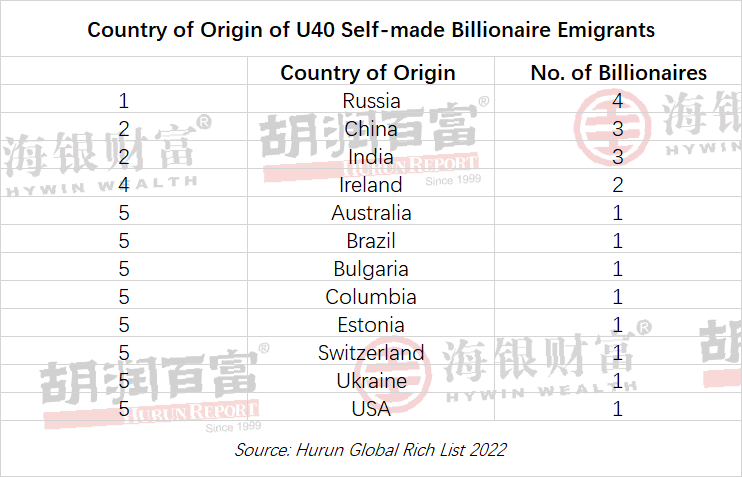 Q: How long does it take to make a billion dollars?
A: 6 years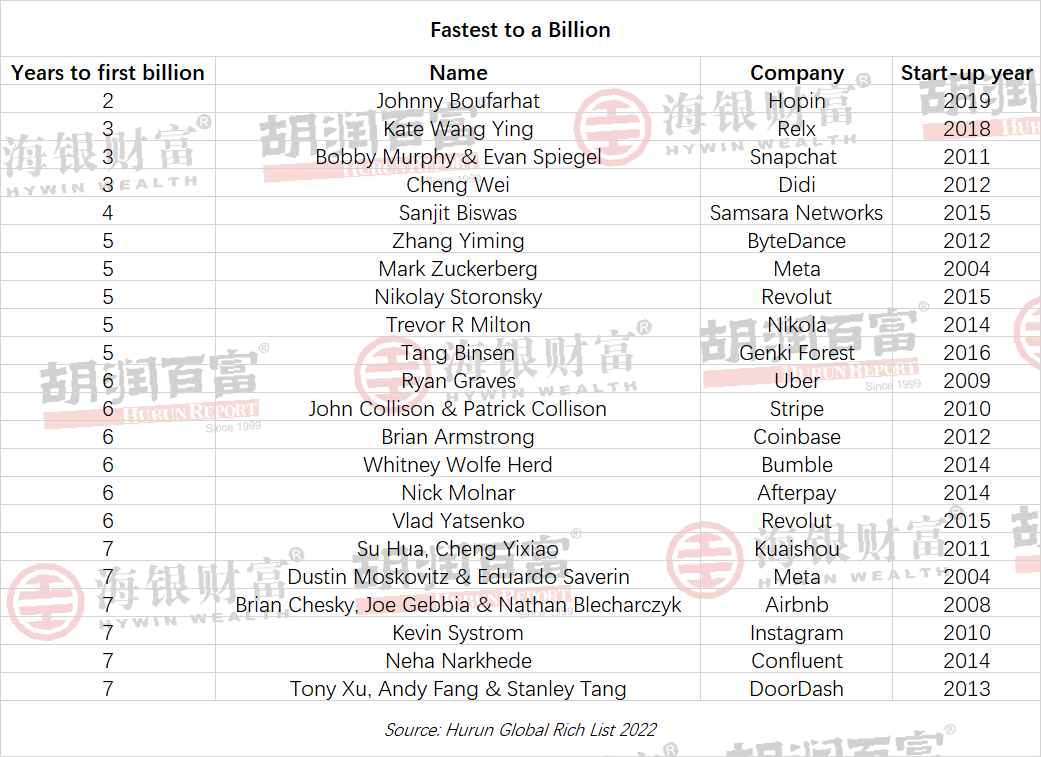 Points of interest
· Apoorva Mehta found Instacart after his 20 failed start-up ideas. The idea of the app emerged from the inconvenience of running around the town for the ingredients to cook.
· The co-founder of Spotify Daniel Ek invested US$1bn of his own money in early tech companies.
· Blockchain billionaire Brian Armstrong of Coinbase bought a villa in LA for US$133mn.
· 13 Hurun Global Unicorns were founded by individuals from the Hurun Global U40.

Online Forum
At 19:30 on March 26th, "On the occasion of the first anniversary of Hywin, there will be an online forum to discuss wealth and health under common prosperity. At that time, Rupert Hoogewerf, Chairman and Chief Researcher of Hurun Report, will also provide highlights into the "2022 Hurun Global U40 Self-made Billionaires 2022". We sincerely invite everyone to join us and explore new ideas for economic development in the context of the new era.
For more exciting information, please identify the QR code below: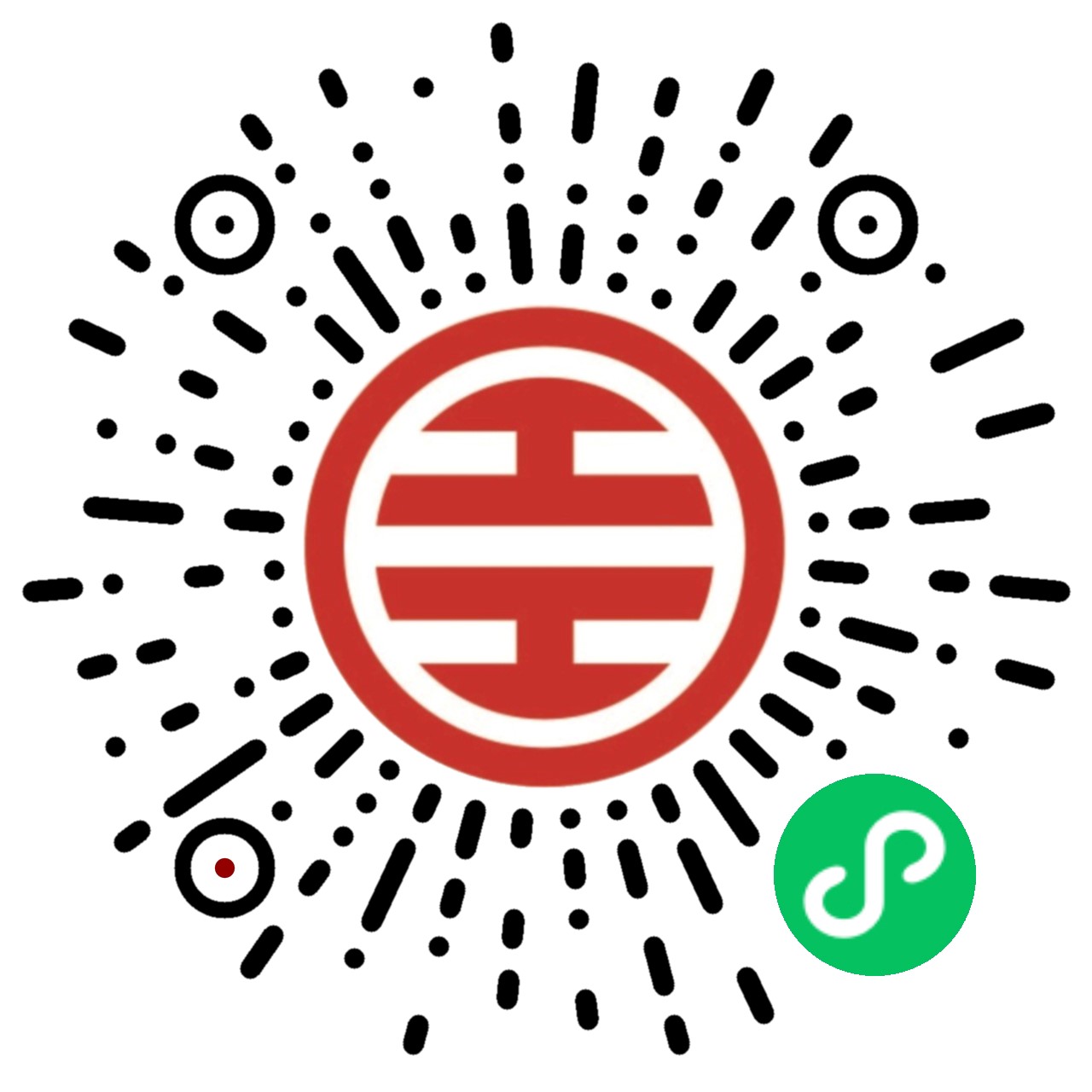 About Hywin Holdings
Hywin Holdings Ltd. ('Hywin') was formed in 2006 in Shanghai's Lujiazui district, and is among the most well-established financial investment institutions in China. With more than a decade of development, Hywin's has expanded its network to 178 Wealth Service Centers across 88 cities, and established branches in Hong Kong, Europe, and the United States. Hywin currently has nearly 3,000 employees globally with more than 1,600 Relationship Managers that are industry elites from banks, securities companies, and trust companies. As of December 31, 2021, Hywin proudly provides wealth management, asset management and EAM services to more than 130,000 high-net-worth individuals and institutions.
About Hurun Inc.
Promoting Entrepreneurship Through Lists and Research
Oxford, Shanghai, Mumbai, Sydney, Paris
Established in the UK in 1999, Hurun is a research, media and investments group, promoting entrepreneurship through its lists and research. Widely regarded as an opinion-leader in the world of business, Hurun generated 6 billion views on the Hurun brand last year, mainly in China and India.
Best-known today for the Hurun Rich List series, telling the stories of the world's successful entrepreneurs in China, India and the world, Hurun's two other key series include the Hurun Start-up series and the Hurun 500 series, a ranking of the world's most valuable companies.
The Hurun Start-up series begins with the Hurun U30s, an awards recognizing the most successful entrepreneurs under the age of thirty, and is today in seven countries. Next up are Hurun Cheetahs, Chinese and Indian start-ups with a valuation of between US$300mn to US$500mn, most likely to go unicorn with five years. Hurun Global Gazelles recognize start-ups with a valuation of US$500mn to US$1bn, most likely to go unicorn within three years. The culmination of the start-up series is the Hurun Global Unicorn Index.
Other lists include the Hurun Philanthropy List, ranking the biggest philanthropists, the Hurun Art List, ranking the world's most successful artists alive today, etc…
Hurun provides research reports co-branded with some of the world's leading financial insitutions, real estate developers and regional governments.
Hurun hosted high-profile events in the last couple of years across China and India, as well as London, Paris, New York, LA, Sydney, Luxembourg, Istanbul, Dubai and Singapore.
For further information, see www.hurun.net.
For media inquiries, please contact:
Hurun Report
Porsha Pan
Tel: +86-21-50105808*601
Mobile: +86-139 1838 7446
Email: porsha.pan@hurun.net
Grace Liu
Tel: +86-21-50105808
Mobile: +86 136 7195 4611
Email: grace.liu@hurun.net
Hurun Global U40 Self-made Billionaires 2022
For the full list, see www.hurun.net