36 INDIVIDUALS MADE HURUN CHINA UNDER40S SELF-MADE RICH LIST 2022 WITH CUT-OFF OF US$710 MILLION, ALBEIT 7 LESS THAN LAST YEAR
ZHANG YIMING, 39, OF BYTEDANCE WAS TOP BY A LONG SHOT WITH US$35BN
SKY XU YANGTIAN, 39, OF FAST-FASHION RETAILER SHEIN, SECOND WITH US$7.2BN, UP ONE PLACE
11 NEW FACES, DOWN 4, LED BY 2 IN THE TOP 10: SHANGHAI-BASED CAI HONGYU OF ONLINE GAMING PLATFORM MIHAYO AND SHENZHEN-BASED ZHANG GUOTAO AND LI YIWEN OF DIAMOND RETAILER DR
MEDIA & ENTERTAINMENT MADE UP 1/3RD OF YOUNG ENTREPRENEURS ON THE LIST, FOLLOWED BY RETAIL WITH 5 AND F&B AND SOFTWARE SERVICES WITH 4 EACH. BETWEEN THEM, TOP 3 SECTORS MAKE UP 70% OF LIST
4 WOMEN AND 32 MEN
22 BORN AFTER 1985, UP 7
3 BORN AFTER 1990, UP 1
BEIJING REMAINS THE CITY WITH THE HIGHEST CONCENTRATION OF UNDER 40S SELF-MADE ENTREPRENEURS, WITH 14, 3 FEWER THAN LAST YEAR; SHANGHAI WAS SECOND WITH 9, UP 3, FOLLOWED BY SHENZHEN WITH 4. THE TOP 3 CITIES ACCOUNTED FOR NEARLY 80% OF THE LIST. CHENGDU AND CHANGSHA BOTH TIED FOR 4TH WITH 2.
THE HURUN RESEARCH INSTITUTE RELEASES HURUN CHINA UNDER 40S SELF-MADE RICH LIST 2022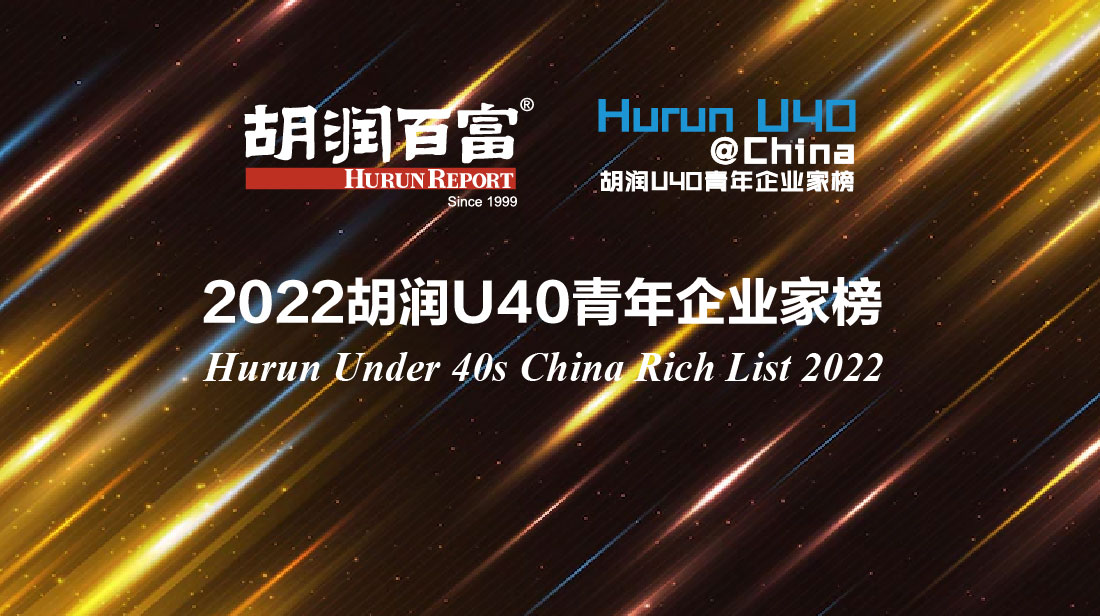 (10 November 2022, Shanghai) The Hurun Research Institute today released the Hurun China Under 40s Self-Made Rich List 2022, ranking the self-made entrepreneurs aged 40 or under. The cut-off was CNY 5 billion (equivalent to US$710 million), and wealth calculations are from 15 September. This is the 7th year of the list.
This is a brief translation from the original Chinese-language press release, which can be found on www.hurun.net.
94 entrepreneurs aged 40 or under made this year's Hurun China Rich list, down 16 on last year. Of these, 36 are self-made, down 7.
17 saw their wealth rise, of which 11 are new faces. 32 saw their wealth down or the same, and a further 13 dropped off. Of the drop offs, 8 were 'promoted' out of the list, after hitting the age of 41. The 36 entrepreneurs on the list come from 30 companies, 11 of which are listed. 17 individuals, down 8, have more than CNY10bn of wealth. Their total wealth came to US$96.7bn.
Rupert Hoogewerf, Hurun Report Chairman and Chief Researcher, said: "The top young entrepreneurs aged 40 or under in China start out their business with a much stronger global vision than their predecessors. Zhang Yiming, for example, has built the biggest global Chinese brand with TikTok, whilst Sky Xu has taken close to a third of the US and European fast fashion market, challenging the likes of Zara and H&M. The founder of online gamers like Mihayo and Lilith, have a significant proportion of their revenues coming from outside of China."
"Online gaming had a good year."
"The Hurun China Self self-made Under40s mostly made their fortunes with Media and Entertainment. However, it is curious to note that those aged 30 or under are mostly involved in new retail. By comparison the older entrepreneurs, such as those from the Hurun China Rich List, made their money from Industrial Products, Real Estate and Healthcare."
So, who are the Top 10?
Zhang Hongfu of tea and ice cream chain MXBC was the fastest riser, up four-fold to US$4bn on the back of a public listing in the last year. Five are new to the Top 10 this year. Cai Hongyu of Shanghai-based gaming platform Mihayo, and husband and wife founders Zhang Guotao and Li Yiwen of diamond brand DR were the biggest new faces on this year's list, breaking straight into the Top 10.
Table: Top 10 of Hurun China Under40s Self-Made Rich List 2022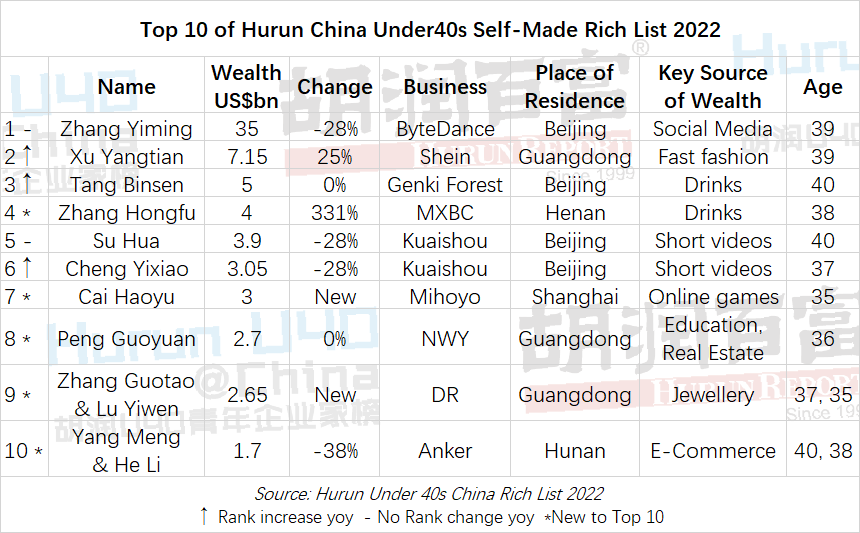 Zhang Yiming, the 39-year-old founder of Bytedance, topped the Hurun Under 40s China Rich List 2022 with US$65bn. This year marks ByteDance's 10th anniversary. Bytedance ranked 4th in the Hurun China 500 Most Valuable Private Companies 2021 and topped the Global Unicorn Index 2022 Half-Year Report.
Sky Xu Yangtian, 39, was up one place to second with US$7.15bn, up 25%. Fast fashion brand Shein's sales exceeded CNY100bn in the first half of this year. Xu was born in Zibo, Shandong Province and started his own business in Nanjing, before moving his head office to Guangzhou. Despite being virtually unknown in China, Shein has become a world-leading cross-border fast fashion business, with a significant share of the US and European markets. Shein ranked 5th on the Hurun Global Unicorn Index 2022 Half-Year Report with a valuation of US$60bn.
Tang Binsen, 40, of Genki Forest, was third with US$5bn, up 3 places from last year. Making his first fortune in online games, Tang in 2016 changed tack and founded Genki Forest, best-known for its sugar-free sparkling water products. Genki Forest has become hugely popular, and ranked 26th in the Hurun Global Unicorn Index 2022 Half-Year Report.
Zhang Hongfu, 38, from MXBC, known in Chinese as Mixue Bingcheng, broke into the Top 10 for the first time with US$4bn, to 4th place, up 31. As of the end of March this year, MXBC had more than 20,000 outlets, including outlets in Indonesia and Vietnam. MXBC ranked among the Top 500 on the Global Unicorn Index 2022 Half-Year Report.
Su Hua, 40, of short video platform Kuaishou Technology, retained 5th with US$3.9bn. Su stepped down as CEO in October last year, keeping his role as chairman. Cheng Yixiao, 37, ranked 6th with US$3bn, up two places from last year. After taking over as CEO of Kuaishou, Cheng led Kuaishou to hit average daily active users of 350 million, up 19% year over year.
Cai Haoyu, 35, from online gamer Mihoyo, ranked 7th with US$3bn. Founded in 2011, Mihoyo has a number of popular games and has recently been expanding outside of China, with offices in Singapore, the US and Canada.
Peng Guoyuan, 36, ranked 8th with US$2.7bn, up five places from last year. Peng studied in the UK, started his business in Shanghai, and developed in Shenzhen. NWY mixes education with real estate, growing all around the country.
DR's Zhang Guotao & Lu Yiwen (37, 35) made the list for the first time withUS$2.65bn, ranked 9th. In 2010, when they was just 25 and 23 years old, Zhang and Lu founded DR. Today, DR has 400 stores across 150 cities and have opened in Paris.
Yang Meng & He Li, ranked 10th with US$1.7bn, up 2 places. Founded in 2011, Anker's main product is wireless audio related. In the first three quarters of this year, Anker posted 13% year-on-year revenue growth; Net profit attributable to the parent rose 28% year on year.
Who is New to this Year's List?
6 online gamers made up the bulk of this year's 11 new faces, led by Cai Haoyu of Mihayo and Wang Xinwen of Lilith. Wang Shuo co-founded US-based Deel, which has grown to become a unicorn worth over US$10bn, helping customers process their international payroll.
Table: New Faces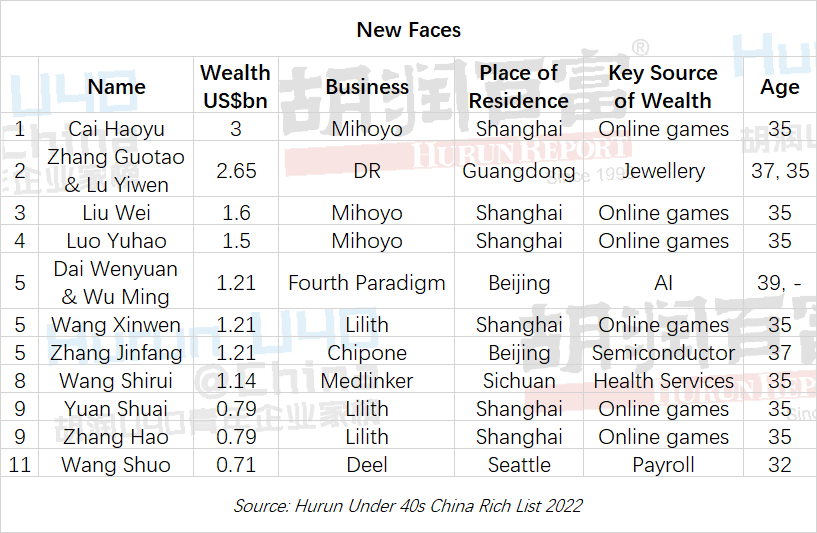 Fastest risers - By absolute wealth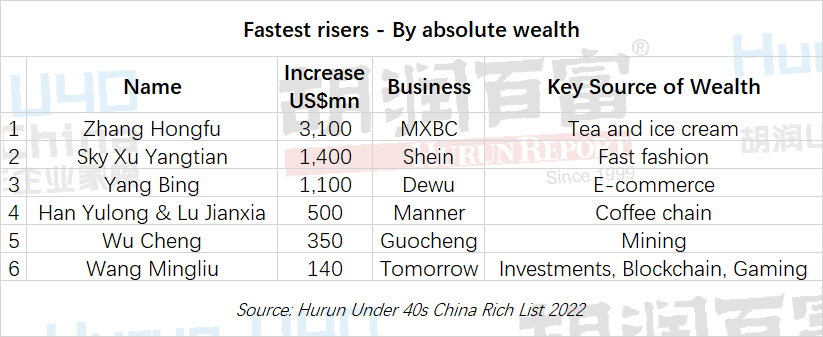 Biggest drops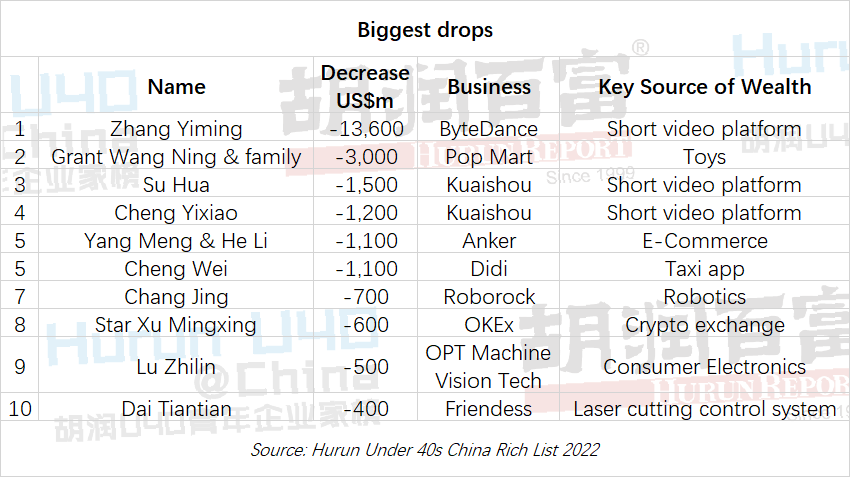 Which Industries are they doing?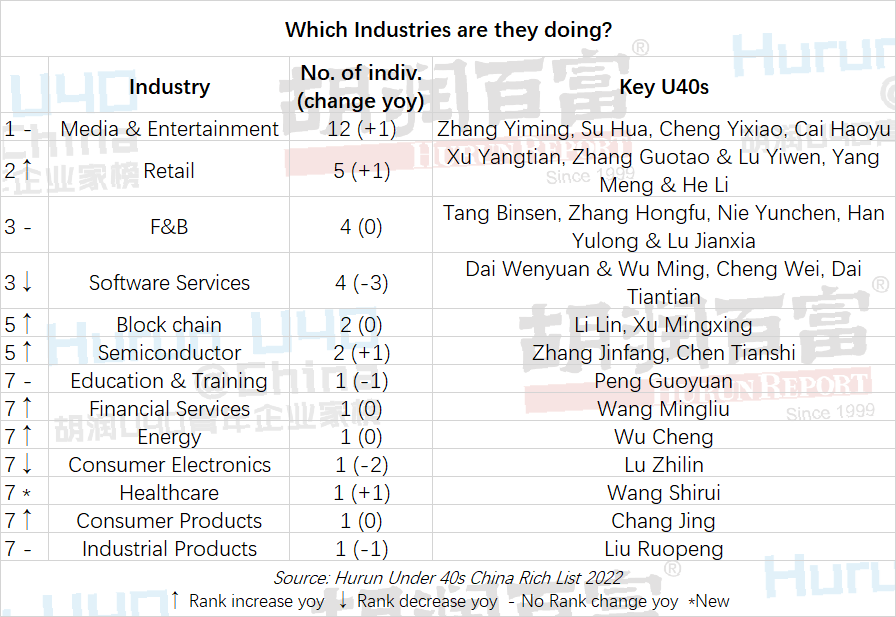 Where do they live?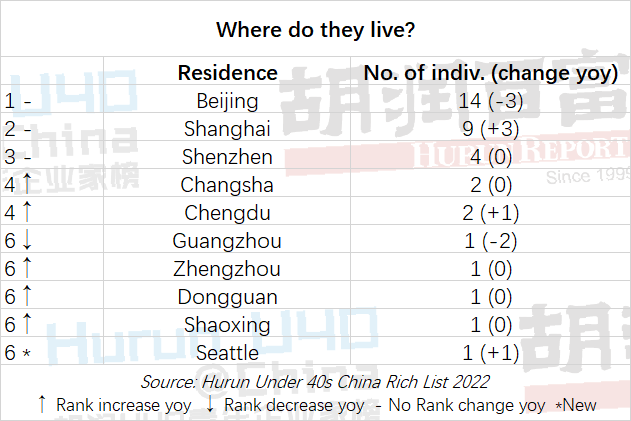 Chinese Star Signs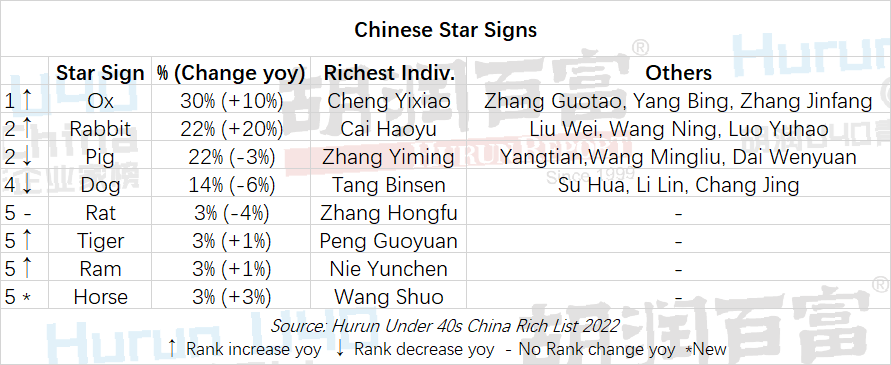 Hurun China Under 40s Self-Made Rich List 2022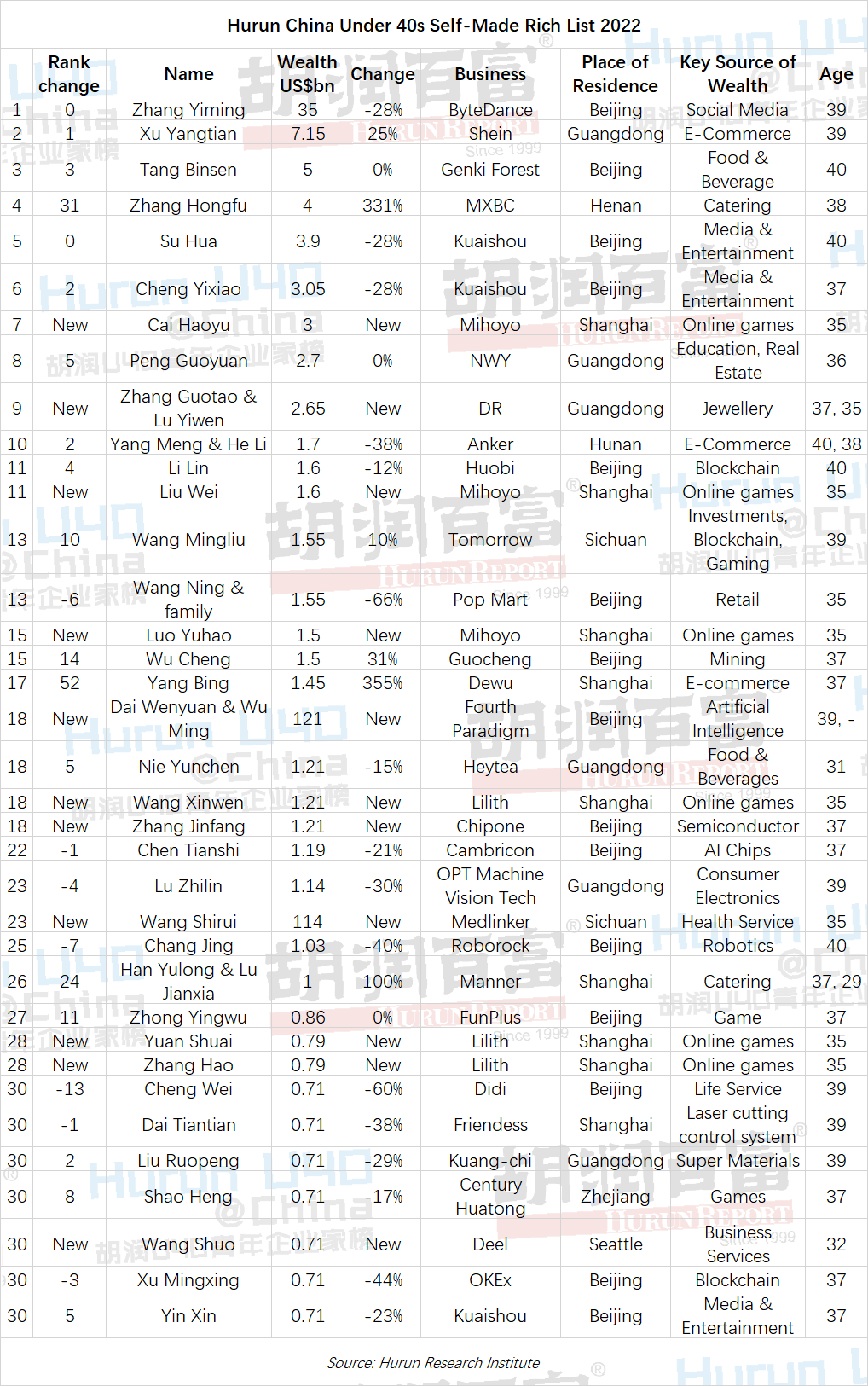 About Hurun Inc.
Promoting Entrepreneurship Through Lists and Research
Oxford, Shanghai, Mumbai, Sydney, Paris
Established in the UK in 1999, Hurun is a research, media and investments group, promoting entrepreneurship through its lists and research. Widely regarded as an opinion-leader in the world of business, Hurun generated 6 billion views on the Hurun brand last year, mainly in China and India.
Best-known today for the Hurun Rich Index series, telling the stories of the world's successful entrepreneurs in China, India and the world, Hurun's two other key series include the Hurun Start-up series and the Hurun 500 series, a ranking of the world's most valuable companies.
The Hurun Start-up series begins with the Hurun U30s, an awards recognizing the most successful entrepreneurs under the age of thirty, and is today in seven countries. Next up are Hurun Cheetahs, Chinese and Indian start-ups with a valuation of between US$300mn to US$500mn, most likely to go unicorn with five years. Hurun Global Gazelles recognize start-ups with a valuation of US$500mn to US$1bn, most likely to go unicorn within three years. The culmination of the start-up series is the Hurun Global Unicorn Index.
Other lists include the Hurun Philanthropy Index, ranking the biggest philanthropists, the Hurun Art Index, ranking the world's most successful artists alive today, etc…
Hurun provides research reports co-branded with some of the world's leading financial insitutions, real estate developers and regional governments.
Hurun hosted high-profile events in the last couple of years across China and India, as well as London, Paris, New York, LA, Sydney, Luxembourg, Istanbul, Dubai and Singapore.
For further information, see www.hurun.net.
For media inquiries, please contact:
Hurun Report
Porsha Pan
Tel: +86-21-50105808*601
Mobile: +86-139 1838 7446
Email: porsha.pan@hurun.net
Grace Liu
Tel: +86-21-50105808
Mobile: +86 136 7195 4611
Email: grace.liu@hurun.net