DESPITE RUSSIA-UKRAINE WAR AND COVID IMPACT ON ECONOMIES, BILLIONAIRES HIT A NEW RECORD. WORLD ADDS 153 BILLIONAIRES – 3 A WEEK –TO TOTAL 3,381 BILLIONAIRES.
CHINA LED WITH 1133 BILLIONAIRES, UP 75, FOLLOWED BY USA 716, UP 20. BETWEEN THEM, CHINA AND USA HAVE 55% BILLIONAIRES IN WORLD. INDIA THIRD WITH 215, UP 38. UK OVERTOOK GERMANY FOR FOURTH PLACE WITH 150 BILLIONAIRES.
337 DROPOFFS, LED BY CHINA 160, FOLLOWED BY USA 32 AND RUSSIA 13. IN CHINA INTERNET COMPANIES, REAL ESTATE, EDUCATION, GENERIC DRUGS AND VAPING LED DROP OFFS.
RUSSIA LOSES 13 BILLIONAIRES, DROPPING DOWN ONE PLACE TO 8TH WITH 72 BILLIONAIRES
490 NEW FACES, LED BY CHINA WITH 235, FOLLOWED BY USA 63 AND INDIA 51.
BY CITY. SHENZHEN ADDED 8 BILLIONAIRES TO 113, OVERTAKING NEW YORK TO BECOME WORLD'S THIRD PREFERRED CITY FOR BILLIONAIRES TO LIVE IN. TOP THREE CITIES NOW ALL IN CHINA: BEIJING, SHANGHAI AND SHENZHEN. LONDON AT 5TH.
ELON MUSK, 50, OF TESLA RETAINS NUMBER ONE IN WORLD WITH US$205BN, UP US$8BN.
JEFF BEZOS OF AMAZON SECOND WITH US$188BN, DOWN 1%. BERNARD ARNAULT OF LVMH SURGES BY US$39BN TO RETAIN TOP THREE PLACE WITH US$153BN.
FASTEST RISER. 'ENERGY KING' GAUTAM ADANI, 59, OF INDIA-BASED ADANI GROUP ADDED US$1BN A WEEK TO SHOOT UP 36 PLACES TO 12TH WITH US$81BN.
9 OF TOP 10 BIGGEST DROPS IN WEALTH FROM CHINA, LED BY COLIN HUANG, 42, OF PINDUODUO, DOWN US$50BN. ONLY NON-CHINESE IN TOP 10 WAS MARK ZUCKERBERG, 37, OF META, DOWN US$25BN. OTHER BIG DROPS INCLUDED 'VENTURE CAPITAL KING' MASAYOSHI SON, 64, OF SOFTBANK, DOWN US$16BN AND PHIL KNIGHT, 84, OF NIKE, DOWN US$11BN.
10 INDIVIDUALS BREAK THROUGH US$100BN MARK. FIVE YEARS AGO THERE WERE NONE.
DESPITE DIVORCE, BILL GATES SAW WEALTH UP US$14BN TO 4TH PLACE WITH US$124BN. MELINDA FRENCH GATES MAKES LIST FOR FIRST TIME, IN TOP 300 WITH US$11BN.
KIM KARDASHIAN, 41, MADE LIST FOR FIRST TIME WITH US$2BN. EX HUSBAND RAPPER KANYE WEST, 44, MAKES LIST TOO WITH US$1.4BN.
LEADING AUTHORITY ON GLOBAL WEALTH, HURUN REPORT, RELEASES 11TH HURUN GLOBAL RICH LIST.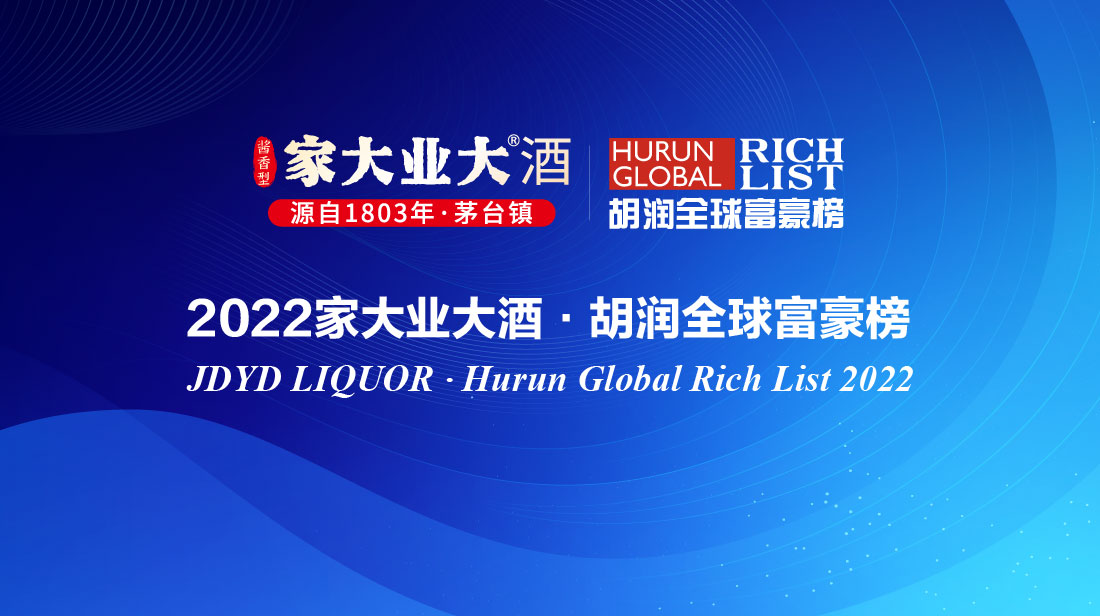 Key Findings
1. 3,381 BILLIONAIRES IN THE WORLD, UP 153 FROM LAST YEAR AND 1,124 OR 50% FROM FIVE YEARS AGO.
2. WEALTH HITS NEW RECORDS, AGAIN: DESPITE RUSSIA-UKRAINE WAR AND CONTINUED COVID IMPACT, TOTAL WEALTH OF BILLIONAIRES ROSE 4% TO US$15.2TN.
3. ASIA PULLS AWAY FROM NORTH AMERICA AND EUROPE. ASIA, WITH 57% OF WORLD'S POPULATION, ACCOUNTED FOR 66% OF NEW FACES, 52% OF BILLIONAIRES AND 42% OF WEALTH. NORTH AMERICA AND EUROPE BETWEEN THEM HAVE 15% OF WORLD POPULATION, 32% OF NEW FACES, 44% OF BILLIONAIRES AND 55% OF TOTAL WEALTH.
4. Rise of India. India now has 249 BILLIONAIRES, of which 215 live in India. The number of Indian billionaires HAS DOUBLED EVERY 5 YEARS FOR THE LAST DECADE.
5. SOURCE OF WEALTH. HEALTHCARE OVERTOOK REAL ESTATE TO SECOND PLACE IN TERMS OF NUMBER OF BILLIONAIRES, WHILST RETAIL OVERTOOK CONSUMER GOODS FOR FOURTH PLACE. FINANCIAL SERVICES WAS STILL NUMBER ONE FOR 9.3% OF WORLD'S BILLIONAIRES.
6. GOOD YEAR FOR ENERGY, ESPECIALLY RENEWABLES, BIOTECH, LUXURY GOODS, SEMICONDUCTORS, SOTWARE SERVICES AND SHIPPING.
7. BAD YEAR FOR CHINA'S INTERNET PLATFORMS, REAL ESTATE, EDUCATION, GENERIC DRUGS AND VAPING INDUSTRIES, AND RUSSIAN BILLIONAIRES. cHina saw 160 billionaires DROP OUT, followed by usa 32, RUSSIA 13 and India 11.
8. FASTEST RISERS IN YEAR. 61 INDIVIDUALS ADDED US$5BN OR MORE OVER THE PAST YEAR, LED BY 24 FROM THE USA, 12 FROM CHINA AND 7 FROM INDIA. OUTSIDE OF WORLD'S TOP 10, ZENG YUQUN, 54, OF BATTERY MAKER CATL, ADDED US$19BN, STEPHEN SCHWARZMAN, 74, OF MONEY MANAGER BLACKSTONE WAS UP US$13BN AND SHIPPING TYCOON KLAUS-MICHAEL KUHNE, 85, OF KUHNE & NAGEL WAS UP US$12BN.
9. CRYPTO PRODUCES 17 'KNOWN' BILLIONAIRES, LED BY SINGAPORE-BASED CZ ZHAO CHANGPENG, 45, OF BINANCE WITH US$23BN, UP US$15BN, AND SAM BANKMAN-FRIED OF FTX WITH US$21BN, UP US$11BN. LAST YEAR'S NUMBER ONE BRIAN ARMSTRONG OF COINBASE DROPPED TO THIRD WITH US$10BN. TOP 3 ALL FROM CRYPTOCURRENCY EXCHANGES.
10. 120 ARE FORTY OR UNDER, OF WHICH 86 ARE SELF-MADE, UP 9 FROM LAST YEAR. 34 INHERITED.
11. 269 SELF-MADE WOMEN, UP 38 FROM LAST YEAR. CHINA DOMINATED WITH 66%. BEIJING-BASED PROPERTY DEVELOPER WU YAJUN OF LONGFOR IS THE RICHEST SELF-MADE WOMAN, WHILST FRANCOISE BETTENCOURT MEYERS, 68, OF L'OREAL, IS THE RICHEST WOMAN IN THE WORLD WITH US$79BN.
12. 13% ARE IMMIGRANT BILLIONAIRES, DOWN FROM 13.4%. USA LED WITH 106 FIRST-GENERATION IMMIGRANT BILLIONAIRES, FOLLOWED BY 51 IN THE UK AND 30 IN SWITZERLAND. ELON MUSK OF TESLA (BORN IN SOUTH AFRICA) AND SERGEY BRIN OF GOOGLE (BORN IN RUSSIA) ARE THE RICHEST IMMIGRANTS. THE NUMBER OF IMMIGRANT BILLIONAIRES HAS GROWN 50%, FROM 9% FIVE YEAR AGO.
13. 72% SELF-MADE AND 28% INHERITED. OF THOSE WHO INHERITED THEIR MONEY, 10% HAVE GROWN IT AGGRESSIVELY, EG MUKESH AMBANI OF RELIANCE INHERITED THE BEST PART OF US$10BN IN 2002, GROWING IT 10-FOLD IN 20YRS. SELF-MADE BILLIONAIRES ARE ON THE UP, UP FROM 69% OF THE LIST 5 YEARS AGO.
14. 61% B2C, 39% B2B. 61% MADE THEIR MONEY FROM SELLING TO CONSUMERS, WHILST 39% SELL TO BUSINESSES. DOWN FROM 69% LAST YEAR.
15. TWO THIRDS MAKE PHYSICAL PRODUCTS. 63% MADE THEIR MONEY FROM SELLING PHYSICAL PRODUCTS, WHILST 37% SELL SOFTWARE & SERVICES.
16. IPOs. 94 BILLIONAIRES WERE MINTED FROM 77 IPOS IN 2021, INCLUDING COINBASE, NUBANK, ROBINHOOD, SENSETIME AND EASTROC BEVERAGE.
17. OLDEST FAMILIES. 107 BILLIONAIRES ARE FROM 4TH GENERATION OR MORE FAMILY OWNERS. THE OLDEST IS Juan Francisco Beckmann Vidal of the José Cuervo tequila brand, followed by four UK-based property families, ALL 7TH GENERATION OR MORE.
18. MOST BILLIONAIRES FROM ONE COMPANY. SWEDISH INVESTMENT COMPANY EQT CREATED 14 BILLIONAIRES, FOLLOWED BY HANGZHOU-BASED ALIBABA AND MINNESOTA-BASED CARGILL WITH 13 EACH.
19. SPACE EXPLORATION. ELON MUSK IS THE WORLD'S RICHEST SPACE BILLIOANIRE, THROUGH HIS HOLDING OF SPACEX. RICHARD BRANSON AND JEFF BEZOS WENT INTIO SPACE TO PROVE THE VIABILITY OF VIRGIN GALACTIC AND BLUE ORIGIN RESPECTIVELY. JAPANESE FASHION BILLIONAIRE YUSAKU MAEZAWA, 46, BECAME THE FIRST SPACE TOURISH TO VISIT THE INTERNATIONAL SPACE STATION IN MORE THAN A DECADE.
(17 March 2022, Guangzhou and Mumbai) Hurun Report today released the JDYD LIQUOR · Hurun Global Rich List 2022, a ranking of the US dollar billionaires in the world. Wealth calculations are a snapshot of 14 January 2022. This is the eleventh year of the ranking. JDYD Liquor, a premium Chinese baijiu brand, is the title sponsor of the list in China, whilst M3M India is the title sponsor in India.
The List at a glance
The JDYD LIQUOR · Hurun Global Rich List 2022 ranked 3381 billionaires from 2558 companies and 69 countries.
2,070 saw their wealth increase, of which 490 were new faces. 1,279 saw their wealth decrease, of which 337 dropped-off. 369 saw their wealth stay the same. The average age was 64.
Hurun Report chairman and chief researcher Rupert Hoogewerf said, "The Russia-Ukraine war, Covid-19 and the US-China Trade War contributed to 337 billionaires dropping off the list this year, almost one a day. However, continued digitalisation of the economy, tech innovations as well as inflation helped 490 new faces making the list, giving a surprising net increase of 153 billionaires. Specific industries that had a good year include energy, especially renewables, biotech, luxury goods, semiconductors, software services and shipping."
"As the world pushes forward towards the fifth industrial revolution, spurred on by biotech advances and Covid, healthcare has become the second most important source of wealth for billionaires after financial services, this year overtaking real estate. Five years ago, healthcare was not even a top 5 source of wealth."
"The Hurun Global Rich List tells the story of the world economy through the stories of the world's most successful entrepreneurs. Industries that had a great year include energy, especially renewables, led by India-based Gautam Adani of Adani Group, China-based Zeng Yuqun of CATL and Luo Liguo of Hoshine, and US-based Harold Hamm of Continental Resources; biotech, led by Germany-based Ugur Sahin of BioNTech, Stéphane Bancel of Moderna and China-based Xie Liangzhi of Sinocelltech; luxury goods, led by France-based Bernard Arnault of LVMH and Bertrand Puech of Hermes, and HK-based Henry Cheng Kar-shun of Chow Tai Fook; semiconductors, led by US-based Jen-Hsun Huang of Nvidea, China-based Li Min of Rockchip Electronics and Taiwan-based Morris Chang of TSMC; software services, led by Bill Gates and Steve Ballmer of Microsoft, Larry Ellison of Oracle, China-based Tang Xiaoou of SenseTime; shipping, led by Switzerland-based Klaus-Michael Kuhne of Kuhne & Nagel and China-based Yang Shaopeng of SITC Maritime."
"China continued to pull away from the USA in the past year, up 75 to 1133 'known' billionaires, compared with the USA, which added 20 to 716. The inflexion point came in 2016, when China's billionaires first overtook the USA. Since then China's billionaires have more than doubled in number compared whilst those in the USA grew by a third."
"China's billionaires have been hit hard in the past year, with 9 of the Top 10 biggest wealth shrinkages and 160 drop-offs. E-commerce platforms, real estate, education, generic drugs and vaping were the hardest hit. The recent Covid outbreak across the country and increased tension with the US combined in the past couple of weeks to see the steepest drop in value since the 2008 financial crisis, with many of China's biggest companies shedding up to half their value. Other factors in play include continued anti-monopoly regulations, pressure on real estate borrowings, efforts to stem the falling birth rate, carbon emission targets and the recently introduced common prosperity theme."
"There are now ten individuals with US$100bn of wealth, a huge concentration of economic power. Just five years ago, there was not even one. At this rate, by 2030 expect to see 8,000 billionaires, 600 with US$10bn and more than fifty with US$100bn."
"Start-up ecosystems require rolemodels, both in terms of corporates and individuals. The top three cities in the world for billionaires are all in China: Beijing, Shanghai and Shenzhen, which this year overtook New York for the first time. The cities with the fastest-growing number of billionaires were London, Mumbai and New Delhi."
"China has 17% of the world's population and 34% of the world's 'known' billionaires, up from 30% last year. Of the roughly 60 living outside of Greater China, the preferred residences were South East Asia, especially Singapore, and the USA."
"India's billionaires have been doubling every five years, with now more than 200 in India. Interestingly, the proportion of NRI billionaires on the Hurun Global Rich List has halved over the past five years compared with onshore billionaires."
"Only 5 billionaires donated more than US$1bn in the past year. Billionaires are not keeping up with philanthropy, making money much faster than they are giving it away."
"This year has been a strong year for IPOs, with 94 billionaires minted from 77 IPOs. M&A was also active, with combined transactions involving companies or individuals featured in Hurun Global Rich List more than double that of last year."
Representative of JDYD LIQUOR said, "Through the ages, the characteristic of wealth is "JDYD(which means great family and business in English)". In 2022, JDYD Liquor and Hurun Report jointly released the "JDYD LIQUOR • Hurun Global Rich List 2022", to share the wealth password of "achieving great family and business". As one of three century-old family brands in Maotai Town, the rare high-quality sauce-flavor liquor, and more than 200 years of inheritance and accumulation are both the source of the value and wealth of JDYD LIQUOR. JDYD LIQUOR was founded in 1803 in Yangliuwan area of Maotai Town by the descendants of Wang Zhongjun, who was a famous general in the late Ming Dynasty. The family operation has been inherited till now. JDYD LIQUOR won Panama Pacific International Exposition Award and IWSC Award, and was endorsed by Liu Xiaoqing, a national first-class actress. Now as the exclusive sponsor of Hurun Global Rich List 2022, it is a great gathering chance for JDYD LIQUOR and great entrepreneurs to witness the bellwether of distribution and changes of the world's top wealth. Drink JDYD LIQUOR, Achieve greatness!
Top Ten - JDYD LIQUOR · Hurun Global Rich List 2022
2 new faces in the Top 10: Sergey Brin and Larry Page of Alphabet broke into Top 10 at the expense of Mark Zuckerburg and China-based bottled water tycoon Zhong Shanshan.
The Top 10 added US$235bn over the year and are now worth US$1.3 trillion or 9% of the total list. 7 are from the USA, 2 from France and 1 from India.
The cut-off to make the Top 10 in the world has doubled every five years, from US$26bn ten years ago to US$42bn five years ago and US$102bn this year.
Elon Musk, 50, is the world's richest person for the second consecutive year with US$205bn, up US$8bn from last year. Musk has not been far from the headlines throughout the year, most recently over Ukraine, committing to keep Space X's Starlink satellite broadband services active. Tesla, with a US$831bn value is now bigger than the combined market capitalisation of next 10 car makers in the world, and has started work on its Berlin gigafactory. SpaceX has grown to become the largest unicorn in the US with a valuation of US$100bn, according to the Hurun Global Unicorn Index 2021, released in December. Musk broke up with singer Claire Elise Boucher after a three-year relationship and two children.
Jeff Bezos, 58, is second with US$188bn. In a year when Bezos stepped down as CEO and flew into space, Amazon continued its expansion into entertainment with the US$8.5bn acquisition of James Bond maker MGM Studios and Amazon Web Services grew to make up 15% of Amazon's revenue. Bezos' other main business Blue Origin did its first tourist flight into space in July and acquired a Colorado-based space robotic systems business. In December, Jeff Bezos announced a US$450mn donation, part of his US$10bn commitment to fight climate change.
'Luxury King' Bernard Arnault, 73, of LVMH added US$39bn to retain third place with US$153bn.
The bulk of the business, Fashion & Leather Goods, jumped 78% last year, backed by a sharp recovery in the US and Asia. Arnault has grown LVMH 46% to consolidate it as Europe's most valuable company worth US$333bn, according to the 2021 Hurun Global 500.
Despite his divorce, Bill Gates, 66, still managed to grow his wealth US$14bn to keep him at fourth place with US$124bn. Ex-wife Melinda French Gates made the Hurun Global Rich List for the first time in her own right with US$11bn. Gates' wealth is mostly with his investment company Cascade. Apple, Microsoft, Applied Materials, Intel and Nutrien represent 10% of Cascade's portfolio at the end of 2021, up 25%.
Warren Buffett, 91, of Berkshire Hathaway, added US$28bn to grow his wealth to US$119bn, breaking him back into the Top 5. Berkshire Hathaway's most substantial investments are in Apple and Bank of America, totalling over US$90bn, and in the past year bought Dominion Energy Natural Gas in a US$10bn deal.
Sergey Brin, 48, and Larry Page, 48, of Alphabet shared sixth place, with each of their wealth up US$39bn to US$116bn. Alphabet broke through the US$2tn mark, adding a staggering US$1tn since the pandemic began, on the back of growth from digital ads and its cloud business.
Steve Ballmer, 65, increased his net worth by US$27bn to break him into the '10-zero club' for the first time on the back of his 4% of Microsoft shares. Microsoft has grown to become a US$2.2tn business, briefly overtaking Apple for the title of the world's most valuable company. Microsoft has been expanding its gaming business in the build up to the metaverse, with a world-beating US$69bn acquisition of gaming giant Activision Blizzard. This month Ballmer announced a US$425mn donation to the University of Oregon.
Mukesh Ambani, 64, of Reliance Industries was up US$20bn to US$103bn, retaining his title of the richest person in India and Asia. Ambani is currently competing with Jeff Bezos to take control of a US$3.4bn retail group in India owned by former Indian billionaire Kishore Biyani. Ambani also announced his foray into green energy, by announcing a US$8bn plan to set up four gigafactories for solar, battery and hydrogen manufacturing.
Bertrand Puech & family, 86, of Hermes, kept his Top 10 slot, with his wealth up 28% to US$102bn. Although Hermes registered enjoyed record sales growth of 42%, profitability took a hit because of the higher costs of artisans and supply not being able to meet demand. In line with other luxury brands, Hermes increased the price of its products by 3.5% against the usual average of 1.5%.
Where they live
China continued to pull away from the USA in terms of billionaires, adding 75 to 1133. The USA was second with 716 billionaires, up 20. Between the 'Big Two', China and the USA have 55% of the 'known' billionaires on the planet. India added 38 to solidify its third place, whilst the UK overtook Germany for fourth. Russia dropped down one place to 8th with 72 billionaires, down 13, on the back of the collapse of the rouble and sanctions since the Russia-Ukraine war.
With Shenzhen overtaking New York for third place, it means that the Top 3 cities in the world for billionaires are all from one country: China with Beijing, Shanghai and Shenzhen. By speed of growth, London was the fastest growing city for billionaires in the world, adding 19 in the year, followed by Mumbai with 12 and New Delhi with 11.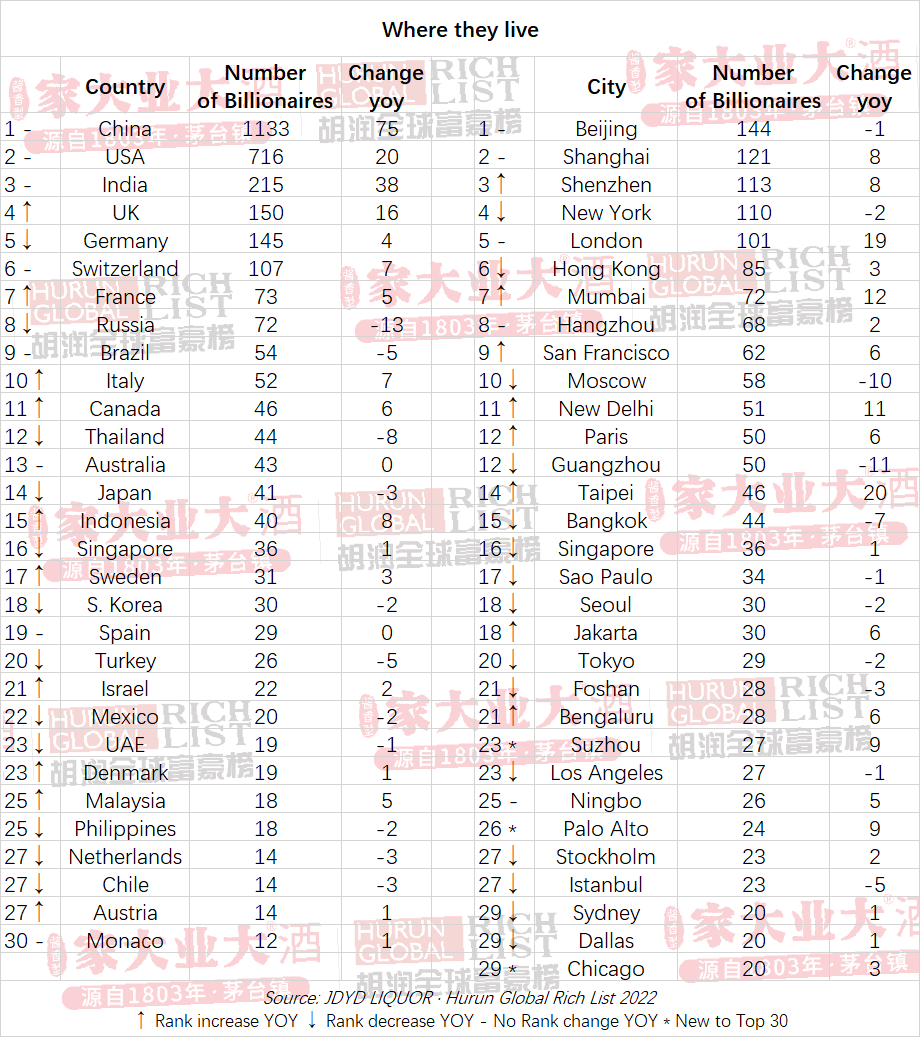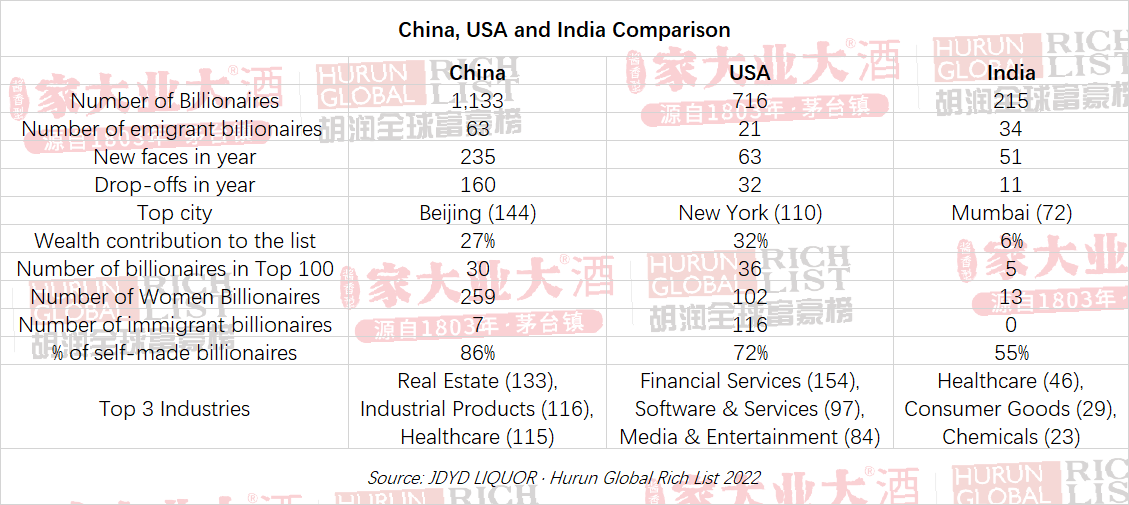 Greater China: The world's absolute No. 1 when it comes to billionaires, with more than the next three countries combined.
'Bottled Water King' Zhong Shanshan, 68, retained his position as China's richest people with US$72bn. TikTok's Zhang Yiming, 39, and battery maker CATL's Zeng Yuqun, 54, both broke into the China Top 3, whilst Pony Ma of Tencent and Jack Ma of Alibaba dropped out of the Top 3 for the first time since 2015. Led by Beijing, China now has the Top 3, 5 of the Top 10 and 10 of the Top 30 cities in the world, when it comes to preferred places for billionaires to live. The average age is 59 years old, 5 years younger than the average of the list. China has the largest number of self-made billion-dollar entrepreneurs in the world, and a massive 66% of the world's self-made women billionaires. 7 non-Chinese billionaires live in China, mostly in Hong Kong.
619 saw their wealth grow, of which 235 were new faces. 566 people saw their wealth drop, of which 160 fell off the list. 118 remained unchanged. Notable changes include:
l New faces. Taiwan-born 'Sneaker King' Zhang Congyuan, 74, was the highest new entrant with US$14bn on the back of the IPO of shoe maker Huali, followed by new energy tycoon Cao Renxian, 54, of Sungrow Power Supply with US$9.2bn.
l China's renewables boom continued with Ningbo-based Luo Liguo, 68, & family of Hoshine Silicon, and Gao Jifan, 57, & family of Trinasolar both seeing their wealth triple to US$16bn and US$8.5bn respectively.
l Down but not out. Kate Wang Ying, 40, of vaping brand Relx saw her wealth drop 91% to US$1bn. Real estate developer Sun Hongbin, 59, of Sunac had the second biggest drop, down 53% to US$4.3bn. Cheng Wei, 39, was also just hanging in as a billionaire after the share price of car hailing app Didi crashed.
l Shutting down nickel trading. Wenzhou-based Xiang Guangda, 64, of Tsingshan caused the world's nickel market to shut down at the London Metal Exchange. Despite this, Xiang's wealth rose 27% to US$4.2bn.
The USA is second behind China with 716 billionaires, up 20. Financial Services remain the main source of wealth with 154 billionaires, followed by Software & Services and Media & Entertainment with 97 and 84. Their combined wealth was US$4.8 trillion, equivalent to 5% of global GDP or a little more than that of Germany. New York had the highest concentration of billionaires (110), followed by San Francisco (62) and Los Angeles (27). California was the state with the most number of billionaires, 106, of which over half are from the Bay Area. The USA is the world capital for immigrant billionaires. The average age of US billionaires increased to 66, two years higher than the average age of the global list. Notable changes include:
· With a 179% increase in wealth, brothers John and Patrick Collison of San Francisco-based payment processing company Stripe were the fastest risers in the US. Stripe is now worth US$95bn, making it the second biggest unicorn in the US after SpaceX.
· Indonesia-born and San Francisco-based Leo Koguan, 67, shot into the list with a fortune of US$8.5bn. The retail investor holds more than 6.3 million shares of Tesla.
· New York-based Stephen Schwarzman, 74, of money manager Blackstone received a total payout of US$1.1bn in 2021. Backed by the best results in its history, Schwarzman increased his wealth by 65% or US$13bn to US$33bn.
· Taiwan-born Jen-Hsun Huang, 59, of semiconductor giant Nvidia, saw his wealth grow 68% as the global chip shortage continued. Nvidia has grown to become one of the Top Ten most valuable companies in the world, with a market cap of over US$500bn.
· With a wealth erosion of US$16bn, Daniel Gilbert, 60, of mortgage lender Rocket Companies, is the largest wealth destructor in the USA after Mark Zuckerberg. An increase in the benchmark lending rate coupled with inflation resulted in a weaker mortgage market, with Rocket down 40%.
· Ernest Garcia II & family of Carvana, an online used car retailer, saw his wealth decrease by 41%, down US$11bn. Carvana covers 80% of the US, leaving little room for growth.
· After being the fastest riser in the world last year, Eric Yuan Zheng, 52, of Zoom, saw his wealth halved to US$8.4bn, as Microsoft Teams cut into Zoom's core business.
· Adam Foroughi, John Krystynak and Andrew Karam of mobile technology company Applovin, broke into the list on the back of their IPO, which values Applovin currently at US$18bn.
· Kim Kardashian, 41, of KKW Beauty debuted this year with US$2bn. This year, Kardashian sold a 20% stake to makeup giant Coty for US$200mn, but it was her divorce from LA-based rapper Kanye West, 44, that really caught the headlines. West also made it to billionaire status for the first time with US$1.4bn, on the back of his Yeezy sneaker and fashion line.
· Canada-born David Baszucki, 60, and brother Gregory of video game developer Roblox Corporation, debuted the list with US$5.9bn and US$1.3bn.
· Adam Neumann, 42, re-entered the list with US$1.6bn, on the back of a rise in the value of WeWork.
· William Lynch and John Foley of Peloton Interactive, an American exercise equipment company, dropped out of the list after the company stopped production. Poland-born Peter Szulczewski of e-commerce platform Wish dropped off from the list due to a decline in daily user activity and active buyers.
India cemented the 3rd spot with 215 billionaires, 38 more than last year. With US$103bn, Mukesh Ambani, 64, of Reliance is the richest person in India. Healthcare, Consumer Goods, and Chemicals led the way, with 46, 29, and 23 billionaires each. Mumbai is the billionaire capital with 72, followed by New Delhi with 51. The average age was 66. There are a further 34 billionaires of Indian origin, living outside of India, led by LN Mittal of ArcelorMittal in London.
180 saw their wealth increase, of which 51 were new faces. 23 decreased and 11 dropped off. 12 stayed the same. Notable changes include:
· With an increase of US$49bn, Gautam Adani, 59, & family of energy conglomerate Adani Group was the world's fastest riser, after seeing the group grow to a US$150bn value. Adani is the second richest Asian after Mukesh Ambani.
· Mumbai-based Falguni Nayar & family, 58, of beauty and wellness e-commerce company Nykaa became India's most successful self-made woman, with US$7.6bn, and overtaking Kiran Mazumdar of Biocon for the first time.
· Apoorva Mehta's Instacart now stands at a US$39bn valuation, but the 35-year old billionaire had 20 failed start-ups before Instacart.
· After the underwhelming IPO of Paytm, Vijay Shekhar Sharma, 43, was down 58% to US$1.3bn.
· Rajinder Gupta, 62, of textile fabric manufacturer Trident, made the list for the first time with US$3.3bn, on the back of a surge in demand for home textiles after lockdown restrictions were eased in the US and Europe.
The UK was up one place to 4th with 150 billionaires, up 16. Real Estate and Retail led the way with 28 and 23 billionaires. UK billionaires have a combined wealth of US$551bn. The UK is second for immigrant billionaires after the USA. London was the undisputed city of choice for 101 of them followed by Manchester and Liverpool with 4 each.
101 saw their wealth increase, of which 22 were new faces. 32 saw their wealth decrease and 5 dropped off. Notable changes include:
· Denise Coates of betting platform Bet365 is the UK's richest woman and biggest individual taxpayer, paying US$630mn of taxes, up 50% on the previous year.
· Russia-born Nikolay Storonsky, 37, saw his wealth increase four-fold to US$6.6bn, as fintech and online banking platform Revolut became the world's tenth most valuable unicorn with a US$33bn valuation according to Hurun Global Unicorn Index 2021.
· Alan Sugar of Amshold reportedly paid himself a US$500mn dividend.
· Russia-born brothers Dmitry and Igor Bukhman, of gaming company Playrix debuted the list with a wealth of US$3.5bn each.
· Australia-born Johnny Boufarhat, 27, of online conference-hosting platform Hopin, made the list for the first time with US$3bn and is the UK's youngest self-made billionaire.
· Russia-born Denis Sverdlov (US$3.3bn) saw his wealth drop 37%, on the back of production delays for electric bus maker Arrival and despite Arrival becoming the largest UK listing on Nasdaq.
Germany was 5th with 145 billionaires. Retail led with 22 billionaires, followed by Healthcare with 21 and Food & Beverages with 20. Their combined wealth was US$627bn. The average age was 66. Munich was the preferred city to live in, followed by Hamburg. 99 saw their wealth increase, of which 13 were new faces. 37 decreased and 7 dropped off. Notable changes include:
· Brothers Andreas and Thomas Strungmann saw their wealth increase by 50% to US$15bn each, on the back of BioNTech's deployment of a Covid-19 vaccine in association with Pfizer.
· Gisela Sick & family, 99, manufacturer of sensors and sensor solutions for industrial automation SICK, broke into the list for the first time with US$5bn.
· Georg Schaeffler of automobile component manufacturer Schaeffler Group, was down US$2.5bn on accounts of the Volkswagen emissions scandal.
Switzerland was 6th in the world with 107 billionaires, up 7. Geneva and Zurich were the billionaire capitals, with 19 and 18. Preferred sectors were Healthcare (24), Consumer Goods (12) followed by Chemicals (9). With a net worth of US$34bn, Klaus-Michael Kuhne of Kuehne + Nagel International, a global transport and logistics company, is the new wealthiest individual in Switzerland. Their combined wealth was US$461bn, up 18%. Switzerland is the third biggest billionaire immigration country, with over half (58) of the Swiss-based billionaires born outside of Switzerland.
France rose to 7th with 73 billionaires, 5 more than last year. Their combined wealth was US$639bn, up 20%. The preferred sectors were Food & Beverages and Consumer Goods, with 14 and 12 billionaires. Paris was the preferred city in France for 50 billionaires. France's five richest individuals all made their wealth in luxury, led by Bernard Arnault of LVMH, Bertrand Puech of Hermes, Francoise Bettencourt Meyers of L'Oreal, Francois Pinault of Kering, and Alain Wertheimer of Chanel.
Russia dropped to 8th with 72 billionaires, down 13. A further 20 Russia-born billionaires live across the world, with 7 in the UK and 5 in Switzerland. All are self-made. The most popular sectors were Metals & Mining and Energy with 17 and 15 billionaires. Moscow was home for 58 of them. Their combined wealth came to US$320bn, down 23%. With US$21bn Vladimir Potanin, 61, of mining giant Norilsk Nickel, is the richest Moscow-based billionaire. The richest Russia-born entrepreneur is California-based Sergey Brin, 48, of Alphabet.
Since the cut-off of the Hurun Global Rich List on 14 January, the cumulative wealth of Russian billionaires is down over US$100bn. 12 Russian entrepreneurs dropped off the list as the Russian rouble and stock market crashed. Some of the high profile drops out include Oleg Tinkov (last year wealth US$3.3bn) of Tinkoff Bank, Vladimir Evtushenkov (last year wealth US$2.5bn) of Sistema and Arkady Volozh (last year wealth US$2.4bn) of Yandex. Others impacted by sanctions include metals tycoon Alisher Usmanov (whose wealth was down US$1bn), Alfa Group owner Mikhail Fridman (wealth down 27% or US$4bn), Petr Aven (down 17% or US$1bn) and steel magnate Alexei Mordashov (down 41% or US$9bn) and Roman Abramovich (wealth down 21% or US$4bn to US$15bn). Abramovich announced he was selling Chelsea Football Club after one of their most successful seasons ever.
Brazil retained the 9th place with 54 billionaires, five less than last year. The combined wealth of the Brazilian billionaires was US$157bn, 5% less than last year. The preferred sector was Financial Services with 21, followed by Healthcare with 7 billionaires. Sao Paulo was the preferred city for 34 of Brazil's 54 billionaires. The richest person is Marcel Herrmann Telles of investment firm 3G Capital with US$11bn.
Italy overtakes Thailand to the 10th position with 52 billionaires. Their combined wealth was US$188bn. The preferred sector is Consumer Goods with 24 billionaires. Milan is the preferred city for Italian billionaires.
Who's Up?
The biggest gainers of the year were Gautam Adani of India-based energy business Adani Group, whose wealth shot up US$49bn, Google co-founders Larry Page and Sergey Brin, and Bernard Arnault of LVMH.
There were 24 new entrants to the Top 100, led by Australia-based Mike Cannon-Brookes and Scott Farquhar of Atlassian, both 42, followed by Cyrus Poonawalla of India-based vaccine maker Serum Institute.
Leading the new faces on this year's list were Renata Kellnerova, who inherited the Czech Republic's largest insurer from late husband Petr Kellner.
In terms of percentage growth, UK-based Nikolay Storonsky of fintech platform Revolut, Jorge Moll Filho of recently listed Rede D'or and Cho Jung-Ho of Meritz Financial grew the fastest, quadrupling their wealth.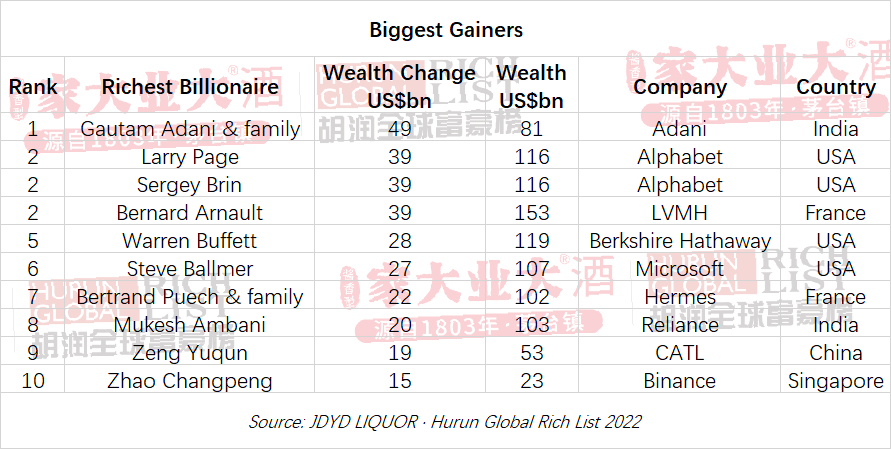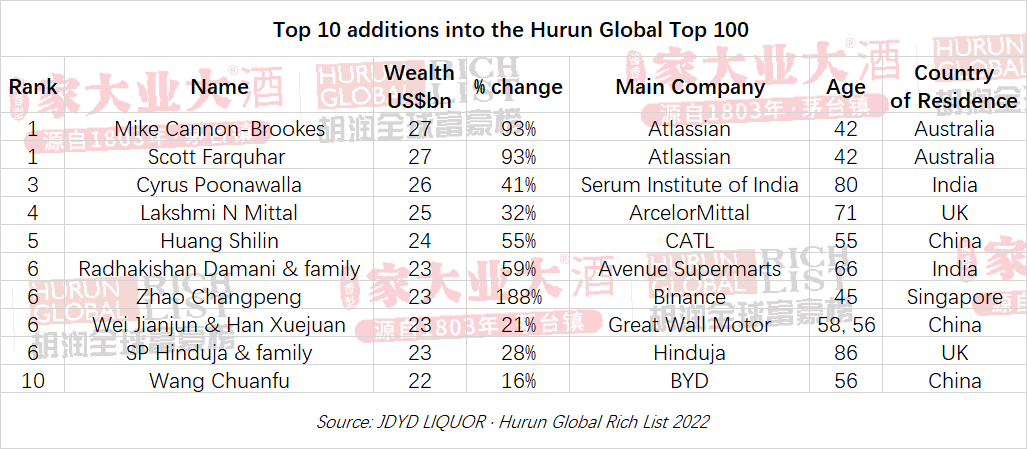 And, Who's Down?
9 of the 10 biggest drops came from China, led by Colin Huang of China e-commerce platform Pinduoduo, whose wealth was down US$50bn. The Chinese government stepped up its anti-monopoly regulations, with a significant impact on e-commerce platforms. Other sectors hit bigtime by included real estate, with one of the biggest real estate tycoons Xu Jiayin of Evergrande now on the brink of bankruptcy, and online home tutoring platforms. The only non-Chinese in the Top 10 was Mark Zuckerberg, who lost US$25bn on the back of challenges to its core advertising business and its shift to the metaverse.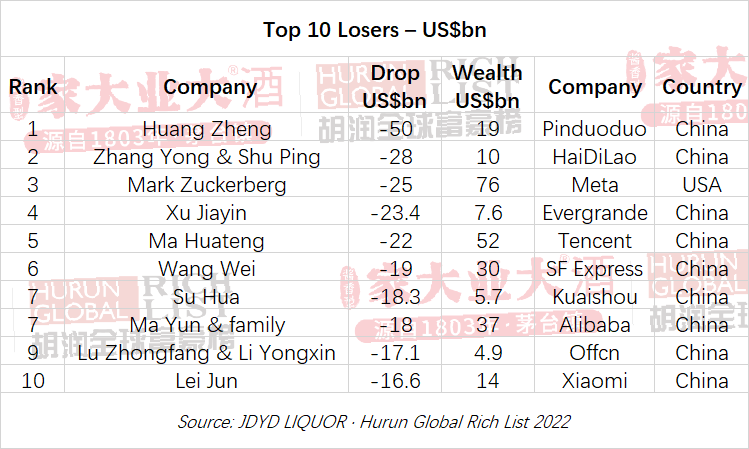 Source of Wealth by Industry – JDYD LIQUOR · Hurun Global Rich List 2022
By number of billionaires. Healthcare overtook Real Estate for second place, whilst Retail overtook Consumer Goods for fourth. Financial Services was the most common source of wealth of the Hurun Global Rich List.
By total wealth. Retail, Consumer Goods and Financial Services led the way, making up over a quarter of billionaires wealth.

Interesting Facts
Comparison of China and USA billionaires. China overtook the USA in terms of number of billionaires in 2016. Since then, the number of US billionaires has grown by a third, whilst China's billionaires have doubled, such that today there are 60% more billionaires in China than the USA.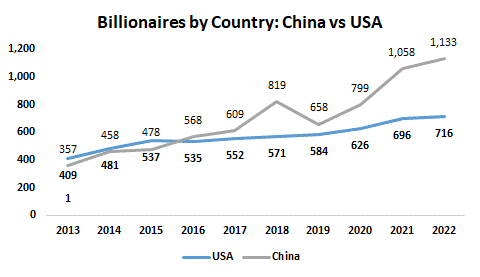 Source: JDYD LIQUOR · Hurun Global Rich List 2022
Giving it Away, Slowly
Philanthropy. 5 billionaires, three from China and two from the USA, donated more than a billion dollars led by Jeff Bezos' ex-wife MacKenzie Scott, who donated US$8.6bn to organizations focused on gender equality, racial justice and public health. Others included Elon Musk, who donated Tesla shares worth US$5.7bn to an unnamed charity; Beijing-based Wang Xing of Meituan, who donated US$2bn to education and research; Lei Jun of smartphone maker Xiaomi donated US$2bn; and Fujian-based Ding Shizhong of sportswear brand Anta, who donated US$1.2bn. Others include Jeff Bezos, who announced US$450mn of donations as part of his US$10bn commitment to fight climate change; Steve Ballmer of Microsoft, who donated US$425mn to the University of Oregon; T Denny Sanford of First Premier Bank, who donated US$350mn to Sanford Health for a 'Virtual Care Centre'.
Other Points of Interest
· Richest Family. The Walton family of Walmart is the richest family in the world with a cumulative net worth of US$232bn, more than Elon Musk.
· Oldest families. 107 billionaires are from fourth generation family owners. Mexican Juan Francisco Beckmann Vidal of the José Cuervo tequila brand is the 11th generation, followed by four UK-based property families: 10th generation Hazel Czernin, 87, of the Howard De Walden Estate; 10th generation Christopher Portman, 63, of the Portman Estate; 8th generation Hugh Grosvenor, 31, of Grosvenor; and 7th generation Charles Cadogan, 84, of Cadogan Estates.
· Oldest billionaire. There are three centurions on this year's list: HK-based Chee Chen Tung, 105, of Johnson Electric; Jacques Gaston Murray, 102, of UK-based Andrew Sykes Group and Los Angeles-based George Joseph, 100, of Mercury General.
· Billionaire Divorces/split-ups. Bill Gates & Melinda French Gates split after 3 decades of marriage; Elon Musk broke up with his girlfriend and mother of two of his children Canadian singer Grimes after being together for three years; Kim Kardashian separated from American rapper Kanye West; Shenzhen-based Zhu Xingming, 55, of Inovance Technology filed for divorce; John Paulson of American investment management firm Paulson & Co, has filed for divorce with his wife Jenny Paulson.
· Billionaires Spending Big. Tilman Fertitta (Wealth US$7bn) took delivery of a yacht worth US$150mn; Mukesh Ambani (US$103bn) acquired New York's premium luxury hotel Mandarin Oriental for US$98mn; Ken Griffin (US$19bn) of Citadel paid US$43mn for the first edition of the US constitution; Charles Johnson (Wealth US$5.8bn) of Franklin Templeton Investments bought a Palm Beach mansion for US$22mn; Radhakishan Damani (US$23bn) of DMart purchased a residential property at South Mumbai's Malabar Hills for US$130mn.
Tech IPOS: 2021's IPO story began with a bang but fizzled out towards the end owing to bubble concerns. Tech companies that listed in 2021 cumulatively lost US$175bn in value. For instance, Sytse Sijbrandij (US$1.8bn) of Gitlab, which was listed at US$15bn in October, is trading currently at US$4.7bn. Similarly Armon Dadgar's (US$1.4bn) flagship company Hashicorp listed in December at US$14bn and is currently trading at a 60% discount.
2021 was also a watershed moment for wealth creation in crypto. Cryptocurrency exchange Coinbase listed at a blockbuster US$100bn valuation in its Nasdaq debut in April, launching Brian Armstrong and Frederick Ernest Ehrsam III into the Hurun Global Rich List. However, due to volatility of the crypto asset class, Coinbase is currently trading at 60% discount to the listing price.
Others included Nubank, the largest fintech bank in Latin America, which listed with a valuation of US$45bn in December. Founders David Velez (US$8.1bn) and Cristina Junqueira (US$1.1bn) debuted the Hurun Global Rich List.
Discount broking app Robinhood listed with a valuation of US$32bn, such that Baiju Bhatt (US$1.4bn) and Vladimir Tenev (US$1bn) debuted the Hurun Global Rich List. UK-based electric bus maker Denis Sverdlov's Arrival listed on Nasdaq at a valuation of US$13bn. Daniel Dines (US$4.5bn) took automation software company UiPath public at a valuation of US$36bn.
Aurora Innovation was listed with a market cap of US$14bn, such that Chris Urmson (US$1.1bn) debuted the Hurun Global Rich List. Dating app founder Whitney Wolfe Herd, 32, (US$1bn) took Bumble public at a valuation of US$8.2bn.
Overall, it has been a solid year for IPOs with 94 new billionaires from 77 IPOs in 2021.
Mergers & Acquisitions
Billionaires have been involved in massive deals throughout the year, led by Microsoft, from which Steve Ballmer (US$107bn) derives most of his wealth from, which did over US$90bn worth of deals through acquisitions including that of Activision Blizzard and Nuance Communications.
Overall, it has been a strong year for M&A. The combined transaction value of mergers and acquisitions involving companies or individuals featured in Hurun Global Rich List is more than doubled compared to that of last year.
· Jack Dorsey (US$8.4bn). Square acquired Australian buy now, pay later giant Afterpay for US$29bn.
· Larry Ellison (US$87bn). Oracle acquired medical-records systems provider Cerner for US$28bn.
· Edward Rogers III (US$2.2bn). Rogers Communications, bought Shaw Communications for US$20bn.
· Scott Cook (US$5.5bn). Intuit acquired Mailchimp, an all-in-one marketing platform for growing businesses, for US$12bn.
· Nestlé has agreed to reduce its stake in Françoise Bettencourt Meyers-owned L'Oréal by selling back its shareholdings to the French beauty giant in a US$10bn deal.
· Jeff Bezos (US$188bn). Amazon acquired entertainment company MGM Studios for US$8.5bn.
· Palo Alto-based Tony Xu, Andy Fang and Stanley Tang (US$2bn). Food delivery platform DoorDash has plans to expand into Europe with its US$8.1bn acquisition of Finland-based Wolt.
· Irwin Jacobs (US$4.9bn). Qualcomm bought Swedish automotive tech company Veoneer for US$4.5bn.
· Zhang Yiming. In March last year, ByteDance bought gaming company Moonton for US$4bn.
· Stryker family (US$17.3bn). Stryker, a US medical device company, recently acquired Vocera Communications, a digital care coordination company, for US$3.1bn to seize the digital health market.
· Byju Raveendran's (US$3.3bn) Think & Learn, the world's most valuable edtech company, spent over US$2.7bn last year on acquisitions
· Wang Wei. In September, SF Express made a US$2bn acquisition of 51.5% of Kerry Logistics.
· David Duffield (US$17bn) of Workday acquired external workforce management startup VNDLY for US$510mn.
Deaths
39 billionaires died during the past year. Three were in their fifties: Beijing-based Zuo Hui, 50, of real estate brokerage giant KE from cancer, Korean online gaming tycoon Kim Jung-Ju, 53, and Czech Petr Kellner, 57, from a helicopter crash during a ski trip to Alaska. The average age of death was 79. Between them, they passed down US$61bn to 15 family members.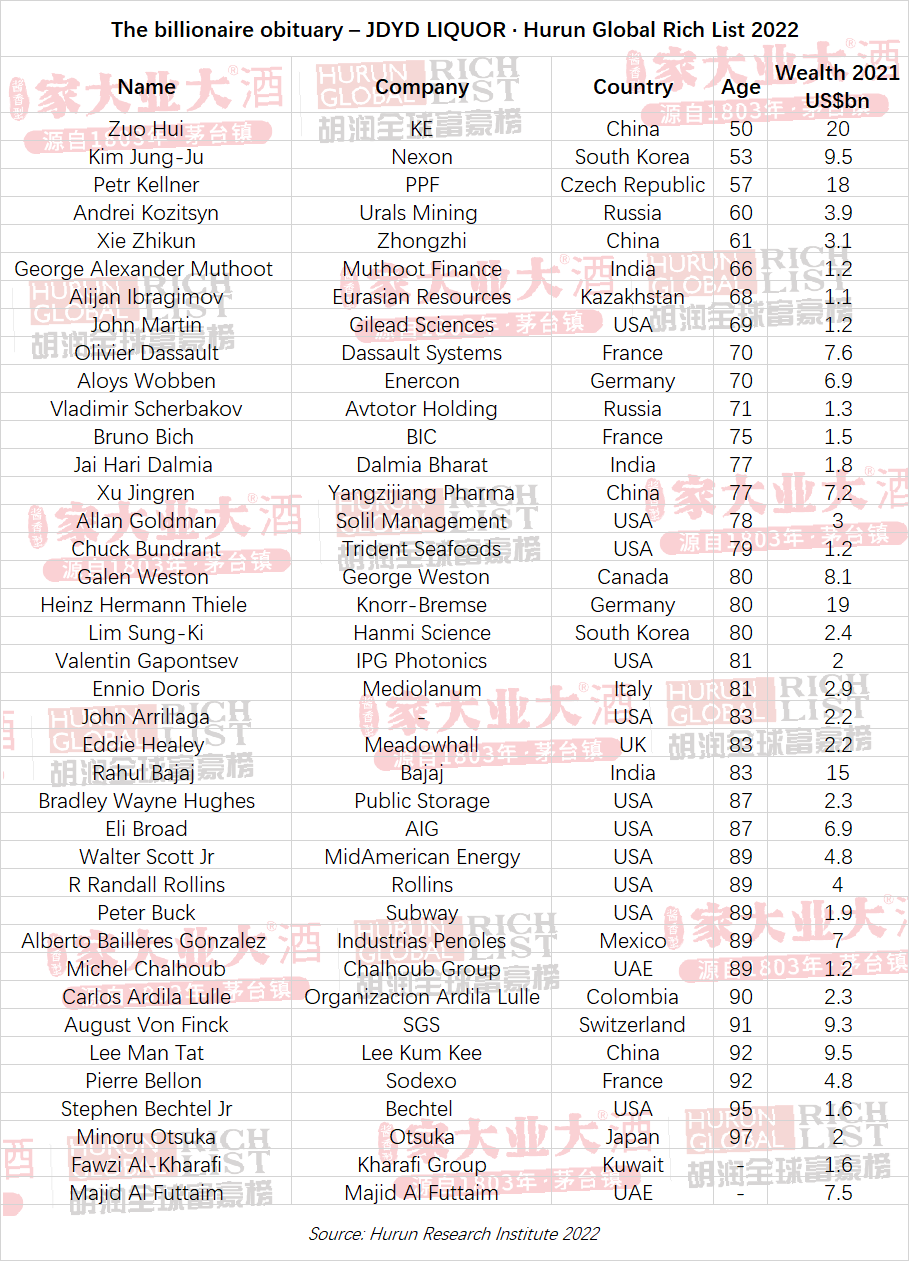 By Continent. Asia pulled away from North America and Europe, both in terms of new additions and total wealth.
Asia, with 57% of the world's population, accounted for 67% of new faces, 52% of billionaires and 42% of total wealth.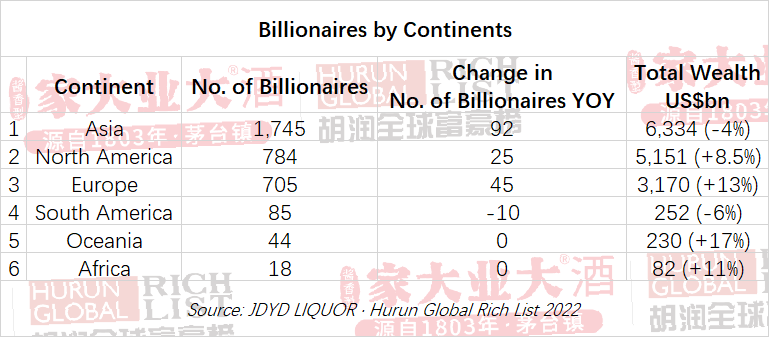 Stock Markets and Currencies
In the year to 14 January 2022, the cut-off for this year's list, it had been a good year for stock markets generally. In the USA, the S&P 500 was up 24%, NYSE Composite up 16%, and Nasdaq up 15%. India's SENSEX was up 25%, whilst in Europe the Euronext 100 Index was up 21%, Germany's DAX Index up 13%, UK's FTSE 100 Index up 13% and Russia up 6%. HK's Hang Seng Index was one of the worst performing with a 15% drop.
In that same period, the US dollar grew in strength against most major currencies other than the Chinese Yuan. The Japanese Yen was down 10.1%, Euro was down 7.3% and GBP remain unchanged. Most of the Latin American currencies depreciated against the US dollar, led by the Argentine peso (-21%), Colombian peso (-17%), Chilean peso (-13%), and Brazilian real (-5%). The Chinese Yuan appreciated 3% against the US Dollar.
In the two months since 14 January, however, stocks have crashed, with Russia the worst hit by sanctions down 32%. The Hang Seng Index was down a further 16%, the DAX down 16%, Nasdaq and Shenzhen both down 12%, the Bombay Stock Exchange down 9%, NYSE down 7%, and both London and Shanghai down 6%. The Russian Rouble crashed 53% against the dollar.
Table: Stats – Number of Billionaires through the Years
Every year of the last decade, with an exception of 2019, has produced a new record number of billionaires. There are more than double the number of known billionaires than ten years ago.
This year there were 337 drop-offs, the most drop-offs of the last decade other than 2019, when there were 425.
The 'nine-zero club', those with US$10bn or more, has tripled from 83 ten years ago to 260 this year.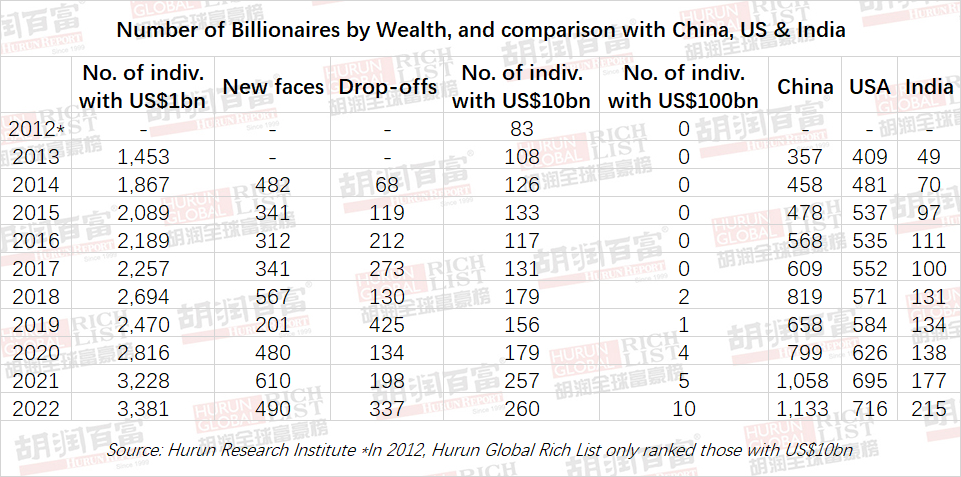 Stats – Cut-offs
To make the Top 10 has grown fastest of all, with the cut-off up 28% since last year.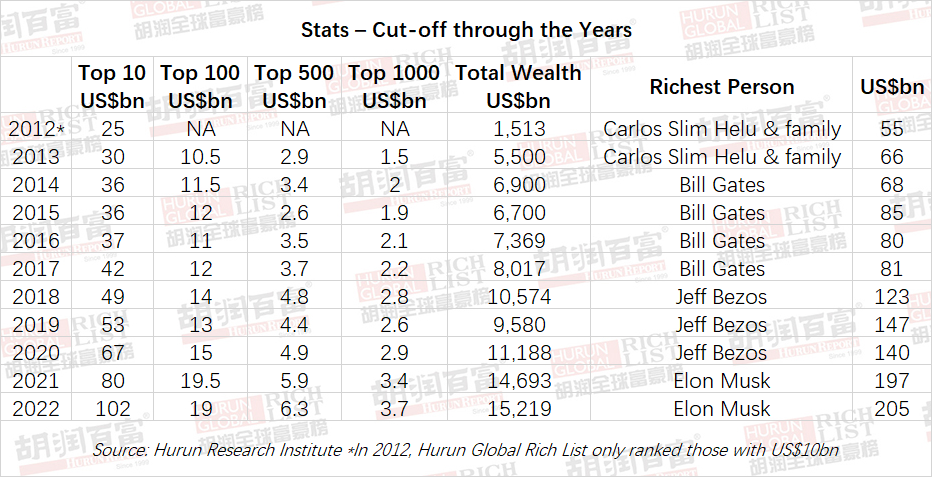 Comparisons with the Top 10 Five Years and Ten Years ago
The cut-off to the Top 10 has doubled every five years. Only 3 of the Top 10 from ten years ago are still there today: Bill Gates, Warren Buffett and Bernard Arnault.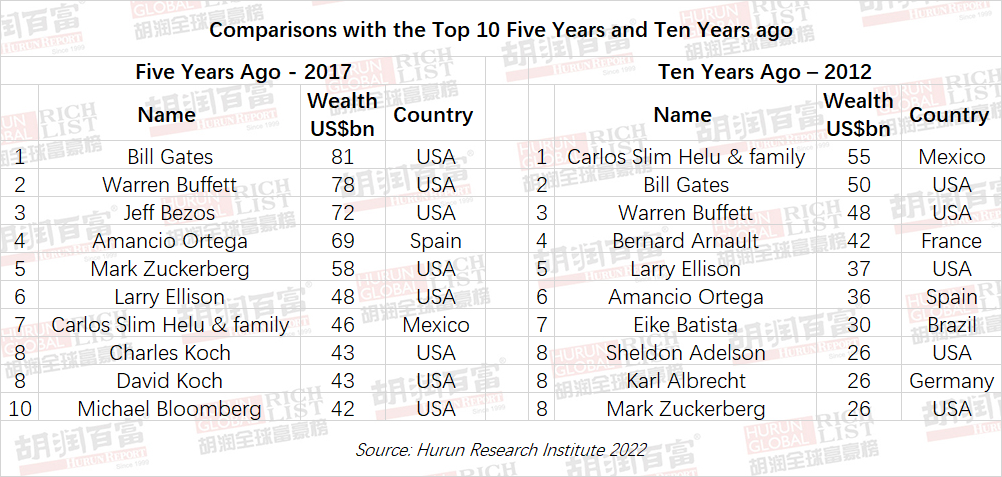 Self-made degrees: Hurun Research's bespoke measure of the degree to which billionaires are inherited or self-made. The scorecard is out of five, where 1 is inherited and not active in business, and 5 is self-made without help from parents. Hoogewerf said, "Many billionaires like to portray themselves as self-made, but have actually inherited significant wealth from their parents."
72% are self-made and 28% are inherited. China is the world's engine when it comes to self-made billionaires. Five years ago, self-made billionaires accounted for 69% of the total list.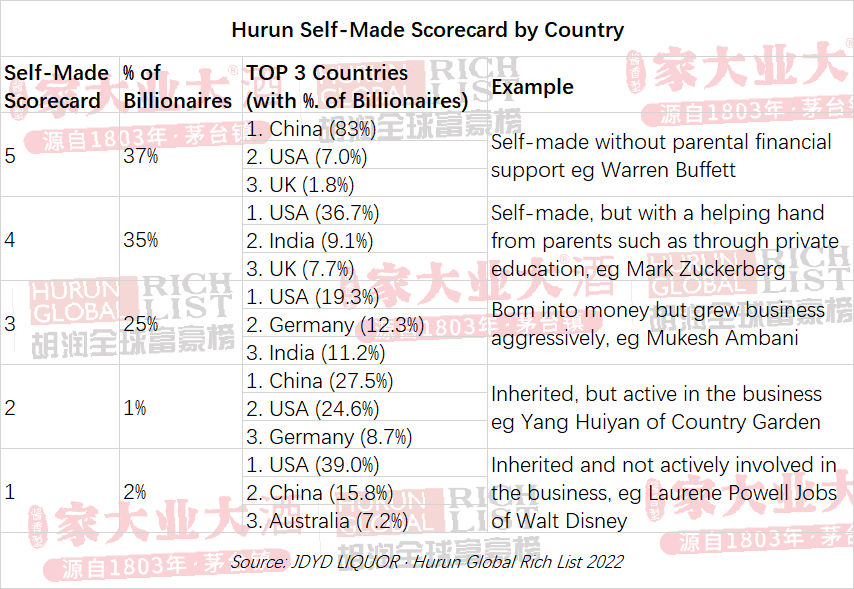 About JDYD LIQUOR
Drink JDYD LIQUOR, Achieve greatness! Located in the 7.5 square kilometers of Chishui River sauce-flavor liquor core production area of Maotai Town, the earliest history of JDYD LIQUOR can be traced back to 1803. The initial brewery was founded by the descendants of Wang Zhongjun, a famous general at the end of the Ming Dynasty, and since then, his descendants have been deeply involved in the key aspects of brewing such as grain, water, yeast and technology, and the family business has been inherited to today. In addition to the good story of taking the lead in offering liquor to the Red Army, JDYD LIQUOR has preserved its unique hundred year history of liquor superior microbiota and has become a rare high-end liquor brand in Maotai Town, and won the Panama Pacific International Exposition Award and IWSC Award, and invited national actress Ms. Liu Xiaoqing as the brand ambassador. At present, JDYD LIQUOR has been laid out in Jiangsu, Guangdong, Shandong, Zhejiang, Henan, Shanghai, Beijing, Hebei, Hubei, Anhui, Fujian, Shanxi and other places, and successfully held a Series of JIAOCANG launch in Guizhou Hall of the Great Hall of the People, and has been grandly debuted in the yearly giant advertisements of airports in Shenzhen, Hangzhou, Jinan and other first- and second-tier cities, has strongly seized the high-end liquor brand promotion heights. Online, JDYD LIQUOR has reached cooperation with famous e-commerce companies such as Tmall, Jingdong, Jiuxian, etc, and has a number of mainstream media and local media for long-term brand information report. Each bottle of JDYD LIQUOR is a famous brew, which not only combines the exquisite 12987 authentic Kun Sha liquor brewing process, advanced quality testing and automated filling technology, but also has a professional team of liquor tasting masters to escort the quality in multiple directions, which has gained professional recognition from high-end people such as liquor gourmets and entrepreneurs.
*"The Panama Pacific International Exposition Award" in this article is actually called "The 106 Years Exhibition Panama Pacific Universal Exposition Honorable Medal", and "The IWSC Award" is actually called "The IWSC- International Wine & Spirit Competition Silver Award".
About Hurun Inc.
Promoting Entrepreneurship Through Lists and Research
Oxford, Shanghai, Mumbai, Sydney, Paris
Established in the UK in 1999, Hurun is a research, media and investments group, promoting entrepreneurship through its lists and research. Widely regarded as an opinion-leader in the world of business, Hurun generated 6 billion views on the Hurun brand last year, mainly in China and India.
Best-known today for the Hurun Rich List series, telling the stories of the world's successful entrepreneurs in China, India and the world, Hurun's two other key series include the Hurun Start-up series and the Hurun 500 series, a ranking of the world's most valuable companies.
The Hurun Start-up series begins with the Hurun U30s, an awards recognizing the most successful entrepreneurs under the age of thirty, and is today in seven countries. Next up are Hurun Cheetahs, Chinese and Indian start-ups with a valuation of between US$300mn to US$500mn, most likely to go unicorn with five years. Hurun Global Gazelles recognize start-ups with a valuation of US$500mn to US$1bn, most likely to go unicorn within three years. The culmination of the start-up series is the Hurun Global Unicorn Index.
Other lists include the Hurun Philanthropy List, ranking the biggest philanthropists, the Hurun Art List, ranking the world's most successful artists alive today, etc…
Hurun provides research reports co-branded with some of the world's leading financial insitutions, real estate developers and regional governments.
Hurun hosted high-profile events in the last couple of years across China and India, as well as London, Paris, New York, LA, Sydney, Luxembourg, Istanbul, Dubai and Singapore.
For further information, see www.hurun.net.
For media inquiries, please contact:
Hurun Report
Porsha Pan
Tel: +86-21-50105808*601
Mobile: +86-139 1838 7446
Email: porsha.pan@hurun.net
Grace Liu
Tel: +86-21-50105808
Mobile: +86 136 7195 4611
Email: grace.liu@hurun.net