PRESS RELEASE
HURUN GLOBAL U40 SELF-MADE BILLIONAIRES 2023
HURUN REPORT FINDS 59 SELF-MADE BILLIONAIRES IN THE WORLD AGED 40 & UNDER, DOWN 28 IN YEAR
USA LEADS WITH 23, DOWN 14. CHINA SECOND WITH 18, DOWN 7. USA AND CHINA HAVE 69%, DOWN 2% LAST YEAR, OF TOTAL. INDIA AND UK IN THIRD AND FOURTH PLACES WITH 5 AND 4 SELF-MADE BILLIONAIRES.
DESPITE LOSING US$8BN, MARK ZUCKERBERG, 39, WORLD'S NO.1 UNDER 40YRS WITH US$68BN. TIKTOK FOUNDER ZHANG YIMING, 40, SECOND WITH US$37BN (DOWN US$17BN).
AUSTRALIA-BASED MELANIE PERKINS, 35, AND HUSBAND CLIFF OBRECHT, 37, OF GRAPHIC DESIGN PLATFORM CANVA BREAK INTO TOP 3 WITH US$12BN.
DUBAI-BASED PAVEL DUROV, 39, OF INSTANT MESSAGING APP TELEGRAM DOUBLES WEALTH TO US$11BN TO 4TH PLACE, AMID PRIVACY CONCERNS WITH WHATSAPP.
14 NEW FACES, LOWEST SINCE RECORDS BEGAN IN 2016, DOWN 17 COMPARED WITH LAST YEAR, LED BY CAI HAOYU (36) OF MIHOYO WITH US$3.1BN, AND CO-FOUNDERS LIU WEI, 36, AND LUO YUHAO LU, 36, WITH US$1.7BN AND US$1.6BN; SHANGHAI-BASED YANG BING, 38, OF E-COMMERCE RETAILER DEWU WITH US$1.5BN.
RUSSIA-BORN BUKHMAN BROTHERS DMITRY, 37, AND IGOR, 40, OF LONDON-BASED ONLINE GAMING COMPANY PLAYRIX DOUBLE WEALTH TO US$7.7BN EACH AND 6TH PLACE.
SINGAPORE-BASED CHRIS XU YANGTIAN, 39, OF FAST-FASHION PLATFORM SHEIN BROKE INTO THE TOP 10 FOR THE FIRST TIME WITH US$7.5BN, UP 19%.
FASTEST RISER ZHANG HONGFU (38) OF POPULAR CHINESE BEVERAGE BRAND MXBC, TRIPLES WEALTH TO US$4.2BN.
FOOTBALL LEGENDS CRISTIANO RONALDO, 38, AND LIONEL MESSI, 35, DEBUTED WITH US$1.2BN EACH
BIGGEST LOSSES IN YEAR. ZHANG YIMING DOWN US$17BN, FOLLOWED BY MARK ZUCKERBERG DOWN US$8BN, NATHAN BLECHARCZYK AND STRIPE'S CO-FOUNDERS JOHN COLLISON AND PATRICK COLLISON (DOWN US$5.4BN EACH).
SAM BANKMAN-FRIED, 31, OF FTX BIGGEST CASUALTY OF THE YEAR, 3RD ON LAST YEAR'S LIST WITH US$21BN, DECLARED BANKRUPT. ONLY ONE CRYPTO BILLIONAIRE LEFT, FREDERICK ERNEST EHRSAM III OF COINBASE, DOWN FROM 7 LAST YEAR, WITH FOUNDERS OF COINBASE, GEMINI, HUOBI AND OK DROPPING OUT.
EV MAKERS ALSO SUFFERED, CO-FOUNDERS OF GUANGZHOU-BASED XPENG MOTORS AND PHOENIX-BASED NIKOLA DROPPED OFF.
4 INDIVIDUALS AGED 30 OR UNDER, LED BY TWO 28-YEAR OLDS, CALIFORNIA-BASED AUSTIN RUSSEL OF LUMINAR TECHNOLOGIES AND LONDON-BASED JOHNNY BOUFARHAT OF VIRTUAL EVENT PLATFORM HOPIN. BIRMINGHAM-BASED BENJAMIN FRANCIS OF SPORTSWEAR BRAND GYMSHARK AND SHANGHAI-BASED LU JIANXIA OF MANNER COFFEE ARE 30 YEARS.
5 WOMEN ON HURUN GLOBAL U40 SELF-MADE BILLIONAIRES 2023, LED BY MELANIE PERKINS WITH US$12BN, FOLLOWED BY LU YIWEN OF SHENZHEN-BASED DIAMOND BRAND DR WITH US$4BN. OTHERS INCLUDE LA-BASED SINGER RIHANNA, WU MIN OF BEIJING-BASED FOURTH PARADIGM AND LU JIANXIA, 30, OF SHANGHAI-BASED MANNER COFFEE.
LAST YEAR'S FASTEST RISER, DUBAI-BASED NIKOLAY STORONSKY (38) OF UK DIGITAL BANK REVOLUT, WITH US$5BN, DOWN US$1.6BN.
15 OR 25% ARE IMMIGRANTS. RUSSIA (4), CHINA (3) AND IRELAND (2) LED FOR COUNTRY OF ORIGIN, WHILST USA (5), UK AND UAE (3 EACH) LED FOR COUNTRY OF RESIDENCE.
SHANGHAI WAS WORLD'S FASTEST-GROWING CITY FOR SELF-MADE U40 BILLIONAIRES, SHOOTING UP TO 2ND PLACE WITH 6 BILLIONAIRES, UP 5.
HURUN U40S CO-FOUNDED 5 OF HURUN GLOBAL 500 MOST VALUABLE COMPANIES, INCLUDING META, BYTEDANCE, AIRBNB, STRIPE AND UBER .
75%, DOWN FROM 77% LAST YEAR, MADE THEIR MONEY FROM SELLING TO CONSUMERS, WHILST ONLY 25% SELL TO BUSINESSES.
ONLY 17% MADE THEIR MONEY FROM SELLING PHYSICAL PRODUCTS, WHILST 83% SELL SOFTWARE & SERVICES.
21 INDIVIDUALS UNDER THE AGE OF 40 ARE BILLIONAIRES THROUGH INHERITENCE, LED BY MARK MATESCHITZ, 30, OF REDBULL WITH US$23BN; YAN HAO, 37, OF CHINA PACIFIC CONSTRUCTION WITH US$22BN; LUKAS WALTON, 37, OF WALMART WITH US$18BN; LONDON-BASED PROPERTY OWNER HUGH GROSVENOR, 32, AND LEGO HEIR AGNETE KIRK THINGGAARD, 39.
HURUN REPORT, WORLD'S LARGEST RICH LIST PROVIDER, RELEASES HURUN GLOBAL U40 SELF-MADE BILLIONAIRES 2023
(6 April 2023, Shanghai, China, and Mumbai, India) Hurun Report today released the Hurun Global Forty and Under Self-Made Billionaires 2023, a ranking of the world's self-made US dollar billionaires forty years and under. Wealth calculations are a snapshot of 16 January 2023. This is a sub-list of the 2023 Hurun Global Rich List, released on 23 March.
Hurun Research found 59 self-made billionaires in the world aged 40 or under, down 28 on last year. They came from 10 countries, down 1 on last year. Their total wealth was US$269bn, down 41%. 4 individuals, down 8, are worth US$10bn or more. The average age was 37yrs.
50 saw their wealth go down, of which 23 dropped out. A further 20 from last year turned 41 years old, so no longer made the age cut-off. 21 saw their wealth go up, of which 14 were new faces. 11 saw their wealth not change.
Rupert Hoogewerf, Chairman and Chief Researcher of Hurun Report, said, "The number of self-made billionaires aged 40 or under has dropped back to pre-Covid levels, suggesting that the Covid-fueled boom of industries like crypto and and EVs, has dropped back to more normal levels. I hope this list of the Hurun Global U40 Self-Made Billionaires can give an indication of where the wealth creating opportunities lie for the next generation of entrepreneurs."
"Sam Altman, 37, of OpenAI does not make the list, because he is said to have taken no equity in the company when it became for-profit."
"This is the first year of KOLs making it to billionaire status. Individuals who are able to influence millions of consumers, the likes of World Cup winner Lionel Messi and Cristiano Ronaldo both make billionaire status for the first time on the back of club signup fees, salaries and brand endorsements. Others include the singer Rihanna, who used her influence to create makeup brand Fenty Beauty and LA Lakers superstar LeBron James, the second NBA player after Michael Jordon to reach billionaire status."
"Entertainment, Online Gaming, Media and Food Delivery were the main sources of wealth for the Hurun Global U40. Crypto had a bad year."
"Mark Zuckerberg has said that he intends to give his wealth away and has so far given 4% away. For most, it is too early to think about giving it away."
"It took the world's most successful Under40s less than six years to make their first billion on average. That is mainly because most of them are serial entrepreneurs, who started off at average age of 24 with their first business and then started their current business aged 27. Elon Musk, the world's best-known serial entrepreneur, sold his first business aged 28 before investing into SpaceX aged 31 and Tesla aged 33."
"The world's self-made Under40s billionaires are much more versatile when it comes to where they want to live than their elders. They are twice as likely to emigrate compared with the average billionaire. Today, one in three, up from one in four last year, of the Hurun Global U40 were born and brought up in countries different to where they live today. The most attractive start-up ecosystems for young immigrant billionaires were the USA, UK and UAE, whilst the main country of origin was Russia."
"8 out of 10 of the Hurun Global U40s are selling Software & Services rather than physical products, more than the average billionaire in the world today. As many as 3 in 4 of the U40s sell direct to consumers, which is again much much higher than the average billionaire."
"Interestingly, 7 out of 10 of the Hurun Global U40 had a helping hand from their parents, in that they had a private education or some means before they started their business. All made their own money."
"For most entrepreneurs, aged 40 is when their business is just beginning to kick off, whilst for the individuals from the Hurun Global U40, they have managed to make a billion dollars already. The questions are 'How big can they get by the time they are the age of Elon Musk, Bill Gates or Warren Buffett?' and 'What will they do with all this wealth? Give it to charity, or to their children?"
Hurun promotes entrepreneurship and value creation through its lists and research. This list, the Hurun Global U40 is designed to encourage more young people to learn about entrepreneurship through the stories of the world's most successful young entrepreneurs under the age of 40. If they have a billion or more before the age of 40, then how big can they get to by the time they get to the age of Elon Musk, Bill Gates or Warren Buffett?
The Top 10 Hurun Global U40s
5 are based in the US, 2 in each of the UK and Singapore, and 1 in each of the Australia and UAE. They come from seven companies: Meta, Telegram, Stripe, Douyin, Airbnb, Shein and Playrix. Cut-off to the Top 10 was US$6.6bn, down 45% on last year.
There were four new faces. Three of last year's Top 10, Brian Chesky and Joe Gebbia of Airbnb, and Eduardo Saverin of Facebook are now 41 years, so are no longer eligible to be on the Under40s list, whilst Sam Bankman-Fried dropped off completely after the collapse of FTX.
Mark Zuckerberg, 39, saw his wealth down US$8bn, but was still the richest self-made individual in the world under the age of 40 for the 8th year. Zuckerberg was down as much as US$35bn in the course of the year, but clawed back most of that as Meta's stock rose these last couple of months.
Despite being down US$17bn, newly based in Singapore Zhang Yiming, 40, of ByteDance, has retained second place in the Hurun Global U40 Self-Made Billionaires 2023 list with US$37bn. Douyin is the most valuable start-up in the world, with a valuation of US$200bn according to the 2022 Hurun Global Unicorn Index. TikTok is currently fighting for its survival in the US, after Congress' questioning of how its data is being stored. Douyin is reported to have a staggering US$80bn in revenues last year, significantly all of it from its China-based business.
With US$12bn, Sydney-based online design platform Canva, husband and wife Cliff Obrecht & Melanie Perkins are at third place. Canva has over 100 million users in over 190 countries.
Dubai-based Pavel Durov, 39, of instant messaging app Telegram broke into the Top 5 of the Hurun Global U40 Self-Made Billionaires 2023 for the first time, making him the richest software and services entrepreneur in the world under the age of 40. Scandals involving the major social networks at the beginning of 2021 have given an unexpected boost to Russia-born Durov's Telegram messenger service, which has now just under 900 million users around the world, with 150 million in India.
With US$9.6bn, Dustin Moskovitz, 39, a co-founder of Facebook with then-roommate and Harvard student Mark Zuckerberg, shares the fifth spot. Most of Moskovitz' wealth comes from his 2% stake in Meta. Moskovitz and his wife started Good Ventures, a philanthropic foundation, with the aim to donate most of their wealth.
With US$7.7bn each, Russia-born brothers Dmitry and Igor Bukhman of gaming company Playrix, shares 6th place. Currently Playrix is among the world's top game publishers by generated revenues. The company was born in Vologda, Russia, 18 years ago and moved its headquarters to Dublin.
Media-shy Chris Xu Yangtian, 39, of innovative fast-fashion retailer Shein broke into the Top 10 for the first time, as Shein continued to grow its sales of fast-fashion products. Singapore-based Xu spotted the opportunity to design and produce fast-fashion in Guangzhou, where the supply chain of apparels is pretty much complete. Shein then mails its products around the world, and has built up substantial market shares in the US and Europe.
Where do they live?
By country, the USA topped the U40s list with 23 self-made billionaires, followed by China (18). India and UK for third and fourth place respectively. The Hurun Global U40 Self-Made Billionaires 2023 came from 10 countries, and one from each of France, Australia, Sweden and Saudi Arabia.
By city, the Bay Area in the US led with San Francisco top and Palo Alto in the Top 5. Beijing and Shanghai were at second place. Shanghai was the fastest-growing city for young self-made billionaires in the world.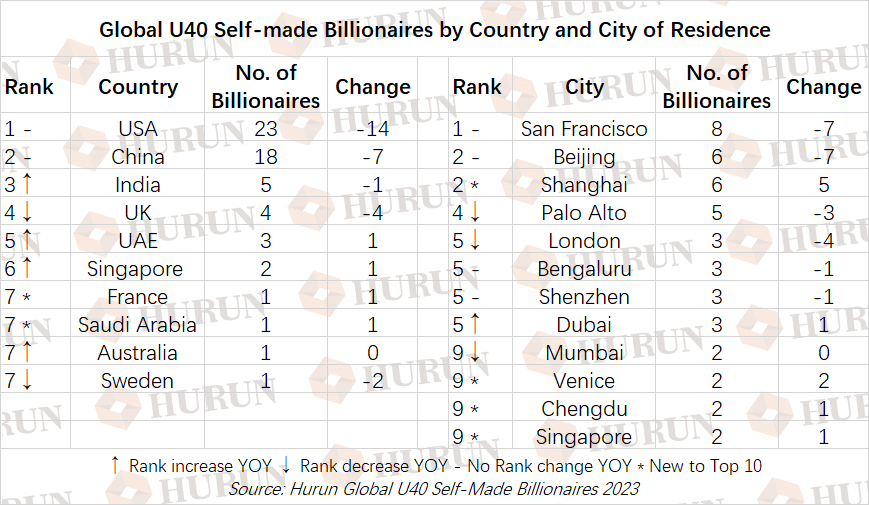 The USA was the preferred country of residence, making up 39% of the total and adding 3 new faces to this year's list. Media & Entertainment (7) and Transportation & Logistics (5) were the preferred wealth-creating sectors.
China remained in second place, albeit down 7 billionaires compared with last year. Top was MXBC founder Zhang Hongfu. Top three industries were Media & Entertainment, followed by Food & Beverages. There were 9 new faces, led by Shanghai-based Cai Haoyu, 36, who made the list with US$3.1bn.
India was third, down 1 to take the total to 5. Top was Zerodha founder Nikhil Kamath with US$2.9bn.
Singapore rose to 6th place, with Zhang Yiming and Chris Xu Yangtian, both originally from China, now based there.
Dubai rose to 5th place, with the likes of Pavel Durov of Telegram and Nikolay Storonsky of Revolut based there.
Who's Up?
21 individuals saw their wealth go up, of which 14 were new entrants.
The biggest gainers of the year were Zhang Hongfu of MXBC, whose wealth shot up US$3.2bn, followed by Pavel Durov of Telegram, and Playrix co-founders Dmitry Bukhman and Igor Bukhman . 7 individuals saw their wealth grow over the year. Playrix, the fourth-biggest mobile game developer in the world, successfully launched its games in countries like India and China, which have become two of its largest markets.
China-based Cai Haoyu, Liu Wei and Luo Yuhao of Mihoyo led the new faces followed by Yang Bing of Chinese social e-commerce app Dewu.
Football superstars Lionel Messi and Cristiano Ronaldo both deputed billionaire status. Messi's club income and endorsements have earned him well over US$100 million a year, whilst Ronaldo's Saudi Arabia US$500mn deal for the next couple of years further show the earning power of football's biggest stars. Legendary basketball player James LeBron made his money from selling a significant minority stake in his US$725 million production company SpringHill in October. LeBron's main source of income has been his longterm Nike endorsement and his LA Lakers contract, which earns him over US$100 million every three years, as well as equities in business such as at-home fitness company Tonal.

And, Who's Down?
Zhang Yiming was down US$17bn. The next four biggest drops came from USA, led by Mark Zuckerberg of Meta, Nathan Blecharczyk of Airbnb and John Collison and Patrick Collison of Stripe. 27 individuals saw their wealth drop over the year. Payments processor Stripe raised US$6.5bn at a valuation of US$50bn, down nearly 50% from two years ago. Shares of ad-reliant tech companies are plummeting across the board, Snap share price plummeted more than 75% after Apple's privacy changes.
Dropoffs
43 dropped out of the list, of which 23 dropped off because their wealth no longer made the cut, and 20 are too old for the Under40s. The total number of dropped accounts half of last years list.
Bahamas-based Sam Bankman-Fried, 31, of cryptoexchange FTX was the biggest casualty, dropping from US$21bn last year. The cumulative wealth of the Under40 selfmade billionaires down by US$187bn or 41% to US$269bn.
Breakdown by Industry
The main source of wealth for the world's top young entrepreneurs was in Entertainment and Online Gaming, followed by Media and On Demand Delivery.

Youngest
The average age was 37 years with 9 born in the nineties. Austin Russel and Johnny Boufarhat are the youngest self-made billionaires in the world, aged 28.
Immigrant Billionaires
15 individuals or 25% of the Hurun Global U40 Self-Made Billionaires 2023 were born and brought up in countries different to where they live today. These immigrant billionaires chose the USA (5), UK and UAE (3 each) to live in today, and came originally from Russia and China mostly, followed by Ireland.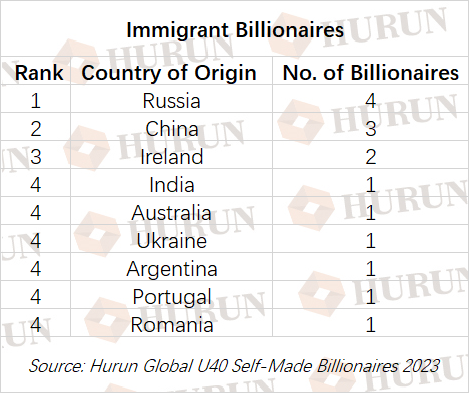 Q: How long does it take to make a billion dollars?
A: less than 6 years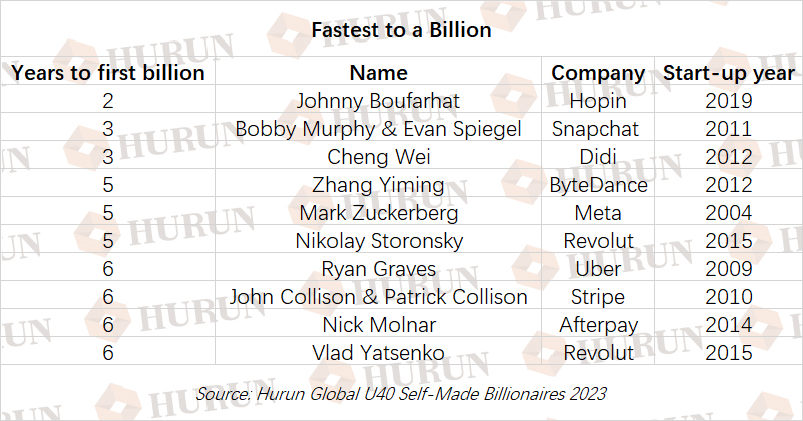 Stats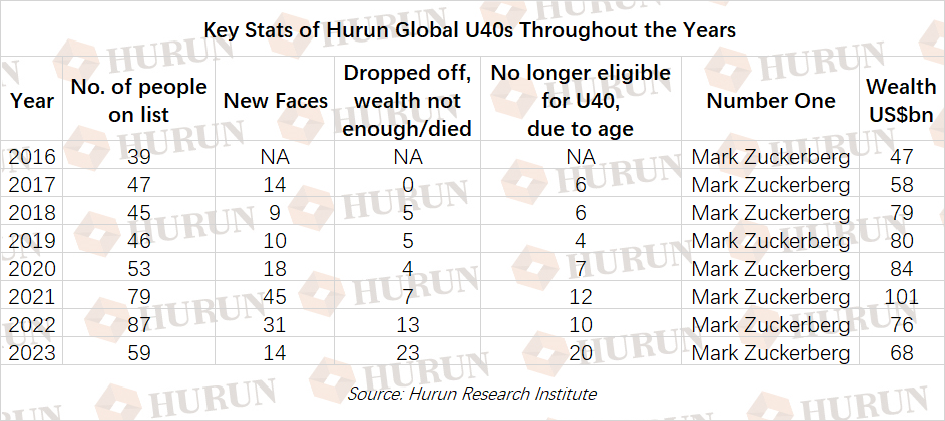 Hurun Report Disclaimer
This report has been prepared by the Hurun Report. All the data collection and the research has been done by the Hurun Report. This report is meant for information purposes only. Reasonable care and caution have been taken in preparing this report. The information contained in this report has been obtained from sources which are considered reliable. By accessing and/or using any part of the report, the user accepts this disclaimer and exclusion of liability which operates to the benefit of Hurun Report. Hurun Report does not guarantee the accuracy, adequacy or completeness of any information contained in the report and neither shall it be responsible for any errors or omissions in or for the results obtained from the use of such information. No third party whose information is referenced in this report under the credit to it assumes any liability towards the user with respect to its information. Hurun Report shall not be liable for any decisions made by the user based on this report (including those of investment or divestiture) and the user takes full responsibility for their decisions made based on this report. Hurun Report shall not be liable to any user of this report (and expressly disclaim liability) for any loss, damage of any nature, including but not limited to direct, indirect, punitive, special, exemplary, consequential losses, loss of profit, lost business and economic loss regardless of the cause or form of action and regardless of whether or not any such loss could have been foreseen.
About Hurun Inc.
Promoting Entrepreneurship Through Lists and Research
Oxford, Shanghai, Mumbai, Sydney, Paris
Established in the UK in 1999, Hurun is a research, media and investments group, promoting entrepreneurship through its lists and research. Widely regarded as an opinion-leader in the world of business, Hurun generated 6 billion views on the Hurun brand last year, mainly in China and India.
Best-known today for the Hurun Rich List series, telling the stories of the world's successful entrepreneurs in China, India and the world, Hurun's two other key series include the Hurun Start-up series and the Hurun 500 series, a ranking of the world's most valuable companies.
The Hurun Start-up series begins with the Hurun U30s, an awards recognizing the most successful entrepreneurs under the age of thirty, and is today in seven countries. Next up are Hurun Cheetahs, Chinese and Indian start-ups with a valuation of between US$300mn to US$500mn, most likely to go unicorn with five years. Hurun Global Gazelles recognize start-ups with a valuation of US$500mn to US$1bn, most likely to go unicorn within three years. The culmination of the start-up series is the Hurun Global Unicorn Index.
Other lists include the Hurun Philanthropy List, ranking the biggest philanthropists, the Hurun Art List, ranking the world's most successful artists alive today, etc…
Hurun provides research reports co-branded with some of the world's leading financial institutions, real estate developers and regional governments.
Hurun hosted high-profile events in the last couple of years across China and India, as well as London, Paris, New York, LA, Sydney, Luxembourg, Istanbul, Dubai and Singapore.
For further information, see www.hurun.net.
For media inquiries, please contact:
Hurun Report
Porsha Pan
Tel: +86-21-50105808*601
Mobile: +86-139 1838 7446
Email: porsha.pan@hurun.net
Grace Liu
Tel: +86-21-50105808
Mobile: +86 136 7195 4611
Email: grace.liu@hurun.net
Hurun Global U40 Self-Made Billionaires 2023