2022 Luxury Listings · Hurun Outstanding Canadian Real Estate Top 10
The Hurun Research Institute, together with Luxury Listings, today released the 2022 Luxury Listings · Hurun Outstanding Canadian Real Estate Top 10, a list of 10 real estate developers, taking into consideration their current sales and growth prospects. This is the first year of the list.
2022 LUXURY LISTINGS · HURUN OUTSTANDING CANADIAN REAL ESTATE TOP 10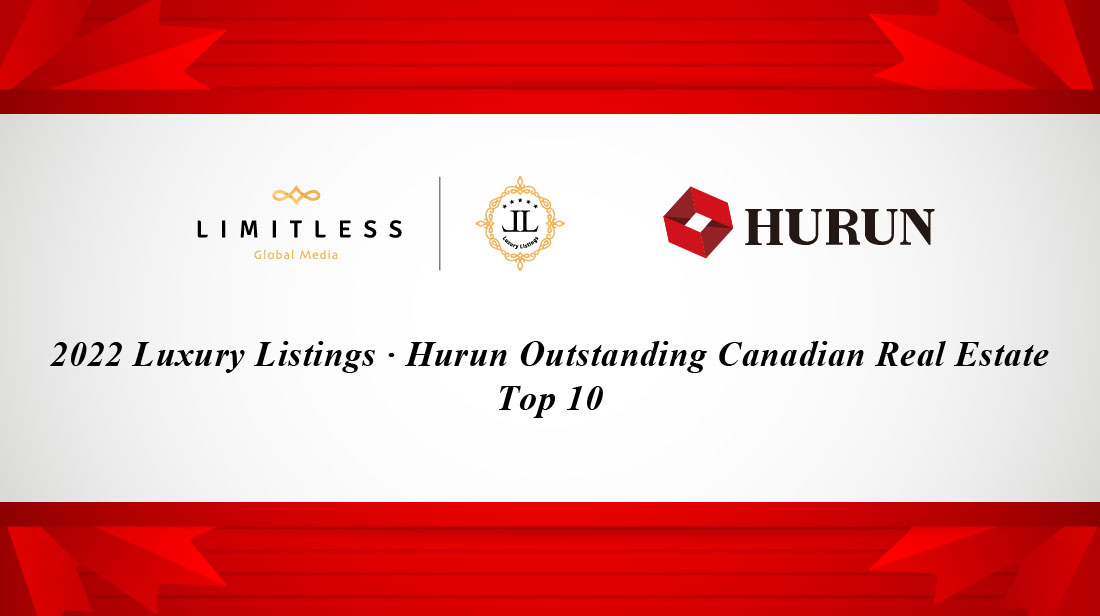 (29 April 2022, Vancouver) The Hurun Research Institute, together with Luxury Listings, today released the 2022 Luxury Listings · Hurun Outstanding Canadian Real Estate Top 10, a list of 10 real estate developers, taking into consideration their current sales and growth prospects. This is the first year of the list.
Today in Vancouver, Hurun Report is hosting the 2022 Hurun Canada Business Forum with 1000 guests – discussing Canada's start-up ecosystem, the metaverse and blockchain, medical investments and real estate – followed by a 500-person awards dinner to celebrate the 2022 Luxury Listings · Hurun Outstanding Canadian Real Estate Top 10 and Enoch Wealth · Hurun Canada Under 30s To Watch 2022. Founders of Canada's unicorns and gazelles will be mixing with investors and the movers and shakers of Canada's burgeoning start-up ecosystem. Mark Roswell, aka DaShan and China's best-known Canadian, is hosting the dinner. This is the first event Hurun Report has hosted in Canada since the outbreak of the pandemic, with the previous two events held in Vancouver and Toronto.
Rupert Hoogewerf, Hurun Report Chairman and Chief Researcher, said: "I am delighted to partner with Vancouver-based real estate digital marketing agency Luxury Listings to flag up 10 outstanding real estate developers in Canada."
Co-Founder and Co-CEO Jesse Peng stated: "Luxury Listings is a company founded in Vancouver, one of the most multicultural cities in the world. Together with Hurun Report, we aim to bridge the eastern and western cultures by co-hosting the inaugural Luxury Listings · Hurun Outstanding Canadian Real Estate awards. As a company, my partners Kambiz Ahmadi, Sina Saadatmandy, Matthew Kan and I have the goal of disrupting and bringing value to the real estate community with innovation, and continuing to give back and support the young entrepreneurs in Canada alongside Hurun Report."
2022 Luxury Listings · Hurun Outstanding Canadian Real Estate Top 10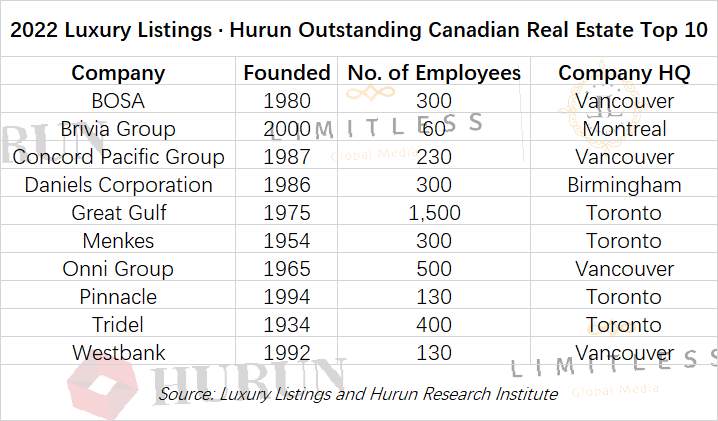 A Bosa Family Company has earned a reputation for quality, integrity, and innovation for more than five decades from 1960s. Bosa have the privilege of being one of Canada's most respected, privately-owned companies, with a sterling reputation for excellence in design and construction.
Brivia Group is an investment and development company with a remarkable real estate portfolio, which instills inspiration. Well known for his community involvement, Mr. Kheng Ly, President and CEO of Brivia Group, is a visionary business leader that has built successful and innovative projects with his professional and business networks.
The Concord Group of Companies success has continued with Canada's largest skyline defining communities. Concord has further expanded with numerous large scale master-planned communities across the Canada and is now developing in the UK. Concord has completed over 150 residential and mixed use buildings with more than 50 in various stages of planning and development.
Daniels Corporation has been creating special places where people can truly enjoy living, working, shopping and staying, leveraging more than 50 years as a leader in the real estate industry. Daniel has established itself as an innovative full-service real estate company with a diverse portfolio of office, multifamily, hospitality, medical and retail properties.
Great Gulf began in 1975, is the residential division of the Great Gulf Group of Companies; a multifaceted company which includes commercial, mixed-use, and residential development, construction management and software, engineered panel manufacturing, architecture, and hospitality, in 18 cities across North America, with an unparalleled dedication to every customer for more than 45 years and over 80,000 homes.
Menkes Developments Ltd is a family-operated business with deep roots in the city of Toronto. The Company was established nearly 65 years ago by Murray Menkes, an entrepreneur, visionary and successful businessman. Over the years, Menkes grew to creating entire mixed-use communities, becoming a fully integrated, multi-disciplinary real estate development company.
Onni Group is one of the continent's largest and most established developers of real estate, employing thousands of people across North America. Onni have constructed over 15,000 new homes, own and manage more than 11,200 rental apartments, built more than 18.4 million square feet of office, retail, and industrial space, and have an additional 28 million square feet of space in different phases of development.
Pinnacle International is one of North America's leading builders of luxury condominium residences, master-planned communities, hotels and commercial developments. Based in Vancouver, B.C., Pinnacle has been involved in the development, design, construction and management of their projects for over 40 years.
Tridel is Canada's leading developer and builder of condominium residences with more than eight decades of diverse experience. To date, the Tridel Group of Companies is responsible for producing over 87,000 homes. With over 20 new communities currently under development in the Greater Toronto Area, Tridel is looking forward to continuing our tradition of excellence.
Westbank is one of North America's leading mixed-use real estate development companies, from 1992. The Group has developed nearly CAD 50 billion of engineering projects. From hotels, luxury serviced apartments, office buildings, commercial houses to commercial real estate, Westbank Group's projects are all over Canada.
About Limitless Global Media Group
Limitless Global Media Group is a real estate company based in Vancouver, Canada. Companies under the Limitless Group umbrella include the real estate digital marketing company Luxury Listings Corp, luxury asset and events management company Limitless Luxury Inc, and Prop-Tech company Limitless Technologies Inc. Luxury Listings is the leading digital marketing agency in the real estate industry, and the owner of one of the world's largest real estate networks on social media with over 6 million followers and 50 million monthly impressions across various platforms. Luxury Listings has a team of dedicated account managers, designers, and digital marketers managing, promoting and producing for the top real estate developers, brokerages, realtors, architects, and interior designers in the world. In 2021, Luxury Listings facilitated over $340,000,000 USD in real estate transactions globally through its network. In 2022, Luxury Listings will aim to disrupt the project marketing industry by opening state-of-the-art VR experience centers in 12 locations across the US and Canada.
About Hurun Inc.
Promoting Entrepreneurship Through Lists and Research
Oxford, Shanghai, Mumbai, Sydney, Paris
Established in the UK in 1999, Hurun is a research, media and investments group, promoting entrepreneurship through its lists and research. Widely regarded as an opinion-leader in the world of business, Hurun generated 6 billion views on the Hurun brand last year, mainly in China and India.
Best-known today for the Hurun Rich List series, telling the stories of the world's successful entrepreneurs in China, India and the world, Hurun's two other key series include the Hurun Start-up series and the Hurun 500 series, a ranking of the world's most valuable companies.
The Hurun Start-up series begins with the Hurun U30s, an awards recognizing the most successful entrepreneurs under the age of thirty, and is today in seven countries. Next up are Hurun Cheetahs, Chinese and Indian start-ups with a valuation of between US$300mn to US$500mn, most likely to go unicorn with five years. Hurun Global Gazelles recognize start-ups with a valuation of US$500mn to US$1bn, most likely to go unicorn within three years. The culmination of the start-up series is the Hurun Global Unicorn Index.
Other lists include the Hurun Philanthropy List, ranking the biggest philanthropists, the Hurun Art List, ranking the world's most successful artists alive today, etc…
Hurun provides research reports co-branded with some of the world's leading financial insitutions, real estate developers and regional governments.
Hurun hosted high-profile events in the last couple of years across China and India, as well as London, Paris, New York, LA, Sydney, Luxembourg, Istanbul, Dubai and Singapore.
For further information, see www.hurun.net.
For media inquiries, please contact:
Hurun Report
Porsha Pan
Tel: +86-21-50105808*601
Mobile: +86-139 1838 7446
Email: porsha.pan@hurun.net
Grace Liu
Tel: +86-21-50105808
Mobile: +86 136 7195 4611
Email: grace.liu@hurun.net