WORLD LOST 5 BILLIONAIRES EVERY WEEK FOR LAST YEAR. BILLIONAIRES DOWN FOR SECOND TIME ONLY IN TEN YEARS. WORLD HAS 3112 BILLIONAIRES, DOWN 269.
CHINA LED WITH 969 BILLIONAIRES, DOWN 164, FOLLOWED BY USA 691, DOWN 25. BETWEEN THEM, CHINA AND USA HAVE 53% OF BILLIONAIRES IN WORLD. INDIA THIRD WITH 187, DOWN 28. GERMANY OVERTOOK UK FOR FOURTH PLACE WITH 144 BILLIONAIRES.
445 DROPOFFS, LED BY CHINA 229 (51%), FOLLOWED BY USA 44 AND INDIA 40.
176 NEW FACES, LED BY CHINA WITH 69, FOLLOWED BY USA 26 AND INDIA 16.
BY CITY. NEW YORK OVERTOOK SHANGHAI TO SECOND MOST PREFERRED CITY FOR BILLIONAIRES TO LIVE IN. BEIJIING STILL NUMBER ONE. ONLY MILAN (6), SEOUL (3), AND BANGKOK (2) SAW AN INCREASE IN BILLIONAIRE POPULATION.
BERNARD ARNAULT, 74, OF LVMH UP TWO PLACES TO NUMBER ONE IN THE WORLD FOR FIRST TIME, WITH US$202BN, UP US$49BN. ELON MUSK DOWN TO SECOND PLACE WITH US$157BN, DOWN US$48BN.
BERTRAND PUECH & FAMILY OF HERMES SURGES BY US$32BN TO 3RD PLACE WITH US$134BN.
JEFF BEZOS, 60, OF AMAZON DOWN TWO PLACES TO FOURTH AFTER LOSING US$70BN TO US$118BN.
CHATGPT SUCCESS A FACTOR AS SERGEY BRIN, 50, AND LARRY PAGE, 50, OF ALPHABET, DOWN US$85BN BETWEEN THEM. INDIA'S TOP TWO, MUKESH AMBANI AND GAUTAM ADANI LOST US$50BN BETWEEN THEM.
SPORTS SUPERSTARS MADE THE HURUN LIST FOR THE FIRST TIME, LED BY WORLD CUP WINNER LIONEL MESSI AND ARCHRIVAL CRISTIANO RONALDO. OTHERS INCLUDE TIGER WOODS, LEBRON JAMES, FLOYD MAYWEATHER, ROGER FEDERER.
MUSICIANS. RIHANNA, JAY Z, PAUL MCCARTNEY AND ANDREW LLOYD WEBBER BECAME BILLIONAIRES.
LEADING AUTHORITY ON GLOBAL WEALTH, HURUN REPORT, RELEASES 12TH HURUN GLOBAL RICH LIST.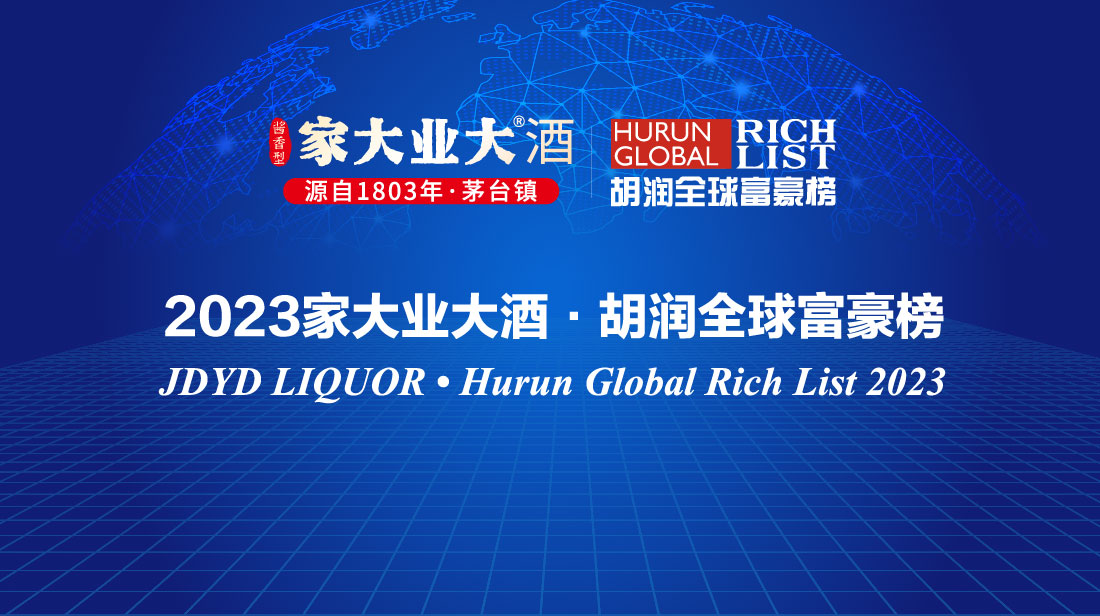 Key Findings
1. 3,112 BILLIONAIRES IN THE WORLD, DOWN 8% OR 269 FROM LAST YEAR'S 3,381, BUT STILL UP FROM PRE-COVID IN 2020 AND MORE THAN DOUBLE THE 1,453 OF TEN YEARS AGO.
2. TOTAL WEALTH DOWN: TOTAL WEALTH DECLINED BY 10% TO US$13.7TN.
3. ASIA AHEAD OF NORTH AMERICA AND EUROPE. ASIA, WITH 57% OF WORLD'S POPULATION, ACCOUNTED FOR 59% OF NEW FACES, 49% OF BILLIONAIRES AND 39% OF WEALTH. NORTH AMERICA AND EUROPE BETWEEN THEM HAVE 15% OF WORLD POPULATION, 37% OF NEW FACES, 46% OF BILLIONAIRES AND 57% OF TOTAL WEALTH.
4. SOURCE OF WEALTH. CONSUMER GOODS (9.2%) AND FINANCIAL SERVICES (9.1%) TOP TWO SOURCES OF WEALTH. HEALTHCARE OVERTOOK RETAIL FOR THIRD PLACE.
5. GOOD YEAR FOR FERTILISERS AND COMMODITY TRADING, IRON & STEEL AND OIL & GAS, SOFT DRINKS & CONFECTIONARY, CASINOS & HOTELS, SPORTS CLUBS & LUXURY GOODS.
6. BAD YEAR FOR SEMICONDUCTORS, CLOUD SOLUTIONS, CYBER SECURITY, PAYMENT SYSTEMS, E-COMMERCE, BATTERIES & NEW ENERGY, AND BIOTECH.
7. FASTEST RISERS IN YEAR. 31 INDIVIDUALS ADDED US$5BN OR MORE, LED BY 13 FROM THE USA, 4 FROM FRANCE AND 3 FROM RUSSIA. BERNARD ARNAULT AND BERTRAND PUESCH FASTEST RISERS, ADDING US$80BN BETWEEN THEM.
8. 82 ARE FORTY OR UNDER, OF WHICH 56 ARE SELF-MADE, DOWN 30 FROM LAST YEAR. 26 INHERITED.
9. 247 SELF-MADE WOMEN, DOWN 22 FROM LAST YEAR. CHINA DOMINATED WITH 81%. OKLAHOMA-BASED 'ROOFING QUEEN' DIANE HENDRICKS, 76, OF ABC SUPPLY RICHEST SELF-MADE WOMAN IN WORLD FOR FIRST TIME WITH US$17BN, WHILST FRANCOISE BETTENCOURT MEYERS, 69, OF L'OREAL IS THE RICHEST WOMAN IN THE WORLD WITH US$80BN.
10. 13.7% ARE IMMIGRANT BILLIONAIRES, UP FROM 13.0%. USA LED WITH 114 FIRST-GENERATION IMMIGRANT BILLIONAIRES, FOLLOWED BY 57 IN THE UK AND 54 IN SWITZERLAND. ELON MUSK OF TESLA (BORN IN SOUTH AFRICA) AND SERGEY BRIN OF GOOGLE (BORN IN RUSSIA) ARE THE RICHEST IMMIGRANTS. THE NUMBER OF IMMIGRANT BILLIONAIRES HAS GROWN 50%, FROM 9% FIVE YEAR AGO.
11. 70% SELF-MADE AND 30% INHERITED. SELF-MADE BILLIONAIRES ARE ON THE UP, UP FROM 69% OF THE LIST 5 YEARS AGO. OF THOSE WHO INHERITED THEIR MONEY, 10% HAVE GROWN IT AGGRESSIVELY, EG BERNARD ARNAULT, WHO INHERITED US$15 MILLION, AND TURNED IT INTO US$200BN; OR MUKESH AMBANI OF RELIANCE, WHO INHERITED US$10BN IN 2002, GROWING IT TO CLOSE TO US$100BN OVER 20YRS.
12. 61% B2C, 39% B2B. 61% MADE THEIR MONEY FROM SELLING TO CONSUMERS, WHILST 39% SELL TO BUSINESSES.
13. TWO THIRDS MAKE PHYSICAL PRODUCTS. 63% MADE THEIR MONEY FROM SELLING PHYSICAL PRODUCTS, WHILST 37% SELL SOFTWARE & SERVICES.
14. OLDEST FAMILIES. 111 ARE BILLIONAIRES FOR 4TH GENERATION OR MORE.
(23 March 2023, Shanghai and Mumbai) Hurun Report today released the Hurun Global Rich List 2023, a ranking of the US dollar billionaires in the world. Wealth calculations are a snapshot of 16 January 2023. This is the 12th year of the ranking. JDYD Liquor, a premium Chinese baijiu brand, is the title sponsor of the list for the second year.
Stock Markets and Currencies. In the year to 16 January 2023, stock markets had a bad year. In the USA, Nasdaq was down 26%, the S&P 500 down 14% and the NYSE Composite down 8%. In China, Shenzhen was down 17%, HK down 11% and Shanghai down 8%. In Europe, Germany's DAX Index was down 5%, the Euronext 100 Index down 2% and Russia's MOEX was down 15%. In India the SENSEX was down 2%. The UK's FTSE 100 Index was the only major index to grow, up 4%.
In that same period, the US dollar appreciated against most major currencies. The British Pound Sterling and Japanese Yen were down 11%, the Indian Rupee was down 9%, the Chinese Yuan was down 6% and the Euro was down 5%. The Russian Ruble and Brazilian Real were the only two major currencies to appreciate against the dollar.
The List at a glance
The JDYD LIQUOR · Hurun Global Rich List 2023 ranked 3,112 billionaires, down from 3,381 last year, from 2,356 companies and 69 countries. The number of billionaires dropped by 8% and their total wealth dropped by 10% compared with last year.
1,078 saw their wealth increase, of which 176 were new faces. 2,479 saw their wealth decrease or stay the same, of which 445 dropped-off. The average age was 66.
Hurun Report chairman and chief researcher Rupert Hoogewerf said, "The number of billionaires in the world is down by 8%, whilst their total wealth dropped 10%. Interest rate hikes, the appreciation of the US dollar, the popping of a Covid-driven tech bubble and the continued impact of the Russia-Ukraine war have all combined to hurt stock markets. The Hurun Global Rich List tells the story of the global economy through the stories of the world's richest individuals. Who's up and who's down highlights the trends in the economy."
"Bernard Arnault becomes the fifth person to take the title of the world's richest person in the last decade, the others being Carlos Slim, Bill Gates, Jeff Bezos and Elon Musk."
"This past year has been tumultuous for wealth creation. At one point, Elon Musk had lost US$100bn, as Tesla shed US$700bn of value, later clawing back US$50bn, to finish the year with just under US$50bn less. India's Gautam Adani in February was down US$70bn after a US short seller alleged accounting fraud and stock manipulations, sparking a crisis in his empire, but later regaining over half to end the year US$30bn down. Mark Zuckerberg was down as much as US$35bn, before aggressively cutting costs and seeing almost US$20bn come back. Some did not come back, such as Sam Bankman-Fried's US$21bn fortune, after the collapse of crypto exchange FTX."
"In the era of ChatGPT and the electric car revolution, it seems incongruous that the world's richest person made his money from selling luxury. Despite all the uncertainties with the cost-of-living crisis, the owners of Louis Vuitton, Hermes, Gucci, Chanel, Cartier, Patek Philippe and Prada have had a record-breaking year, as sales in Europe, the US and Japan have rocketed and well-heeled Americans have taken advantage of the dollar's strength in the UK and Europe."
"It's been a bad year for big tech and electric cars. Jeff Bezos and ex-wife MacKenzie Scott were down over US$100bn in the year, Google's founders were down a combined US$85bn and Elon Musk was down US$48bn. Between these five, they lost US$250bn. Semiconductor billionaires also had a bad year as oversupply shook down valuations. Biotech dropped as a Covid-fuelled rally unwound."
"It has been a good year for billionaires in fertiliser, oil & gas and iron, as well as those able to capitalise on the surge in demand for soft drinks, confectionary, casinos, hotels, sports clubs and luxury."
"Billionaires are closely watching US President Joe Biden's campaign to create a tax on billionaires' unrealised investment gains."
"The end of the pandemic has halved the wealth of Covid vaccine makers like Germany-based Ugur Sahin of BioNTech and US-based Stéphane Bancel of Moderna."
"It's easy to see why the US and China are so important economically. Between them they have over half of the billionaires in the world. Start-up ecosystems require role models. The world's capitals for billionaires are Beijing and New York. Singapore has seen a surge of interest from Chinese billionaires, whilst Dubai has seen a surge of interest from Indian billionaires."
"Only 3 billionaires donated more than US$1bn in the past year, led by Jeff Bezos ex-wife MacKenzie Scott, who gave away US$14bn, Bill Gates who gave away US$5bn and Elon Musk, who gave away US$2bn. Billionaires are not keeping up with philanthropy, making money much faster than they are giving it away."
"How long will it be before the world has its first trillionaire? One who had the chance but fluffed it was Bill Gates. When Microsoft went public in the mid-eighties, Gates owned 45% of its shares, which would last year have made him the world's first trillionaire. Instead, Gates chose to sell down his Microsoft stock, such that today he has 1% left. At this rate of wealth creation, expect to see the first dollar trillionaires within 5 years, ie by the year 2028."
"Entertainment is generating billionaire sport stars, musicians and filmmakers. Football's Lionel Messi and Cristiano Ronaldo both made billionaire status for the first time, together with golf star Tiger Woods, basketball star LeBron James, boxing star Floyd Mayweather and tennis star Roger Federer. They joined Michael Jordon as billionaires. Musicians Rihanna and Jay Z made their first billion with a makeup and champagne brand, whilst ex-Beatle Paul McCartney and 'Phantom of the Opera' composer Andrew Lloyd Webber created their fortune through music licensing. New Zealand filmmaker Peter Jackson, who director the Lord of the Rings, broke through the billion mark. New York-based comedian Jerry Seinfield of the Seinfield sitcom and Louisiana-based actor and producer Tyler Perry."
"China is the world's biggest source of known billionaires, with 40% more than the US. 2016 was the year that China's number of billionaires overtook the US."
Representative of JDYD LIQUOR said, "Wealth for most people around the world means JDYD, which translates from the Chinese as 'a big family and a big business'. JDYD is delighted to title sponsor the JDYD LIQUOR·Hurun Global Rich List 2023, and share the secret of wealth, ie family and business, with the world. As one of top ten baijiu brands, JDYD LIQUOR includes the series of JIAOCANG, NIANDAI, XIQING and SHENGXIAO, as well as co-branded products. The rare premium jiangxiang flavor baijiu, a legacy of over 200 years inspire the values JDYD LIQUOR. JDYD LIQUOR was founded in 1803 in Maotai Town by the descendants of Wang Zhongjun, a famous general in the late Ming Dynasty and is run by the family ever since. JDYD LIQUOR is the winner of the world's three authoritative awards including Panama International Expo Award, IWSC and CMB, and was endorsed by Liu Xiaoqing, a national first-class actress. Now as the exclusive sponsor of Hurun Global Rich List 2023, it is a great gathering chance for JDYD LIQUOR and great entrepreneurs to witness the bellwether of the world's top wealth. Drink JDYD LIQUOR, Achieve greatness!"
Top Ten - JDYD LIQUOR · Hurun Global Rich List 2023
2 new faces: Larry Ellison of Oracle and Francoise Bettencourt Meyers of L'Oreal broke into the Top 10 at the expense of Alphabet co-founders Larry Page and Sergey Brin.
The Top 10 lost US$133bn over the year, but are still worth US$1.2 trillion, making up 9% of the total list. 6 are from the USA, 3 from France and 1 from India.
The cut-off to make the Hurun Top 10 in the world has almost doubled every five years, from US$30bn ten years ago to US$49bn five years ago and US$80bn this year.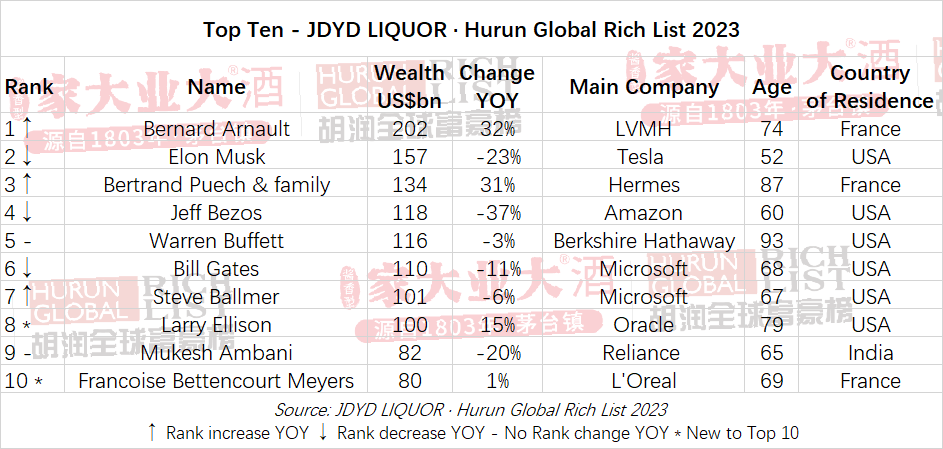 'Luxury King' Bernard Arnault, 74, of LVMH added US$49bn to become the richest person in the world with US$202bn. Arnault has overseen LVMH to become the most valuable business in Europe, with its stock up more than 30%, on the back of record US$15bn in profits and US$86bn in sales. Arnault appointed daughter Delphine, 47, in January to head up Christian Dior.
Elon Musk, 52, down one to second place with US$157bn, down US$48bn, mainly on the back of a drop in Tesla's value. It has been another busy year for Musk. He sold US$23bn of Tesla stock to help with his October purchase of Twitter. Tesla shares are up 65% this year, after losing US$700bn in value last year. In February, he won an investor lawsuit over the notorious Tesla 'funding secured' tweet. Musk is rumoured to have shelved plans to produce a Tesla mobile phone after appearing to reconcile with Tim Cook of Apple. In December, Musk announced the latest round of price reductions for his Tesla Models X and S in a bid to attract more buyers. Musk this month announced that he was laying down plans for a new town in Texas. Meanwhile, SpaceX has grown to become the largest unicorn in the US with a valuation of US$125bn, according to the Hurun Global Unicorn Index 2022, released in August. Musk gave US$1.9bn of Tesla shares to charity last year.
Bertrand Puech & family, 87, of Hermès, up 7 places to third place on the back of a 31% growth in his wealth to US$134bn. Hermès family members agreed not to sell their shares for at least two decades, in a move designed to fend off a hostile takeover bid from LVMH. Hermès posted a US$3.6 billion record profit for last year.
Jeff Bezos, 60, was fourth with US$118bn, down by a massive US$70bn, the largest wealth destruction of the year. This is the first time in six years that Bezos has dropped out of the Top 3. Amazon has lost all of its pandemic-fuelled gains, amid a broader tech sell-off tied to the cost-of-living crisis, a worsening economy and rising interest rates.
Warren Buffett, 93, managed to keep a Hurun Top 5 slot, with US$116bn, down US$3bn. Berkshire Hathaway's businesses generated US$31bn of profit despite rising inflation and supply chain disruptions.
Bill Gates, 68, dropped out of the Top 5 for the first time since the inception of Hurun Global Rich List. Gates is 6th with US$110bn, mainly from his investment company Cascade and this year gave US$5bn to his foundation.
Steve Ballmer, 67, up 1 spot to became the 7th richest person with US$101bn. Ballmer owns 4% of Microsoft shares and is the richest sports owner in the world, headlined by the Los Angeles Clippers bought for US$2bn eight years ago.
Larry Ellison, 79, of Oracle is up three spots to eighth, his wealth increasing by 15% to US$100bn. Ellison re-entered the Hurun Top 10 for the first time in five years, mainly on the back of the growth in Oracle's cloud business.
Mukesh Ambani, 65, of India's Reliance Industries maintained his 9th spot, despite losing US$21bn to US$82bn. That was enough for Ambani to reclaim his title of the richest person in India and Asia from Gautam Adani, who lost US$28bn in the year. Ambani celebrated 20 years at the helm of Reliance during which the conglomerate saw a 17-fold jump in revenues and a 20-times surge in profit. Ambani resigned from Reliance Jio, handing over the telecom business reins to son Akash Ambani.
Francoise Bettencourt Meyers, 69, of L'Oreal broke into the top 10 for the first time, with US$80bn, up 1%. Bettencourt Meyers is the world's richest woman, with her wealth derived mainly from her 35% stake in L'Oreal.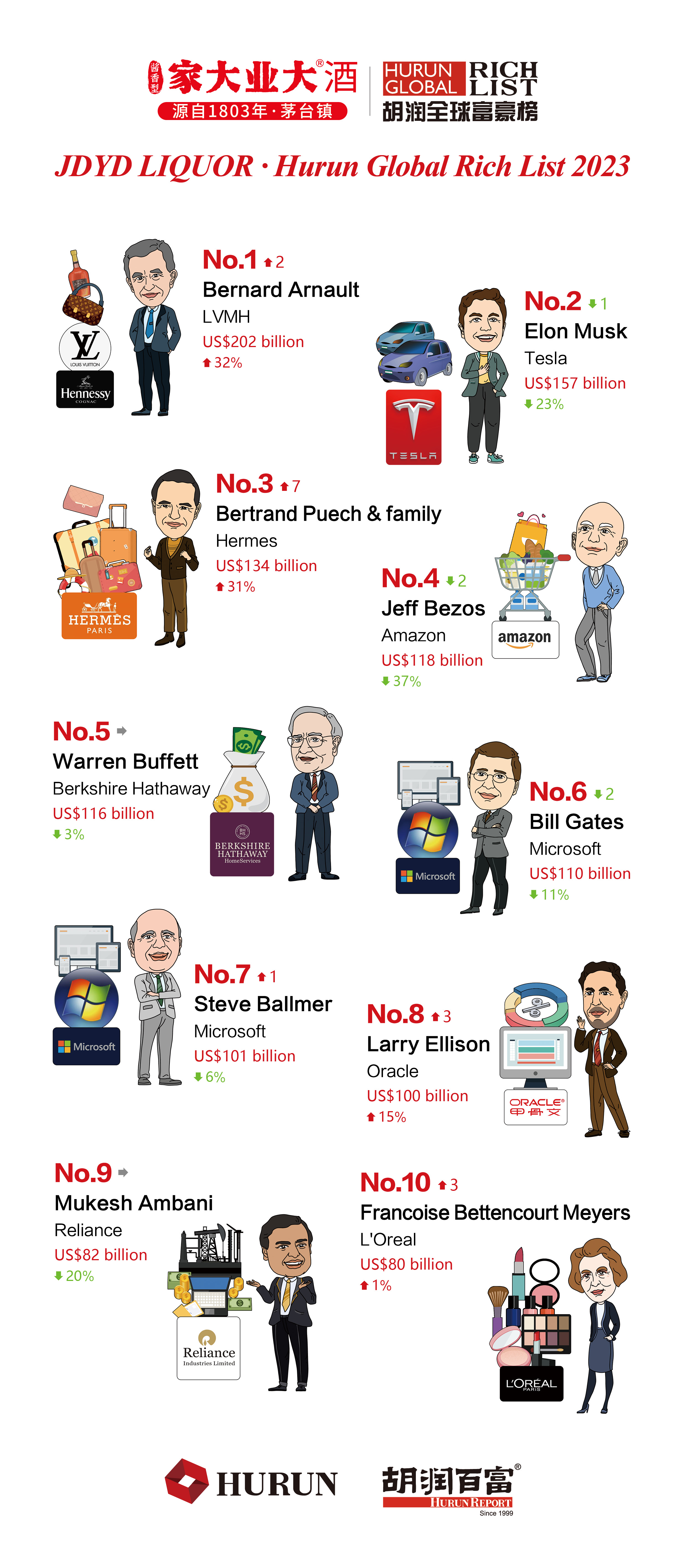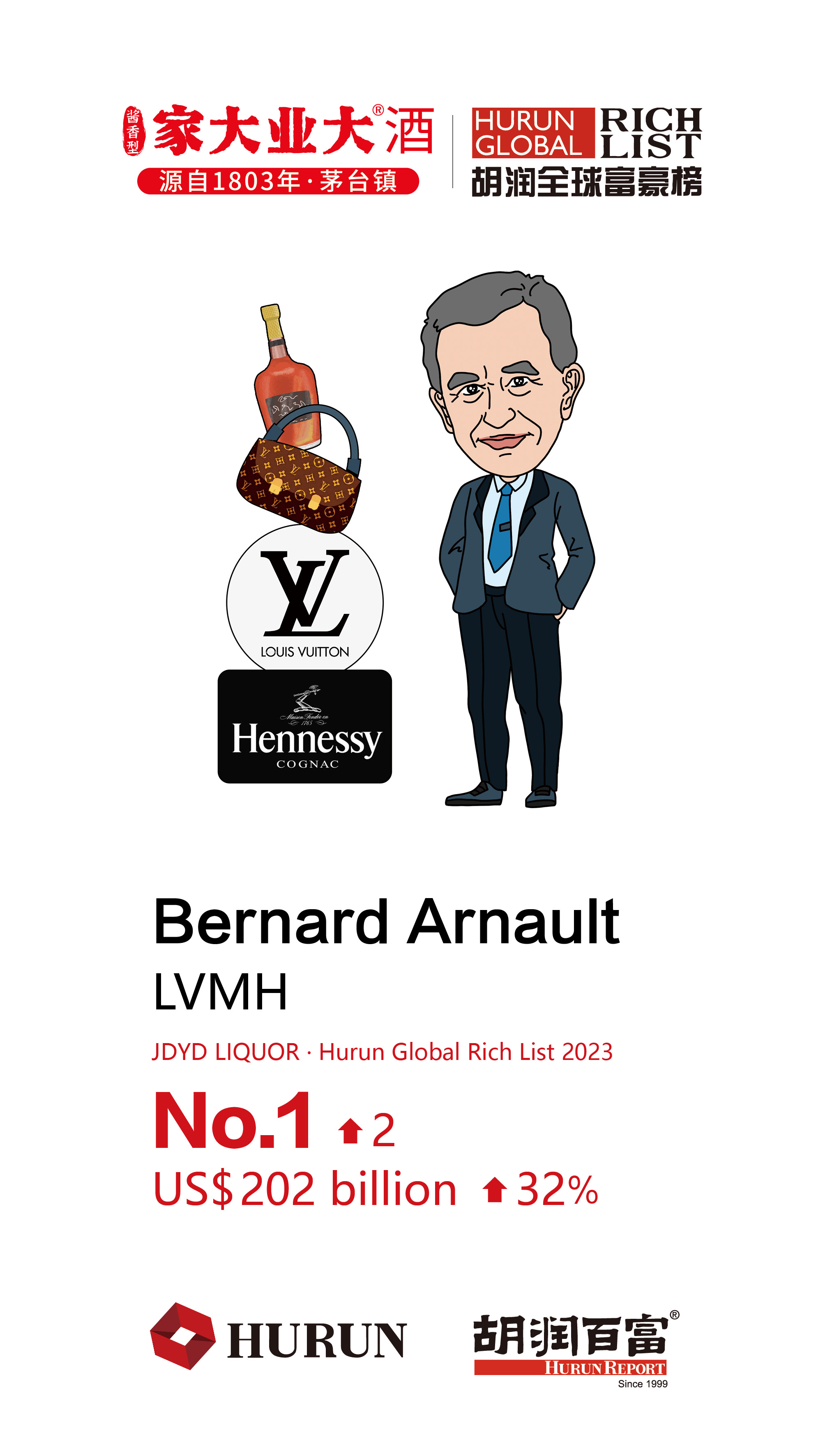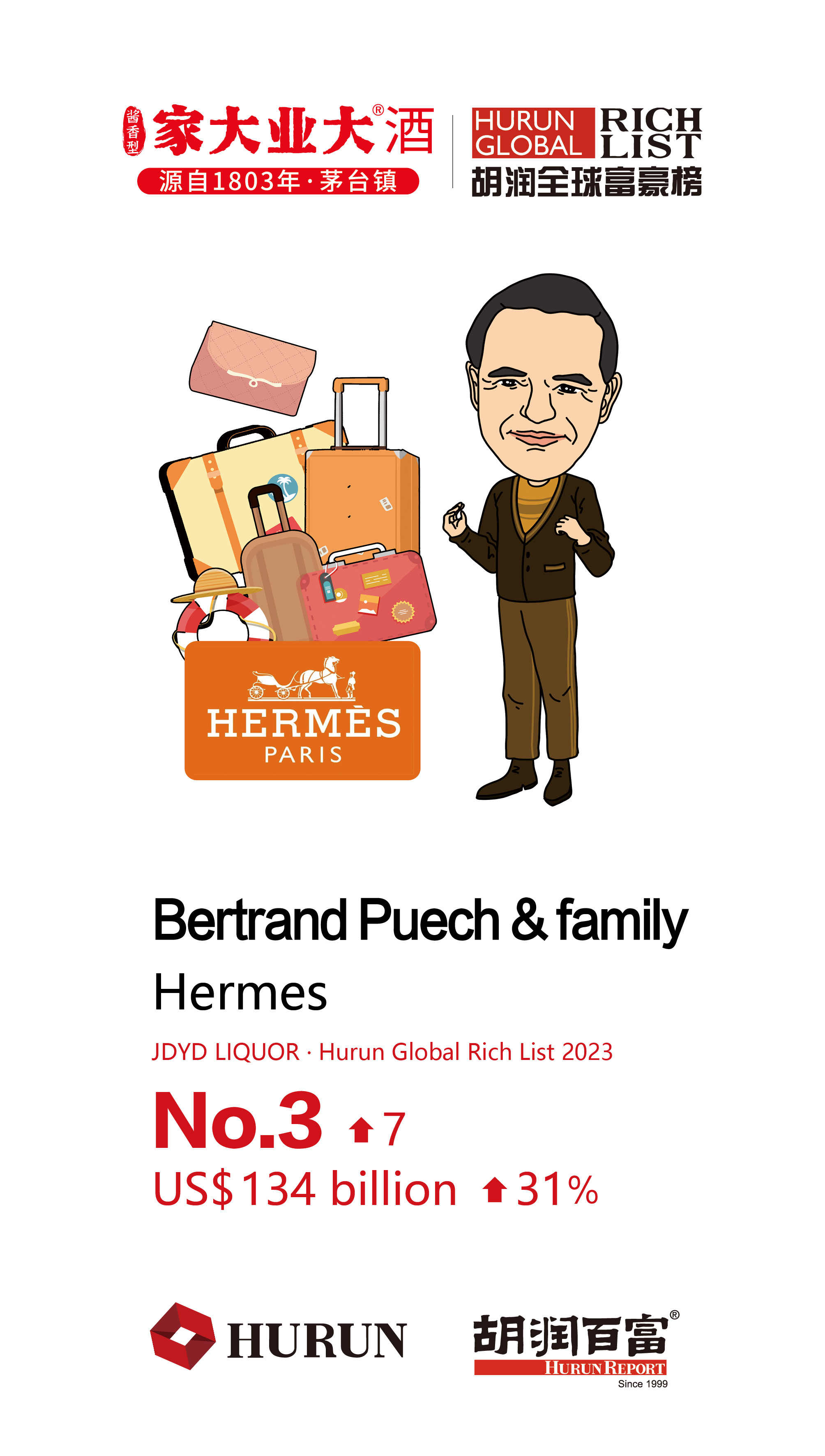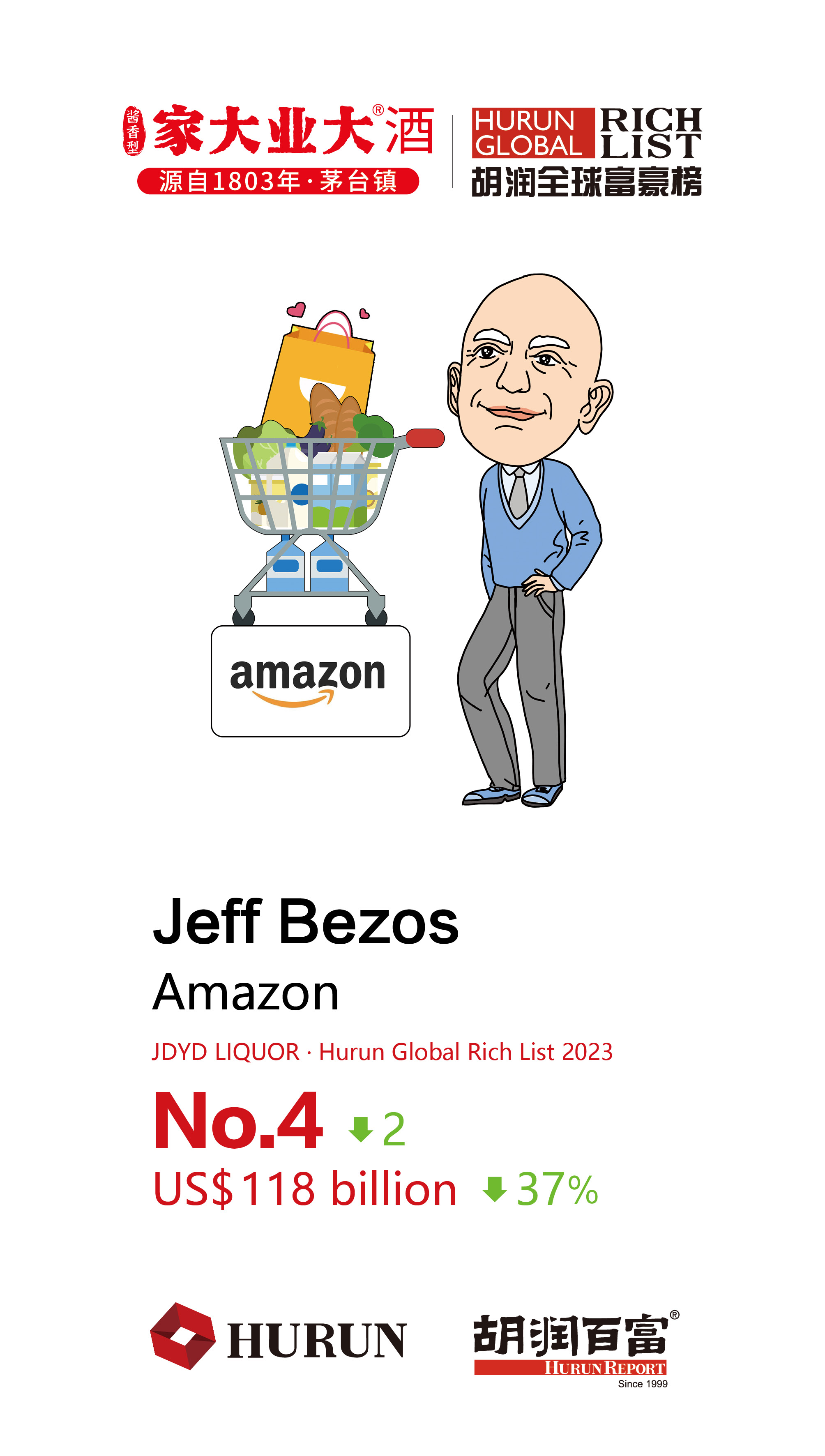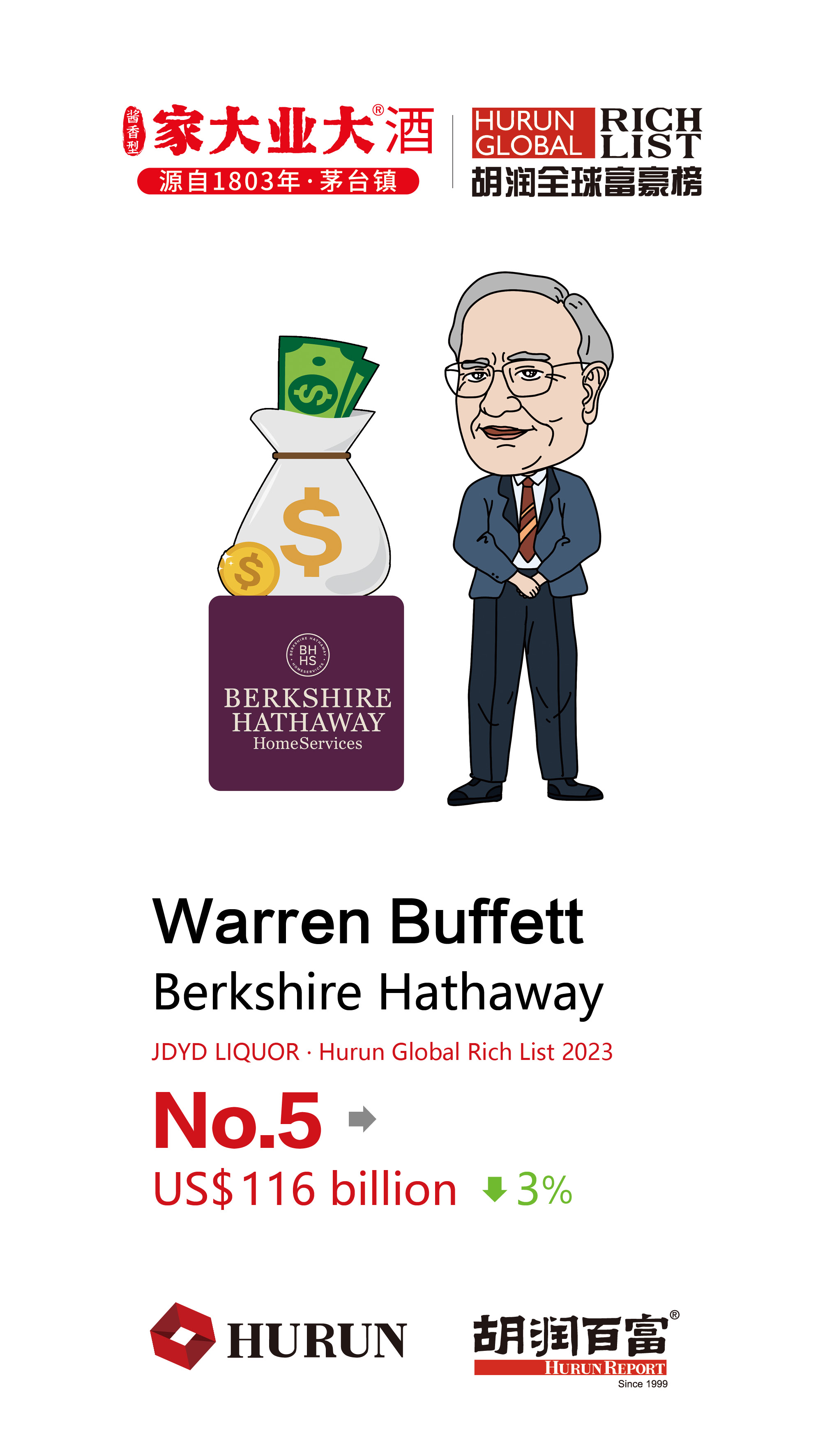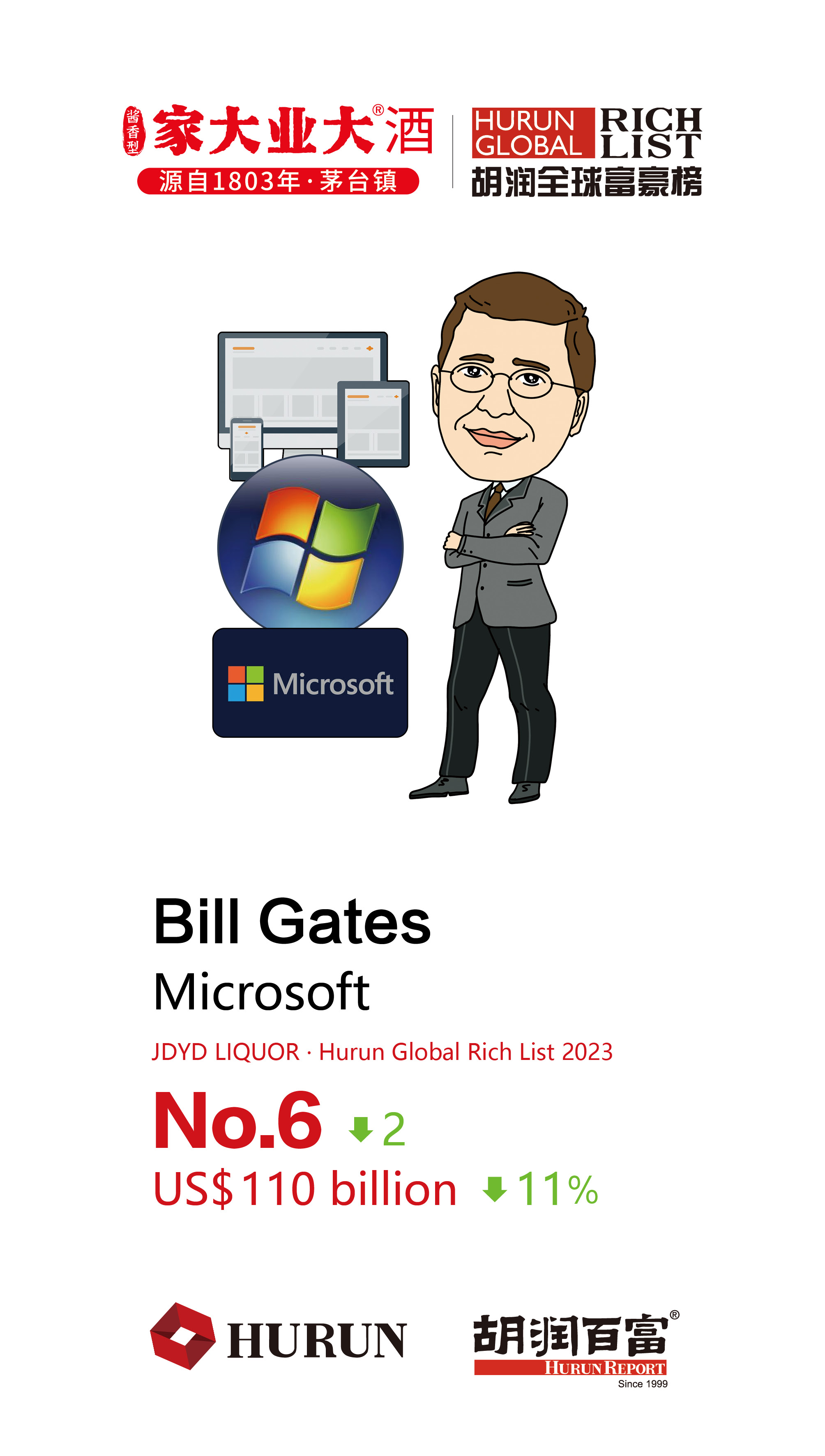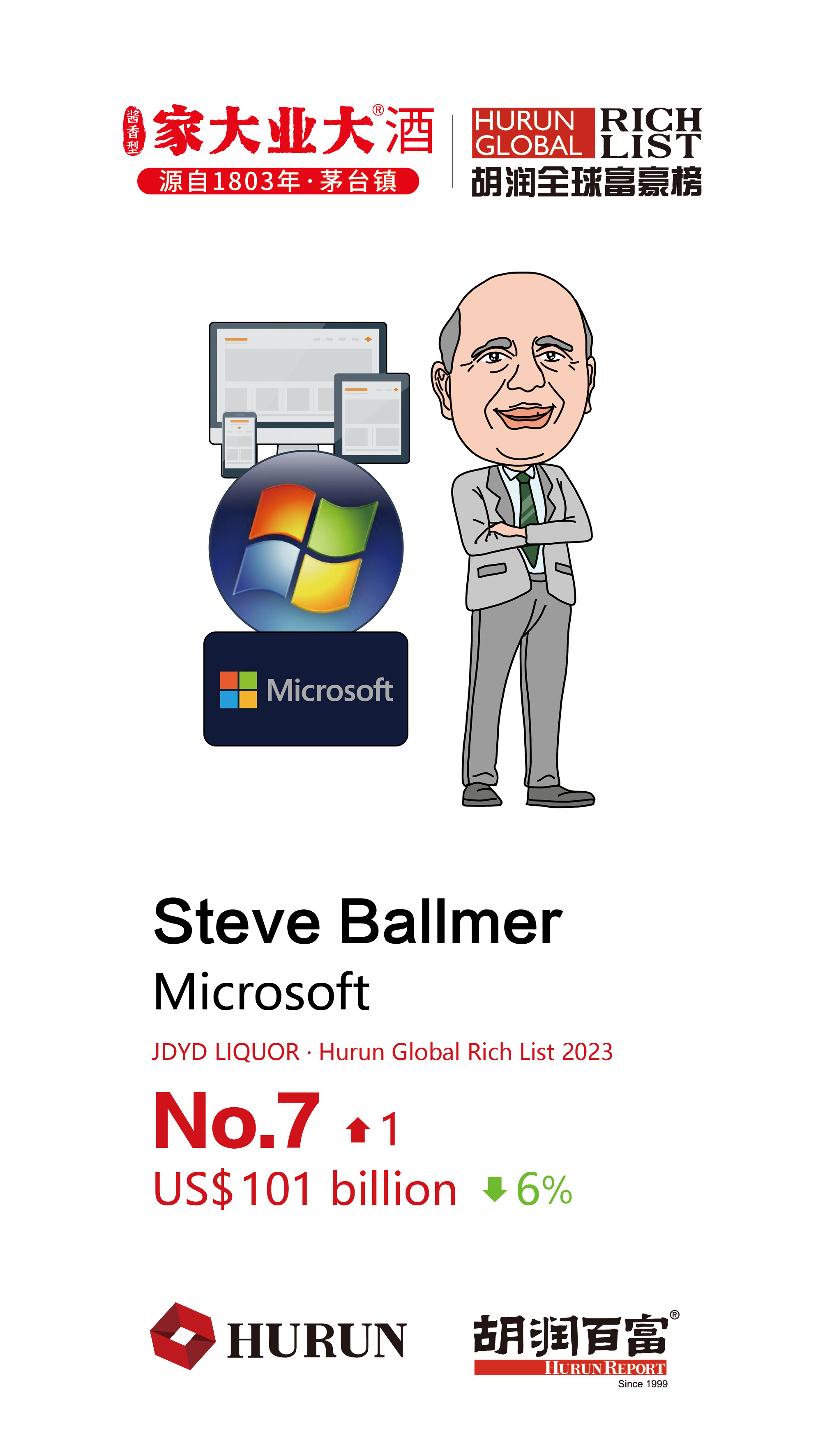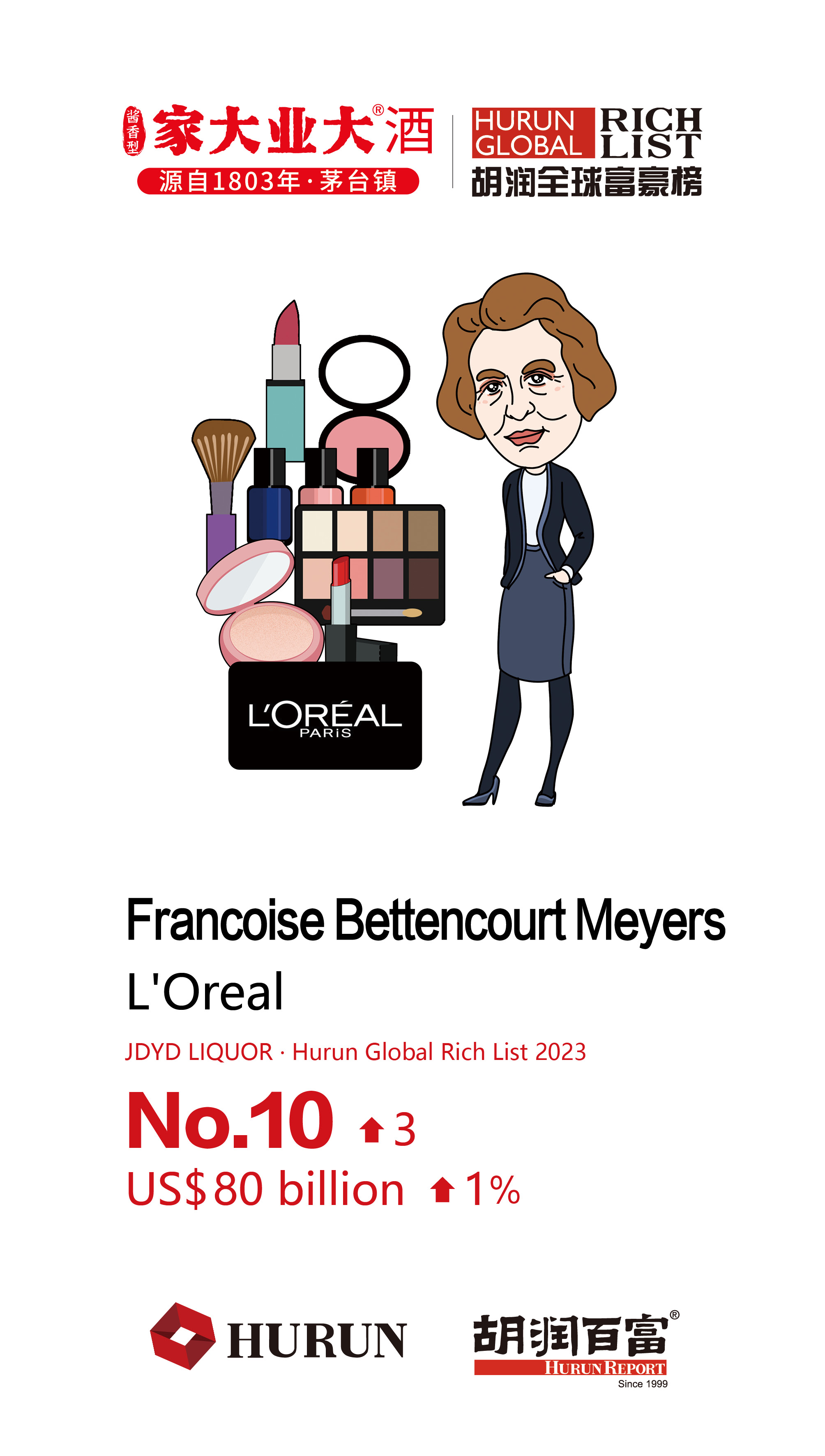 Where they live
Despite losing 164 billionaires, China is still the world capital for billionaires with 969. The USA was second with 691 billionaires, down 25. Between the 'Big Two', China and the USA have 53% of the 'known' billionaires on the planet. India lost 28 but was solidly in third place with 187 billionaires, whilst Germany overtook the UK for fourth place with 144. Russia retained 8th place with 70 billionaires, down only 2, despite sanctions since the Russia-Ukraine war.
By city, Beijing is still the billionaire capital of the world, whilst New York overtook Shanghai for second place. Milan was the fastest growing city for billionaires in the world, followed by Seoul, Bangkok, Singapore and Dubai.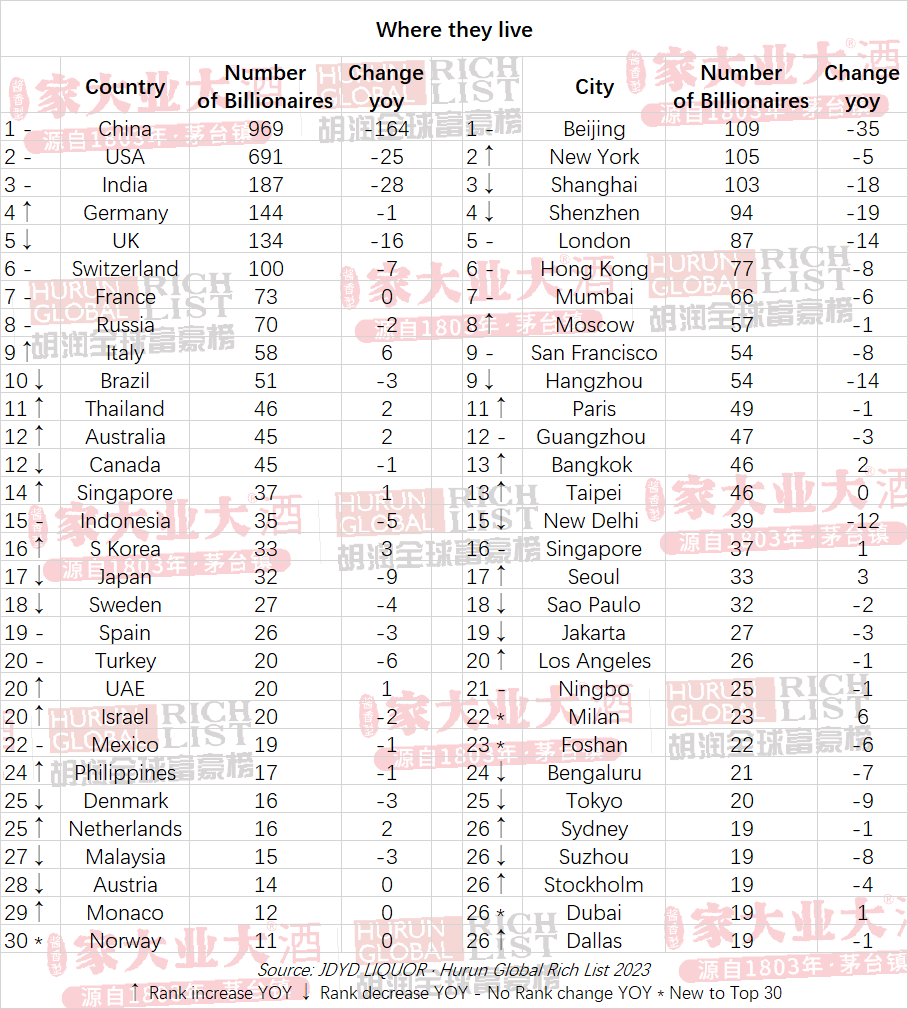 China, USA and India Comparison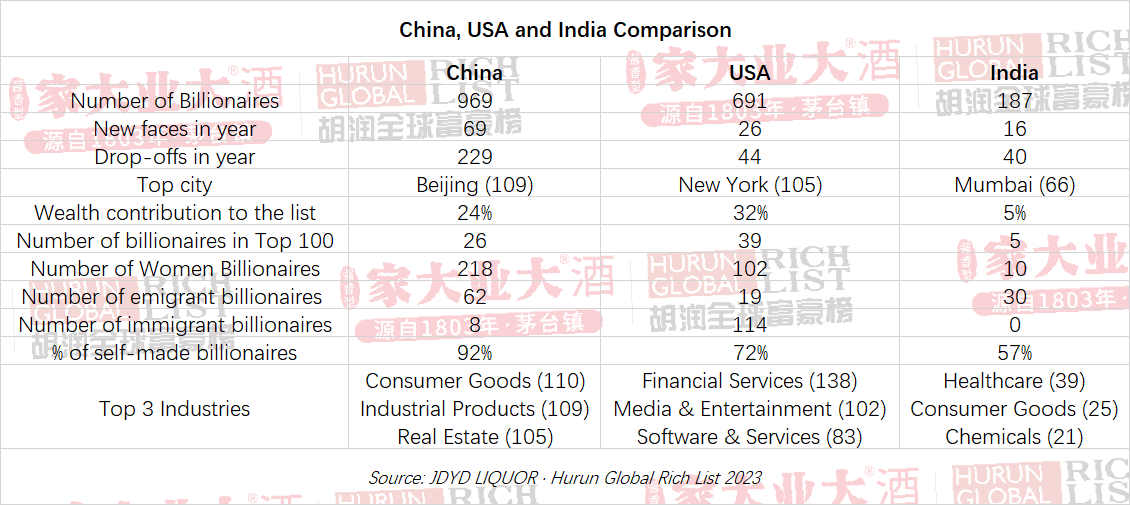 Greater China: The world's absolute No. 1 when it comes to billionaires, with more than the next two countries combined.
'Bottled Water King' Zhong Shanshan, 69, retained his position as China's richest person with US$69bn, down 4%. Pony Ma of Tencent was up two spots to 2nd place, despite losing US$13bn. Tencent continued its divestment of e-commerce shares, dividending out to its shareholders the best part of US$20bn of Meituan shares. Zhang Yiming, 40, dropped down one place to third, and is currently grappling with lawmakers as to what to do with TikTok in the US. 'Battery King' Robin Zeng Yuqun, 55, of CATL lost a third of his value, as the EV sector underwent a correction. Colin Huang Zheng was China's fastest riser, adding US$12bn to catapult him into a Top 5 spot ahead of Jack Ma, on the back of Pinduoduo's expansion into the US with its Temu platform, making its debut last month at the Super Bowl. Hard to think that Pinduoduo was founded as late as in 2015. Jack Ma, who this year relinquished control of Ant Financial and spent much of the year in Japan and travelling the world, just managed to hang into a Top 10 spot. Alibaba has come down 70% in value from its high in 2020.
Beijing, Shanghai and Shenzhen are the 'Big Three' cities for billionaires to live in. The average age is 60 years old, 6 years younger than the average of the list. China has the largest number of self-made billion-dollar entrepreneurs in the world, and is head and shoulders the world's capital for self-made women billionaires.
China's billionaires total wealth was down 15%, whilst Food was one of the only industries that billionaires saw their wealth grow. 228 saw their wealth grow, down from 619 last year, of which 69 were new faces. 896 people saw their wealth drop, of which 229 fell off the list. 74 remained unchanged.
Notable changes include:
l The fastest growers were brothers Zhang Hongchao, 45, and Zhang Hongfu, 38, of milk tea brand Mixue Bingcheng, and Xue Min, 62, of MRI and CT scan maker United Imaging, who saw their wealth triple.
l Low-key Zhang Lei, 47, of Wuxi-based wind turbine and electric battery maker Envision was the highest new entrant with US$5.2bn. Others include Cai Haoyu, 36, of online gaming platform Mihoyo with US$3.1bn.
l Che Jianxin, 57, of furniture retailer Macalline saw his wealth drop 84% (US$5.3bn) to US$1bn on the back of a cash crunch.
l Cars. Li Shufu was on US$22bn, as sales in his main brands Volvo and Geely stayed strong, whilst Wang Chuanfu saw his wealth at US$20bn, as BYD competes for first place in China's EV market. BYD started a massive new plant in Hefei.
l Beijing-based Lei Jun of Xiaomi this month announced that it was investing into a US$1.5bn fund to support China's chip sector.
l Education entrepreneurs made a comeback again after the crackdown on the private tutoring sector two years ago. Beijing-based Michael Yu Minhong of New Oriental came back almost 50% to US$1.6bn, whilst Tom Zhang Bangxin of TAL Education also was reinstated as a billionaire.
l Youngest self-made. Husband and wife team Han Yulong, 38, & Lu Jianxia, 30, built Manner coffee into a multi-billion dollar business and propelling them into billionaire status.
l Real estate continued to suffer, with a number of high-profile drop-offs, led by Huang Chaoyang of Zhongjun and Wei Shaojun of Longi, each with some US$4bn last year.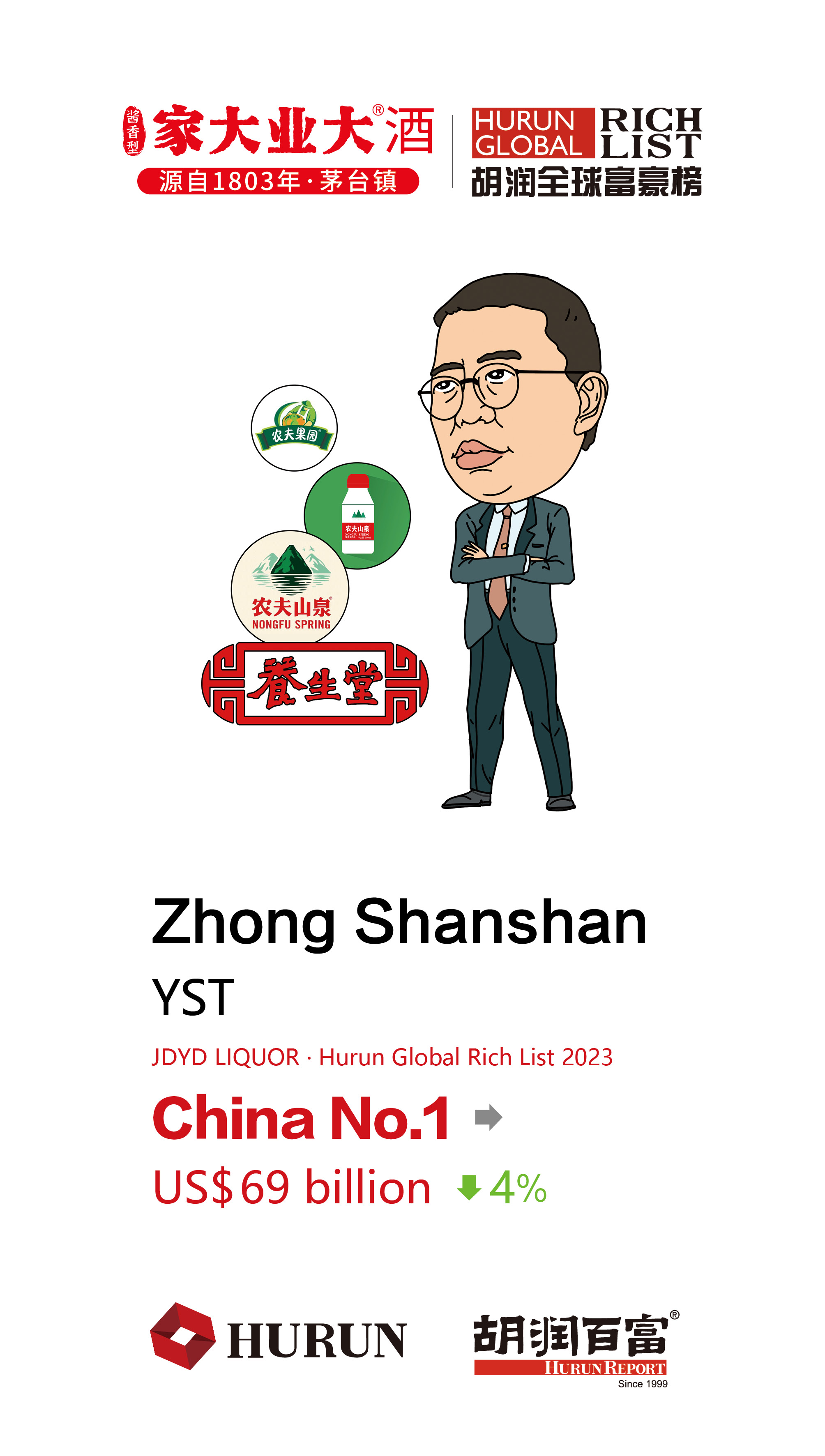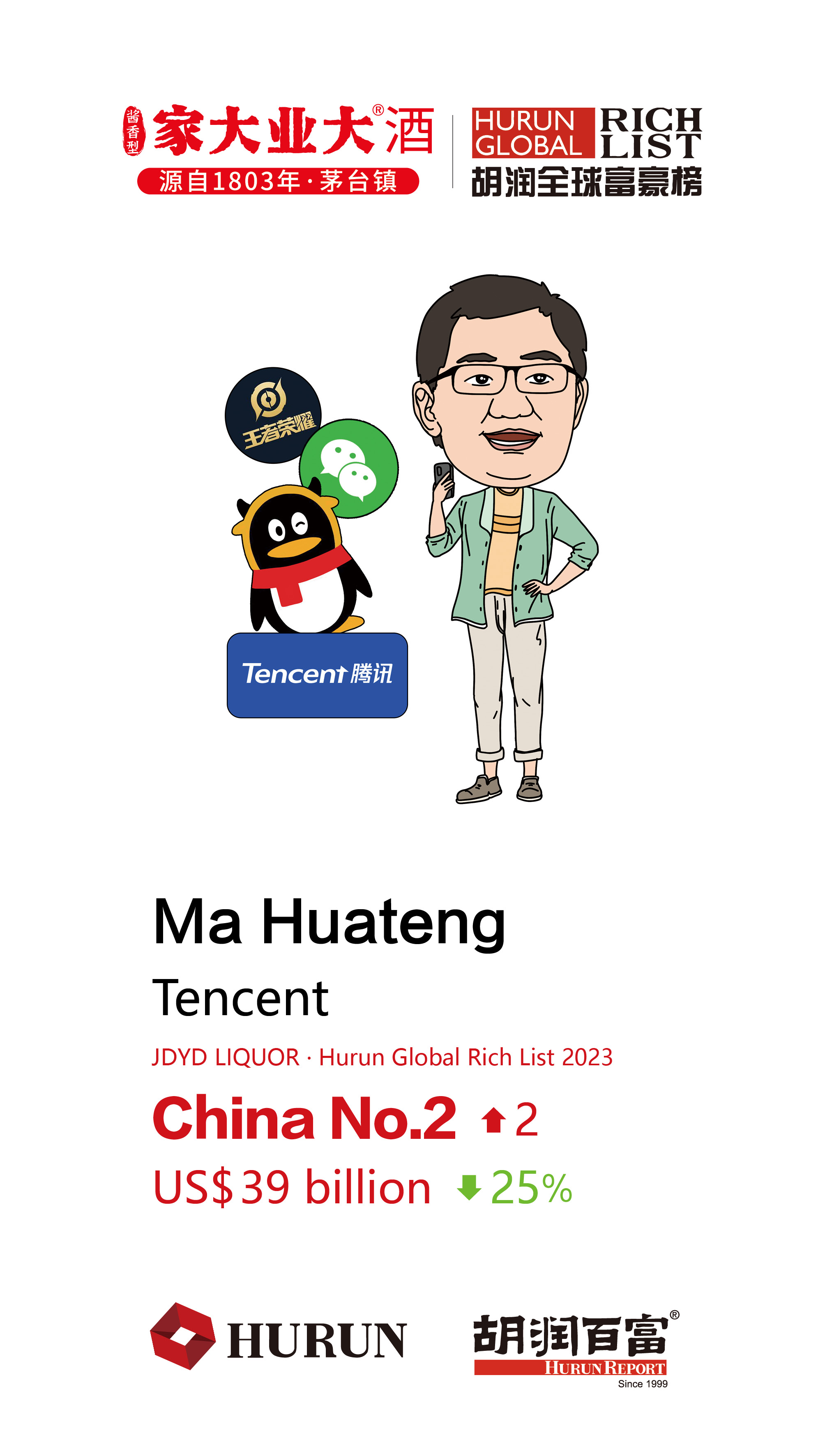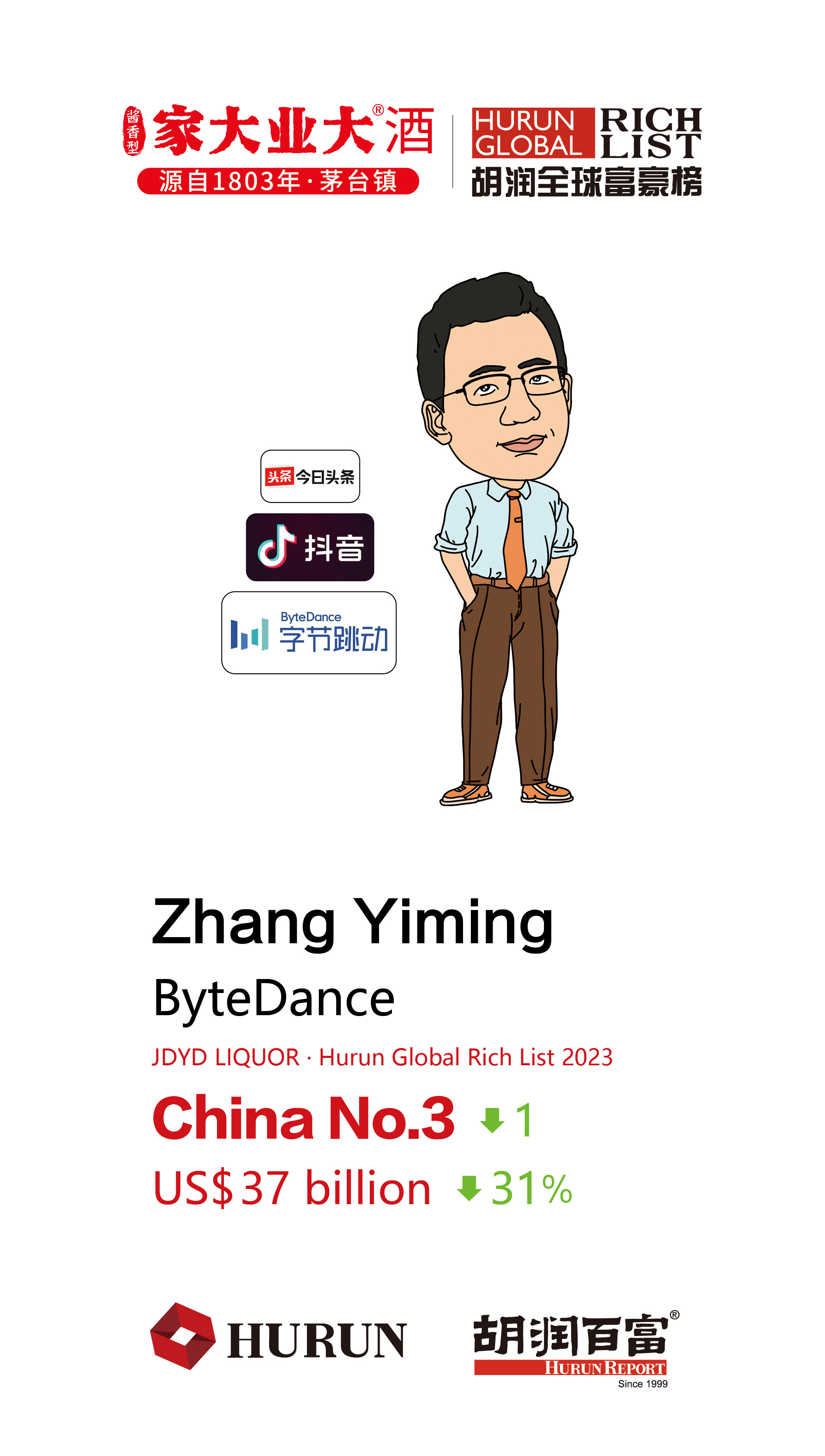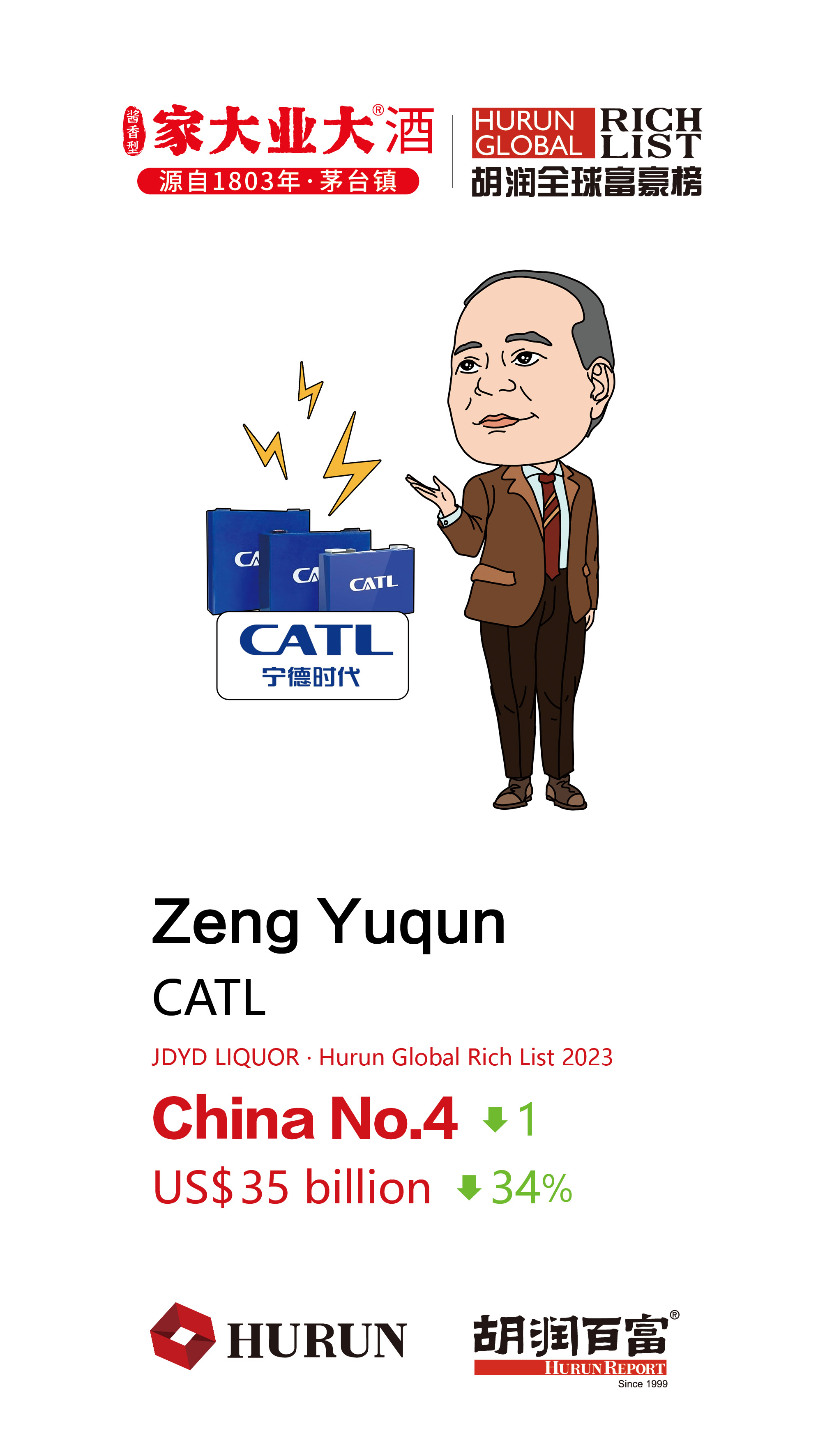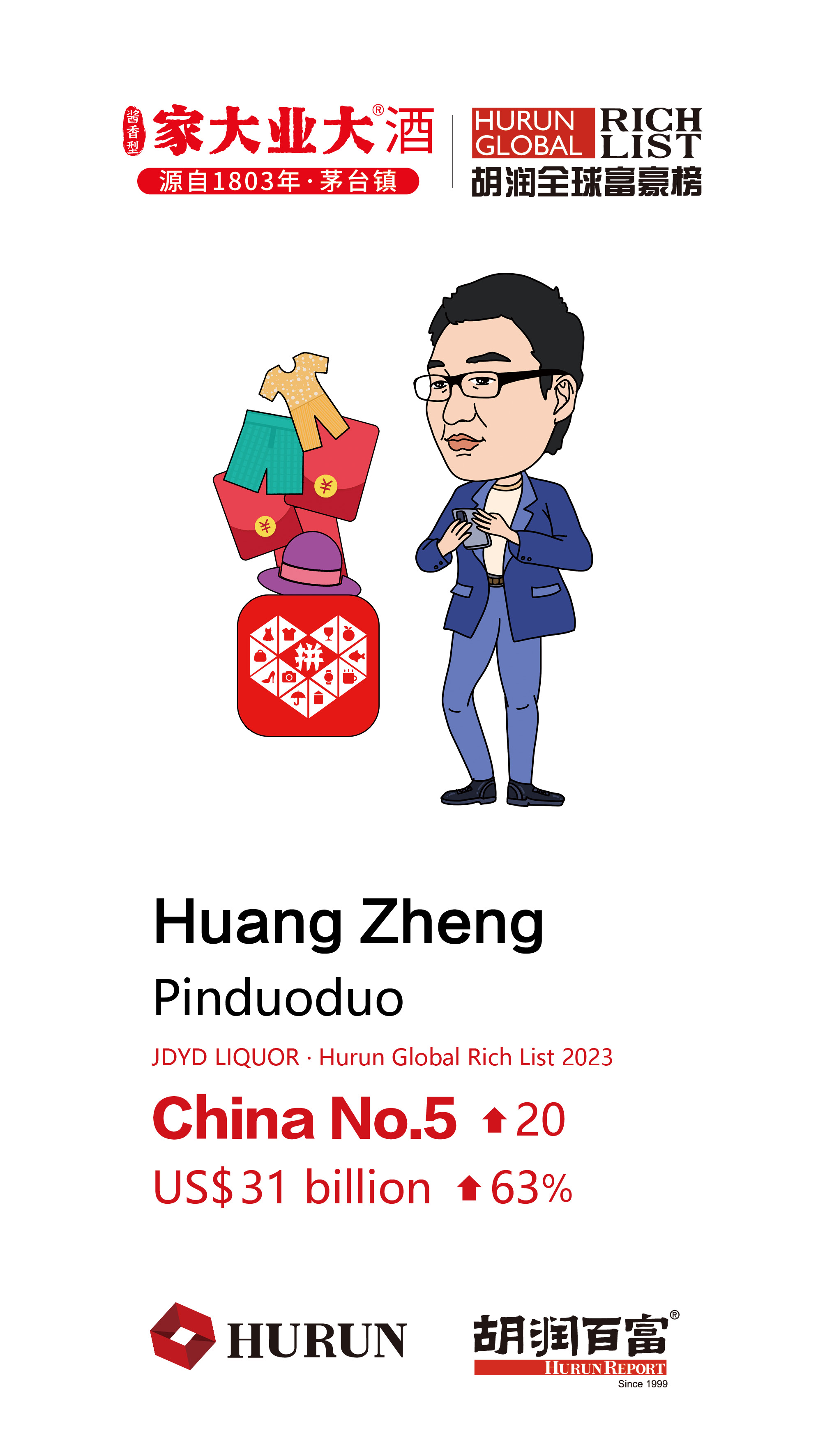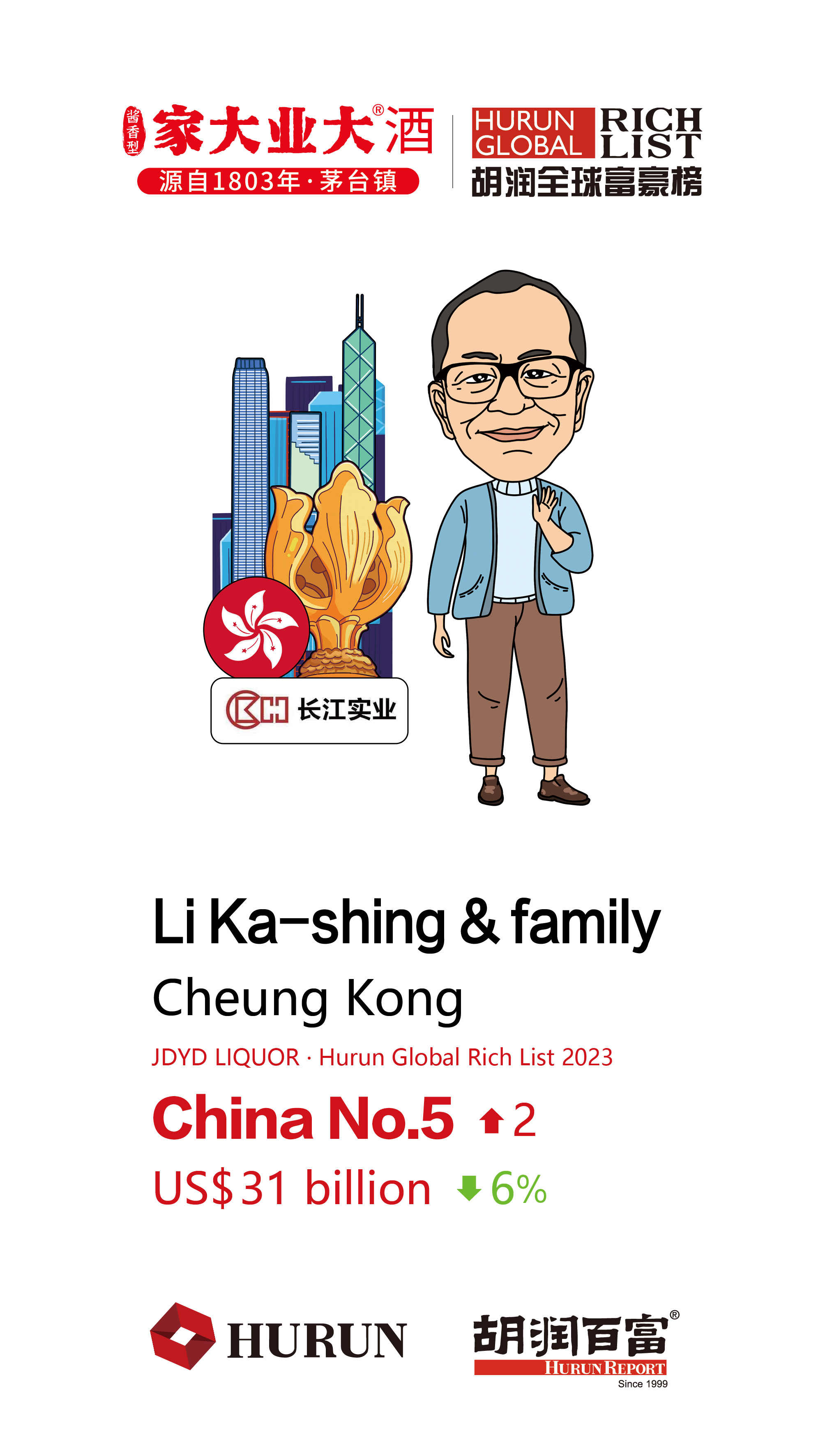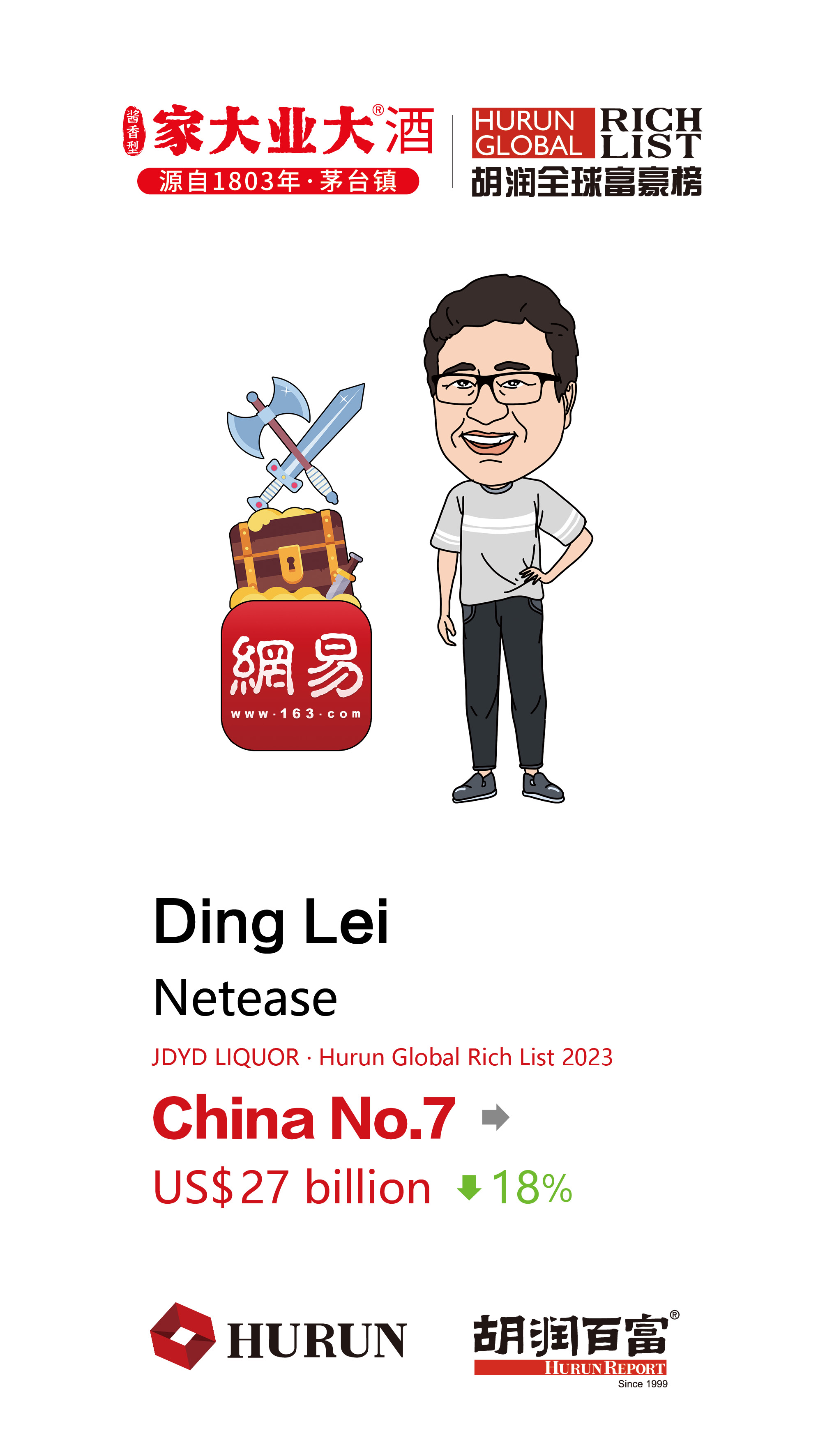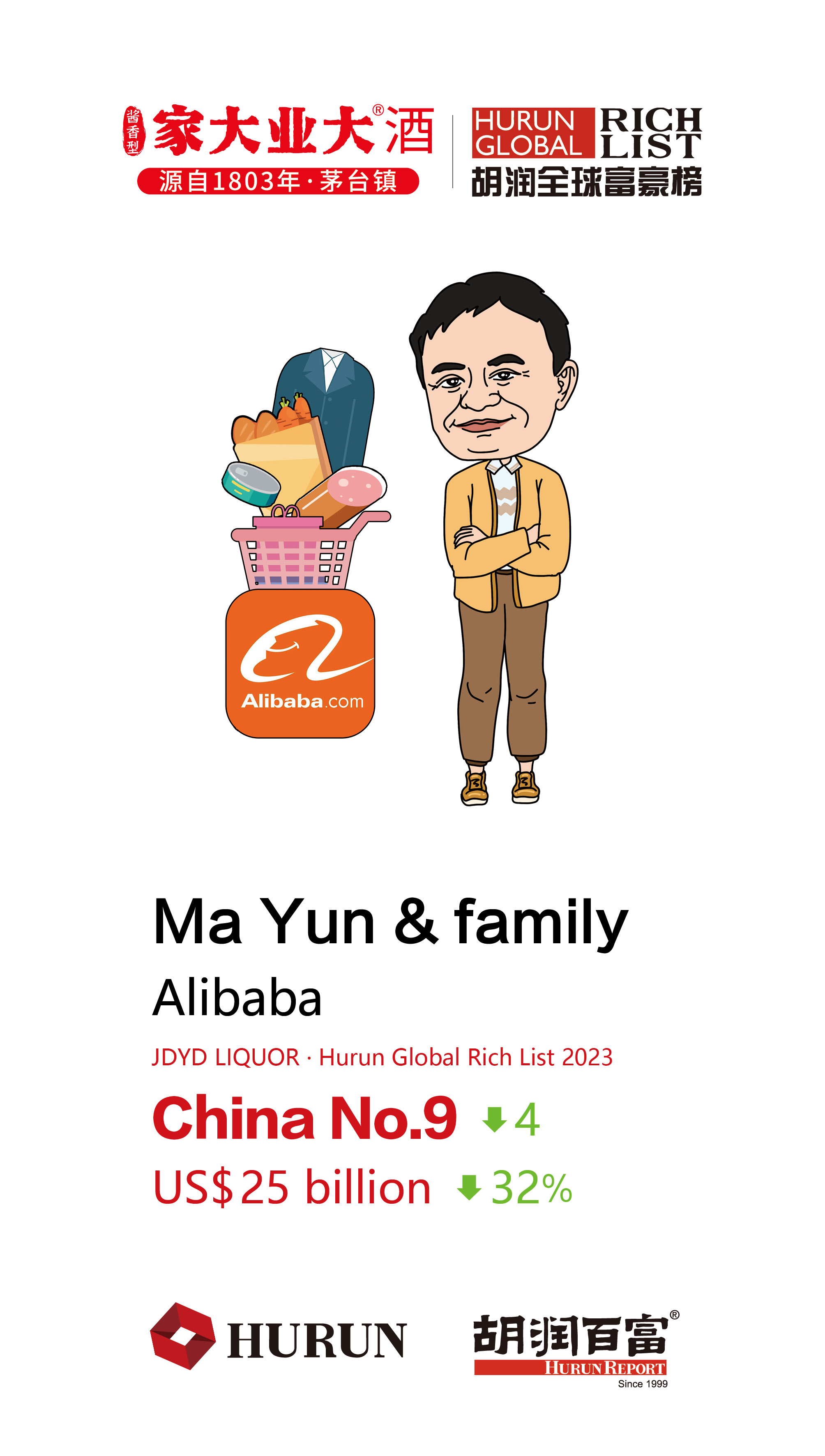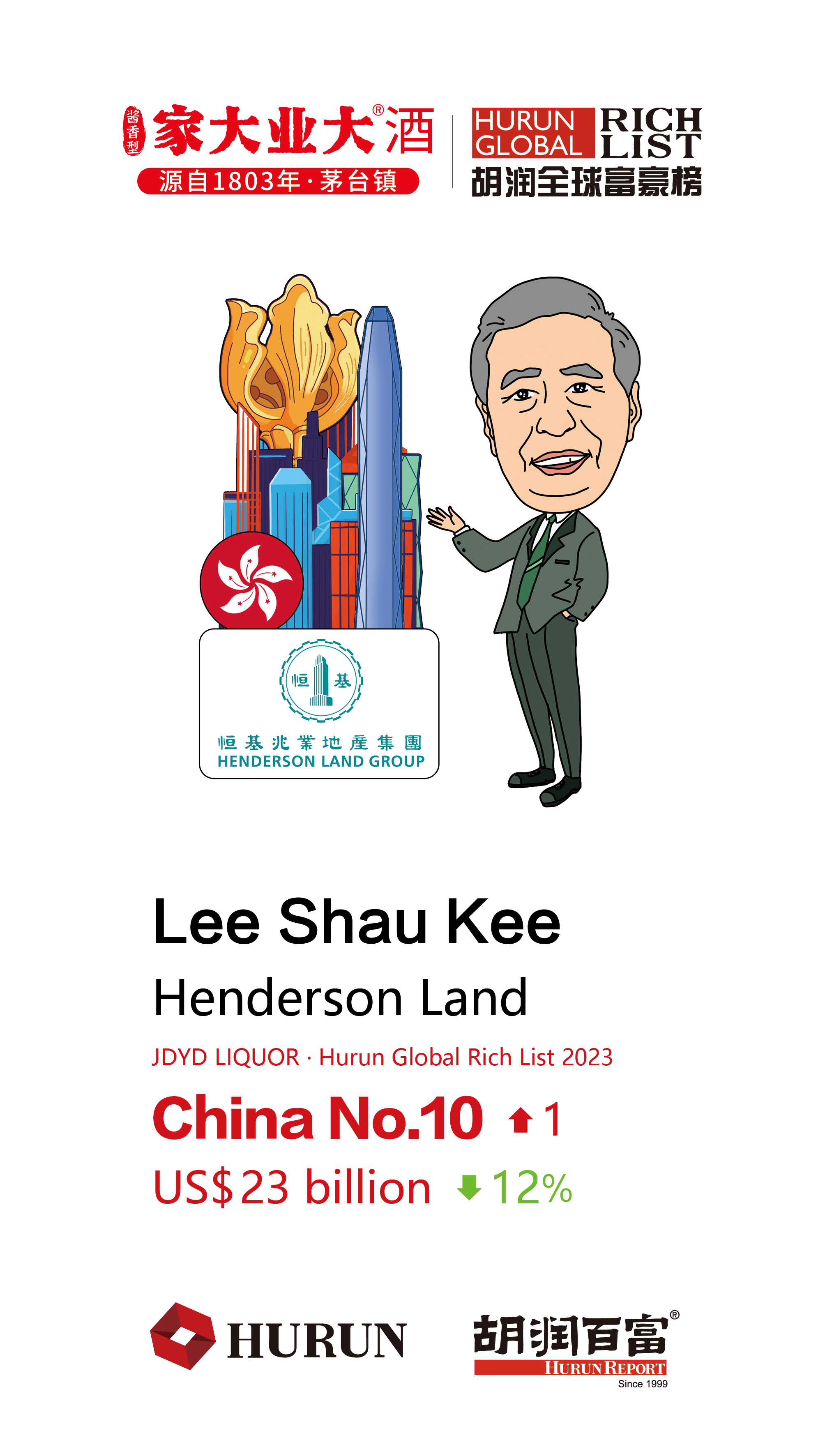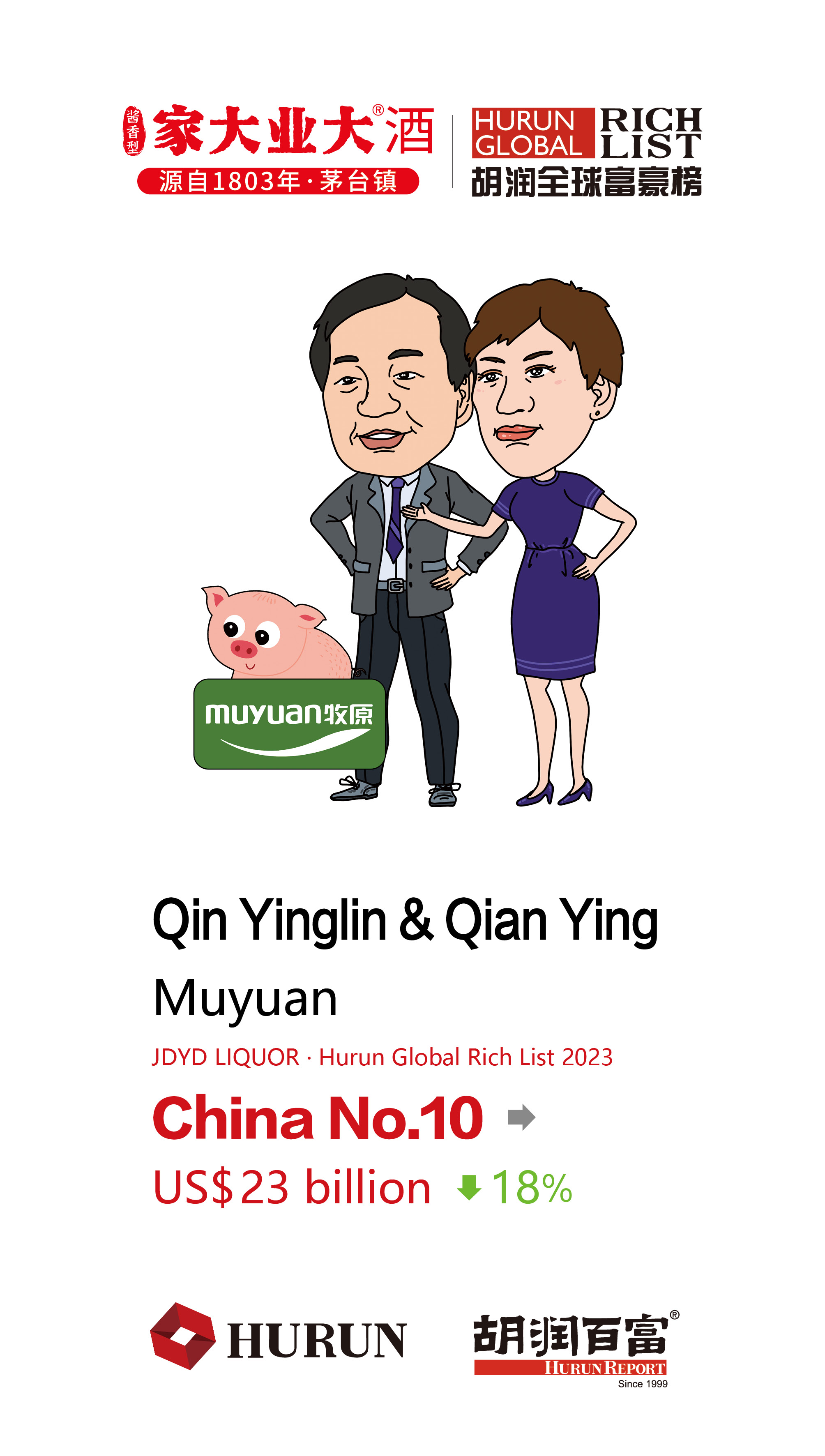 The USA was second behind China with 691 billionaires, down 25. Financial Services remain the main source of wealth with 138 billionaires, followed by Software & Services and Media & Entertainment with 102 and 83. Their combined wealth was US$4.4 trillion, equivalent to 5% of global GDP or a little more than that of Germany. New York had the highest concentration of billionaires (105), followed by San Francisco (54) and Los Angeles (26). The USA is the world capital for immigrant billionaires. The average age of US billionaires increased to 68, two years higher than the average age of the global list. Notable changes include:
· Ken Griffin of Chicago-based hedge fund manager Citadel was the fastest riser in the US, adding US$17bn to take him to a Hurun Top 40 spot with US$36bn.
· By percentage increase, Houston-based Jeffrey Hildebrand, 64, of energy exploration and production company Hillcorp Energy grew the fastest, more than doubling his wealth to US$10bn.
India was 3rd with 187 billionaires, 28 less than last year. With US$82bn, Mukesh Ambani, 65, of Reliance is the richest person in India. Healthcare, Consumer Goods, and Chemicals led the way, with 39, 25, and 21 billionaires respectively. Mumbai is the billionaire capital with 66, followed by New Delhi with 39. The average age was 66. There are a further 30 billionaires of Indian origin, living outside of India, led by LN Mittal of ArcelorMittal in London. 52 saw their wealth increase, of which 16 were new faces. 107 decreased and 40 dropped off. 28 stayed the same. Notable changes include:
· With his wealth down US$28bn, Gautam Adani, 60, & family of energy conglomerate Adani Group was India's biggest loser, after a report in January by US short-seller Hindenburg led to Adani seeing his wealth down by more than 60% from his peak. Just before the report, Adani was briefly the world's second richest person.
· Chennai-based Radha Vembu, 59, of technology company Zoho became India's most successful self-made woman, with US$4bn, and overtaking Falguni Nayar of Nykaa for the first time.
· After the underwhelming IPO of Paytm, Vijay Shekhar Sharma, 43, dropped out of the list.
· Hari Krishan Aggarwal, 67, of footwear manufacturer Campus Activewear, made the list for the first time with US$2.2bn.
For the rest of the Top 10 countries analysis, see Appendix
Who's Up?
The biggest gainers of the year were Bernard Arnault of LVMH, whose wealth shot up US$49bn, followed by Bertrand Puech & family of Hermes, up US$32bn.
16 billionaires broke into the Top 100, led by Rodolphe Saadé of French shipping company CMA CGM and David Thomson of data and media platform Thomson-Reuters.
Leading the new faces on this year's list were Austria-based Mark Mateschitz, 31, who inherited half of Red Bull after his father Dietrich died in November. Leonardo Maria del Vecchio, 27, inherited the bulk of the eyewear business EssilorLuxottica along with his mother Nicoletta Zampillo, 65. Another was Renata Kellnerova, who inherited the Czech Republic's largest insurer from late husband Petr Kellner.
Three Russians broke into the Top 100, led by Leonid Mikhelson and Gennady Timchenko of gas producer Novatek, and Vagit Alekperov of oil and gas producer Lukoil.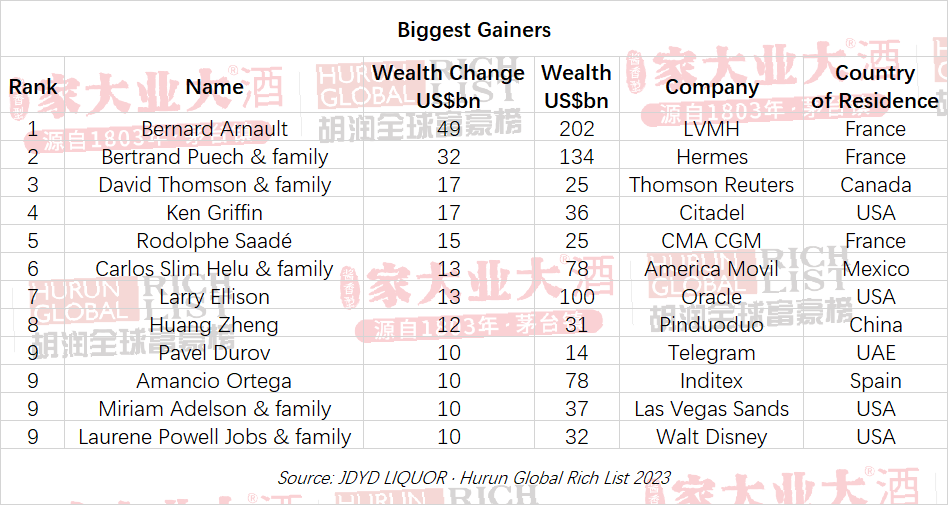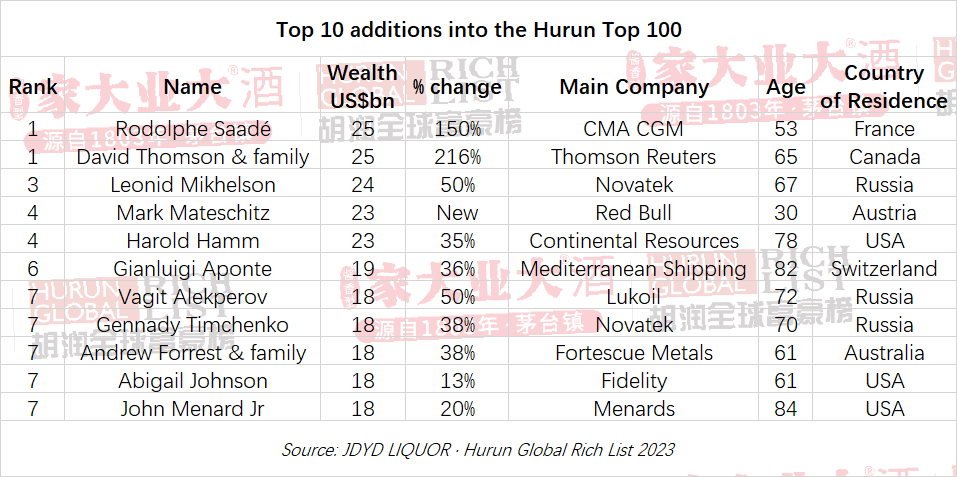 And, Who's Down?
The top 5 biggest drops in wealth all came from the USA, led by Jeff Bezos of Amazon, whose wealth was down US$70bn, and followed by Elon Musk, whose wealth was down US$48bn. MacKenzie Scott was down mainly because of a US$14bn donation and the drop in Amazon's stock price.
Sam Bankman-Fried was the biggest casualty of the year, going from US$21bn to nothing.
Source of Wealth by Industry – JDYD LIQUOR · Hurun Global Rich List 2023
By number of billionaires. Consumer Goods and Financial Services, led the way. Healthcare overtook Retail for third place, whilst F&B overtook Real Estate for fifth place.
By total wealth. Consumer Goods, Retail and Financial Services led the way, making up over a quarter of the billionaires wealth.

Comparison of China and USA billionaires. China overtook the USA in terms of number of billionaires in 2016. Today, there are 40% more billionaires in China than the USA.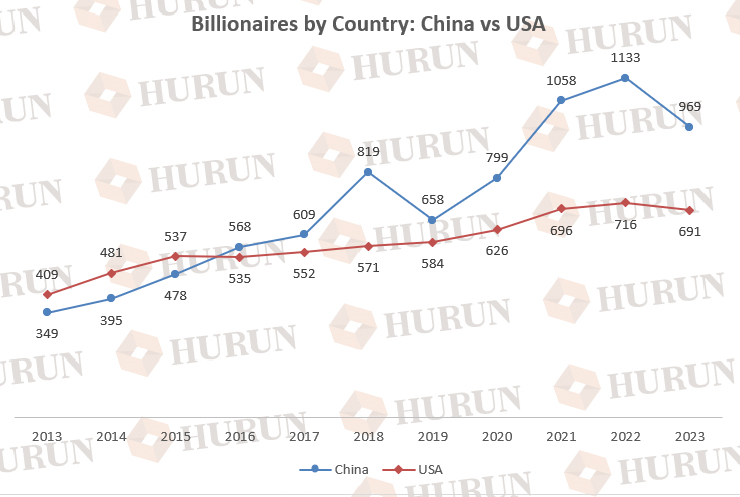 Source: JDYD LIQUOR · Hurun Global Rich List 2023
Other Points of Interest
· Billion-dollar philanthropy. Former wife of Jeff Bezos MacKenzie Scott was the biggest philanthropist of the year, donating US$14bn, followed by Bill Gates, who gave US$5bn to the Bill & Melinda Gates Foundation, and Musk, who gave away US$1.9bn of Tesla shares.
Yvon Chouinard, 84, of sportswear brand Patagonia gave away all the company's equity to a non for profit structure that pumps all the profits back into fighting the environmental crisis, project nature and biodiversity.
· Crypto fallout. The collapse of SBF's US$21bn fortune has had an impact across the whole crypto world. Dubai-based CZ Zhao Changpeng, 46, of Binance has seen his wealth almost halve to US$12bn. Brian Armstrong, of Coinbase, saw his wealth down US$8.3bn, leaving him with US$1.7bn. The Winklevoss twins Cameron and Tyler saw their wealth down 19% to US$3.4bn. Peter Thiel of Clarium managed to sell out of his crypto bet just before the market crashed.
· Big deals. The largest mergers by billionaires in the last year were the US$61bn acquisition of software firm VMware by chip giant Broadcom's Henry Samueli (US$7.4bn) & Henry Nicholas III (US$6.9bn) and Elon Musk's (US$157bn) acquisition of Twitter for US$44bn. Harold Hamm, 78, upped his offer to buy out US oil producer Continental Resources in a deal worth US$27bn. Jaime Gilinski, 65, of Columbian banking empire Banco GNB is leading the charge in a US$20bn takeover battle for food manufacturer Nutresa. Remo Stoffel & family (US$1.5bn) of Australian CSL, which acquired Vifor Pharma for US$12bn. Gautam Adani & family (US$53bn)'s Adani Group acquired of Holcim's stake in Ambuja Cement and ACC for US$6.4bn. Gianluigi Aponte (US$19bn)'s MSC Mediterranean Shipping agreed to buy the African transport and logistics business of Bollore SA for US$6.3bn including debt.
· Media owners. Some of the most influential media owners in the world are billionaires from the Hurun Global Rich List. Zhang Yiming with Douyin and TikTok. Elon Musk with Twitter. Rupert Murdoch with Fox News, Wall Street Journal and the Times. Mark Zuckerberg with Facebook, Instagram and WhatsApp. David Thomson with Thomson Reuters. Jeff Bezos with the Washington Post. Jonathan Harmsworth with the Daily Mail. Gautam Adani with NDTV.
· Political influence. The powerful financial donor network led by Charles Koch, 88, has said it will oppose Trump's 2024 Republican nomination. Rick Caruso is reported to have spent US$100mn on his November campaign to become mayor of LA, an election he lost to his Republican opponent. Ken Griffin of Citadel spent US$50mn on a failed bid in June for the Illinois governor race. Czech former prime minster Andrej Babis, 69, lost his bid for the Czech presidency in January. UK prime minister Rishi Sunak's father in law Narayana Murthy of Infosys saw his wealth down 20% to US$3.5bn. 80 billionaires in China were either delegates to the CPPCC or NPC deputies in March this year.
· In trouble with the law. Donald Trump, 77, is fighting a number of lawsuits. Leon Black, 71, in December sought sanctions against rape claims. Rupert Murdoch's Fox News is being sued in a high-profile case brought about by Dominion Voting Systems over the 6 January Congress. Shanghai-based tech rainmaker Bao Fan of Renaissance Capital is reported to be in detention.
· Divorce. Rupert Murdoch, 92, split from Jerry Hall, in a surprise announcement in June. Ex-wife of Jeff Bezos MacKenzie Scott announced in September that she was filing for divorce from Dan Jewett, just a year after marrying him.
· Big houses. William Lauder, 63, paid US$155mn for a Palm Beach estate. Rob Burkle of Yucaipa put Bob Hope's former home on the market for US$29mn. Russell Weiner of energy drink Rockstar put his ski property in Utah on the market for US$50mn last month, despite only buying it last year. Atlassian co-founder Scott Farquhar (US$10bn) bought a Harbourside home known as Uig Lodge for US$130mn, the highest price ever paid for a house in Australia. Robert Kraft (US$8.2bn), the New England Patriots owner bought a Palm Beach oceanfront penthouse for US$24mn. Larry Ellison of Oracle, has placed his Tuscan-style North Palm Beach estate on the market for US$145mn. He paid US$80mn for the beachfront property in April 2021. Carlos Slim (US$80bn), Mexico's richest man has put his 20,000-Square-Foot Manhattan Mega-Manse on the market for US$80mn. Snapchat founder Evan Spiegel recently closed a deal on a US$120mn LA home in Holmby Hills, buying it from British billionaire Ian Livingstone.
· Art collections. Ronald Lauder, 88, youngest son of Estee Lauder, exhibited part of his private collection in January at the New York-based Neue Galerie. Paul Allen's estate continued to sell down his art collection, expecting to fetch US$40mn for seven works.
Deaths
31 billionaires died during the past year. Three were in their fifties: Mumbai-based Cyrus Pallonji Mistry, 55, of Indian conglomerate Shapoorji Pallonji & Company, Jerry Ng, 57, founder of Bank Jago and Jay Robert Pritzker of Hyatt, 58.
The average age of death was 78. Between them, they passed down US$67bn to 10 family members.
By Continent. Asia has over half the world's known billionaires.
Stats – Number of Billionaires through the Years
Every year of the last decade, with an exception of 2019 and 2023, has produced a new record number of billionaires. There are more than double the number of known billionaires than ten years ago.
This year there were 445 drop-offs, the most drop-offs of the last decade.
The 'nine-zero club', those with US$10bn or more, has tripled from 83 ten years ago to 230 this year.
Source: JDYD LIQUOR · Hurun Global Rich List 2023
Number of Billionaires by Wealth, and comparison with China, US & India
Stats – Cut-offs
Comparisons with the Top 10 Five Years and Ten Years ago
The cut-off to the Top 10 has doubled every five years. 4 of the Top 10 from ten years ago are still there today: Bill Gates, Warren Buffett, Bernard Arnault and Larry Ellison.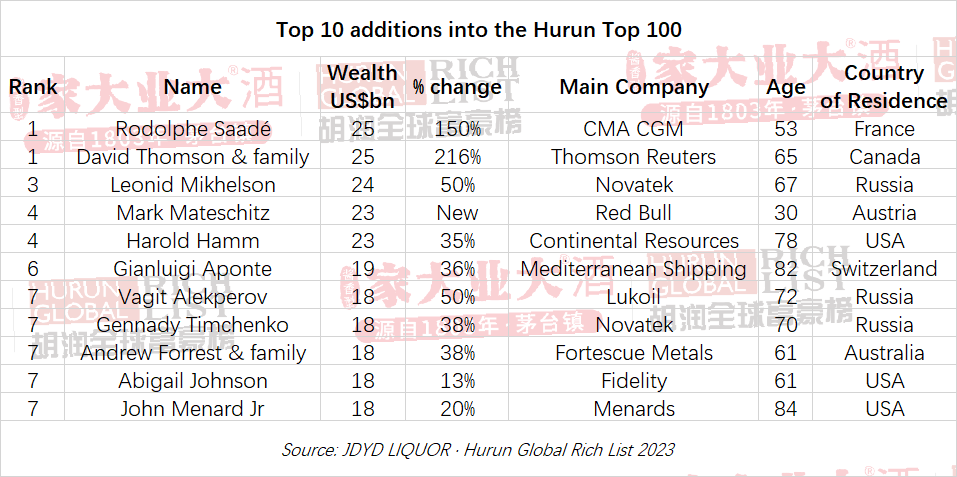 Self-made degrees: Hurun Research's bespoke measure of the degree to which billionaires are inherited or self-made. The scorecard is out of five, where 1 is inherited and not active in business, and 5 is self-made without help from parents. Hoogewerf said, "Many billionaires like to portray themselves as self-made, but have actually inherited significant wealth from their parents."
70% are self-made and 30% are inherited. China is the world's engine when it comes to self-made billionaires. Five years ago, self-made billionaires accounted for 69% of the total list.
Appendix – Rest of World Countries
Germany rose to 4th with 144 billionaires. Food & Beverages led with 22 billionaires followed by Retail and Healthcare with 21 billionaires. Their combined wealth was US$588bn. The average age was 67. Munich was the preferred city to live in, followed by Hamburg. 45 saw their wealth increase, of which 8 were new faces. 83 decreased and 8 dropped off.
Notable changes include:
· The Birkenstock brothers Alex and Christian of German footwear company Birkenstock debuted the list with US$1.8bn each. In 2021 the brothers sold a majority stake to LVMH-backed private equity firm, L Catterton for US$4.7bn.
· Stephan Schnabel of chemical marketing firm Helm AG, re-entered the list with US$1.3bn, on the back of 38% rise in revenues.
· With a 73% increase in wealth, Christina Flügel of German liquor company Mast-Jägermeister was the fastest riser in Germany with US$2.6bn.
The UK dropped down one place to 5th with 134 billionaires, down 16. Real Estate and Retail led the way with 25 and 20 billionaires. UK billionaires had a combined wealth of US$512bn. The UK is second for immigrant billionaires after the USA. London was the undisputed city of choice for 87 of them followed by Liverpool with 4. 80 saw their wealth decrease and 18 dropped off. 38 saw their wealth increase, of which three are new faces.
Notable changes include:
· Denise Coates of betting platform Bet365 is the UK's richest woman. Coates was paid US$300mn in salary and dividends in the previous year.
· With a 120% increase in wealth, Russia-born brothers Dmitry and Igor Bukhman, of gaming company Playrix are the fastest risers in UK with a wealth of US$7.7bn each.
· Bulgaria-born brothers Georgi and Kiril Bukhman, of investment holding company Advance Properties debuted the list with a wealth of US$2.3bn each.
· Hedge fund manager Christopher Hohn, 56, of The Children's Investment Fund Management received a record-breaking total payout of US$690mn last year.
· Mark Dixon (US$1bn) of office provider IWG saw his wealth drop 33%.
Switzerland was 6th in the world with 100 billionaires, down 7. Geneva and Zurich were the billionaire capitals, with 17 and 14. Preferred sectors were Healthcare (23), Chemicals (9) followed by Consumer Goods and Industrial Products (8 each). With a net worth of US$41bn, Klaus-Michael Kuhne of Kuehne + Nagel International, a global transport and logistics company, is the wealthiest individual in Switzerland. Their combined wealth was US$423bn, down 9%. Switzerland is the third biggest billionaire immigration country, with over half (54) of the Swiss-based billionaires born outside of Switzerland.
France retained 7th place with 73 billionaires, same as last year. Their combined wealth was US$730bn, up 13%. The preferred sectors were Food & Beverages and Consumer Goods, with 14 and 12 billionaires. Paris was the preferred city in France for 49 billionaires. France's five richest individuals all made their wealth in luxury, led by Bernard Arnault of LVMH, Bertrand Puech of Hermes, Francoise Bettencourt Meyers of L'Oreal, Francois Pinault of Kering, and Alain Wertheimer of Chanel.
Russia was at 8th with 70 billionaires, down 2. A further 21 Russia-born billionaires live across the world, with 6 in the UK and 5 in Switzerland . All are self-made. The most popular sectors were Metals & Mining and Energy with 18 and 14 billionaires. Moscow was home for 57 of them. Their combined wealth came to US$375bn, up 17%. With US$24bn Vladimir Potanin, 62, of mining giant Norilsk Nickel, is the richest Moscow-based billionaire. The richest Russia-born entrepreneur is California-based Sergey Brin, 50, of Alphabet.
Italy overtook Brazil to the 9th position with 58 billionaires. Their combined wealth was US$190 bn. The preferred sector is Consumer Goods with 28 billionaires. Inheritance of Luxottica family, post the death of its founder Leonardo Del Vecchio, resulted in 6 new entrants to the list. Milan is the preferred city for Italian billionaires.
Brazil dropped to 10th place with 51 billionaires, three less than last year. The combined wealth of the Brazilian billionaires was US$149bn, 5% less than last year. The preferred sector was financial services with 19, followed by healthcare with 6 billionaires. Sao Paulo was the preferred city for 32 of Brazil's 51 billionaires. The richest person is Marcel Herrmann Telles of investment firm 3G Capital with US$11bn.
About JDYD LIQUOR
Drink JDYD LIQUOR, Achieve Greatness! JDYD LIQUOR is one of China's Top 10 jiangxiang baijiu. Located in the 7.5 square kilometers of Chishui River jiangxiang baijiu core production area of Maotai Town, the earliest history of JDYD LIQUOR can be traced back to 1803. The initial brewery was founded by the descendants of Wang Zhongjun, a famous general at the end of the Ming Dynasty, and the family business has been inherited to today. In addition to the good story of taking the lead in offering liquor to the Red Army, JDYD LIQUOR has preserved its unique hundred year history of liquor superior microbiota and has become a rare high-end baijiu brand in Maotai Town, and won the world's three authoritative awards including Panama International Expo Award, IWSC and CMB, and invited national actress Ms. Liu Xiaoqing as the brand ambassador. At present, JDYD LIQUOR has expanded to Jiangsu, Guangdong, Shandong, Zhejiang, Henan, Shanghai, Beijing, Hebei, Hubei, Anhui and other places, and has been grandly debuted in the yearly giant advertisements of airports in Beijing, Shanghai, Shenzhen, Hangzhou, Nanjing, Jinan, Zhengzhou and other first- and second-tier cities, it also put up the whole line of products on the shelves of Ole' high end supermarket. Online, JDYD LIQUOR has made an appearance on China Brand Day super brand show, and reached cooperation with famous e-commerce companies such as Tmall, JD, Jiuxian, PDD, etc, and through short videos and live broadcasts, it quickly created a new position of online communication. Each bottle of JDYD LIQUOR is a famous brew, which not only combines the exquisite 12987 authentic Kun Sha liquor brewing process, advanced quality testing and automated filling technology, but also has a professional team of liquor tasting masters to escort the quality in multiple directions, which has gained professional recognition from high-end people such as liquor gourmets and entrepreneurs.
"The Panama Pacific International Exposition Award" in this article is actually called "The 106 Years Exhibition Panama Pacific Universal Exposition Honorable Medal". "The IWSC Award" is actually called "The 2022 IWSC- International Wine & Spirit Competition Silver Award". "The CMB Award" is actually called "The 2022 Spirits Selection by CMB Silver Award".
About Hurun Inc.
Promoting Entrepreneurship Through Lists and Research
Oxford, Shanghai, Mumbai, Sydney, Paris
Established in the UK in 1999, Hurun is a research, media and investments group, promoting entrepreneurship through its lists and research. Widely regarded as an opinion-leader in the world of business, Hurun generated 6 billion views on the Hurun brand last year, mainly in China and India.
Best-known today for the Hurun Rich List series, telling the stories of the world's successful entrepreneurs in China, India and the world, Hurun's two other key series include the Hurun Start-up series and the Hurun 500 series, a ranking of the world's most valuable companies.
The Hurun Start-up series begins with the Hurun U30s, an awards recognizing the most successful entrepreneurs under the age of thirty, and is today in seven countries. Next up are Hurun Cheetahs, Chinese and Indian start-ups with a valuation of between US$300mn to US$500mn, most likely to go unicorn with five years. Hurun Global Gazelles recognize start-ups with a valuation of US$500mn to US$1bn, most likely to go unicorn within three years. The culmination of the start-up series is the Hurun Global Unicorn Index.
Other lists include the Hurun Philanthropy List, ranking the biggest philanthropists, the Hurun Art List, ranking the world's most successful artists alive today, etc…
Hurun provides research reports co-branded with some of the world's leading financial institutions, real estate developers and regional governments.
Hurun hosted high-profile events in the last couple of years across China and India, as well as London, Paris, New York, LA, Sydney, Luxembourg, Istanbul, Dubai and Singapore.
For further information, see www.hurun.net.
For media inquiries, please contact:
Hurun Report
Porsha Pan
Tel: +86-21-50105808*601
Mobile: +86-139 1838 7446
Email: porsha.pan@hurun.net
Grace Liu
Tel: +86-21-50105808
Mobile: +86 136 7195 4611
Email: grace.liu@hurun.net
Hurun Report Disclaimer
This report has been prepared by the Hurun Report. All the data collection and the research has been done by the Hurun Report. This report is meant for information purposes only. Reasonable care and caution have been taken in preparing this report. The information contained in this report has been obtained from sources that are considered reliable. By accessing and/or using any part of the report, the user accepts this disclaimer and exclusion of liability which operates to the benefit of Hurun Report. Hurun Report does not guarantee the accuracy, adequacy or completeness of any information contained in the report and neither shall it be responsible for any errors or omissions in or for the results obtained from the use of such information. No third party whose information is referenced in this report under the credit to it assumes any liability towards the user with respect to its information. Hurun Report shall not be liable for any decisions made by the user based on this report (including those of investment or divestiture) and the user takes full responsibility for their decisions made based on this report. Hurun Report shall not be liable to any user of this report (and expressly disclaim liability) for any loss, damage of any nature, including but not limited to direct, indirect, punitive, special, exemplary, consequential losses, loss of profit, lost business and economic loss regardless of the cause or form of action and regardless of whether or not any such loss could have been foreseen.
Top 100 - JDYD LIQUOR · Hurun Global Rich List 2023